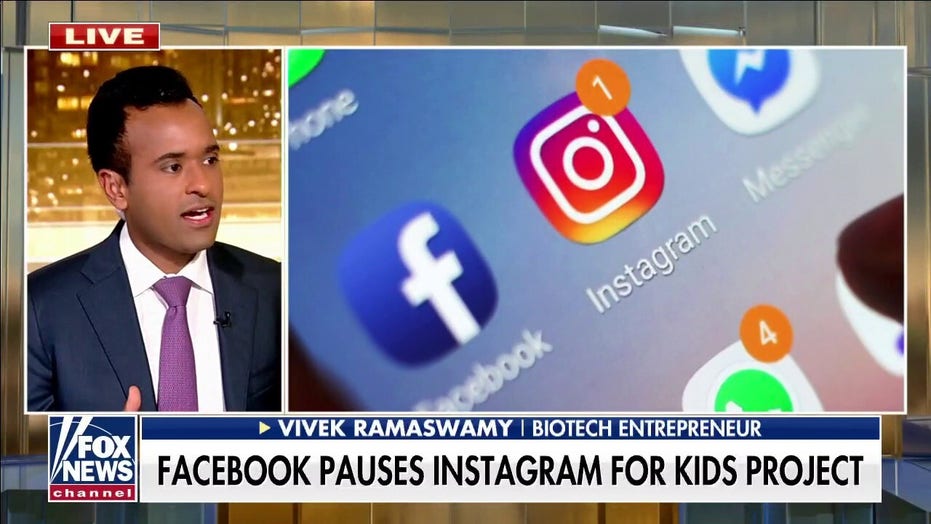 'Woke Inc.' author slams Facebook over 'rampant institutional lying' after halting kids app project
Vivek Ramaswamy urged for accountability within social media companies after a report surfaced suggesting Facebook was aware of the app's toxicity for teen girls while working on a kids' version of the platform.
'Woke Inc.' author Vivek Ramaswamy slammed Facebook during an interview on "Fox & Friends First" on Tuesday for their "rampant institutional lying" after halting a project focused on developing a kids version of the app. The screeching halt comes amid mounting criticism from data suggesting the app has a harmful effect on some young teens.
"I think this is what we need to be holding Facebook and other social media companies accountable for … is their rampant institutional lying.," said Ramaswamy.
"They knew they were doing something wrong."
After the report surfaced earlier this month, a group of bipartisan lawmakers called for the platform to halt the project citing the research concerns. Sen. Josh Hawley (R-Mo.), Sen. Ed Markey (D-Mass.), and Rep. Lori Trahan (D-Mass.) are just a few of the lawmakers expressing concerns over the effort.
Ramaswamy argued Facebook only halted the project for Instagram Kids after they got "caught" knowing the data when the report was published.
"That's what we should hold these companies accountable for, is the fact that they should have no trust with their user base.," said Ramaswamy. "We shouldn't believe a word that they're saying."
Source: Read Full Article