The Australian casino industry is in chaos, as allegations of poor anti-money laundering controls spread from Crown to its major competitor, Star Entertainment, and it's an escalation that could jeopardise any merger between the two gambling giants.
Star's share price dived almost 20 per cent soon after the market opened on Monday, reflecting investor concerns about its licence and the risk that it could be unable to play kingmaker in the consolidation of the casino market in Australia.
The casino operator had previously proposed making an offer (mostly scrip) for Crown – one which had been withdrawn pending the outcome of the Victorian royal commission into Crown, which will decide the future of the James Packer-backed group.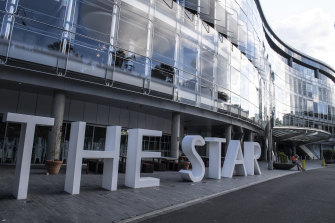 The Star in Sydney. Allegations against the group mirror those levelled at its rival, Crown Resorts.Credit:Louise Kennerley
To make financial sense of that strategy Star would need a strong share price and a clean image. So, it comes as no surprise that Crown's share price responded negatively to questions about Star's probity.
A damning report by Nine Entertainment media outlets, which will bring further scrutiny on Star from AUSTRAC and the NSW gaming regulator, comes only days before the report from Victoria's royal commission on Crown is handed to the state government.
The report is expected to find Crown unsuitable to hold a licence in Victoria, but it remains to be seen whether the license is revoked.
The best-case scenario for Crown is that it becomes subject to stricter regulatory controls and/or is granted a provisional licence until it completes an overhaul of its practices, including those concerned with responsible gaming and money laundering.
The fresh allegations made by Nine that Star had courted questionable clients and junket operators mirror the criticisms made of Crown – many of which have been confirmed during NSW's commission of inquiry and Victoria's royal commission into Crown.
Over the past 18 months, Star has taken the high ground as a cleaner skin than Crown in relation to anti-money laundering, watching from the wings as its rival was eviscerated by the evidence produced by the damning public inquiries.
That's despite Crown's lawyers arguing that Star has also had to deal with numerous junket operators.
Star and the smaller casino group SkyCity have already been referred to AUSTRAC's enforcement team following the identification of potential "serious non-compliance" with anti-money laundering and counter-terrorism financing laws.
It is also the subject of a review into its suitability by the NSW Independent Liquor and Gaming Authority (ILGA). Although this is part of a regular five-year review process, this year it is being conducted by Adam Bell who assisted in last year's NSW inquiry into Crown.
ILGA chairman Phil Crawford said it was too early to know if there is evidence of malfeasance or bad practice inside Star.
But he did note that money laundering was a big issue in this industry. And Star's future as the company that will consolidate the industry will now be questioned in light of the media allegations.
Crown is yet to receive the green light on opening its casino at Barangaroo in Sydney, operations that were supposed to open ten months ago, and it has had to contend with the added complication of the 37 per cent stake owned by James Packer, who is keen to offload it at the right price.
A merger of Crown and Star had been touted as a neat solution to finding an owner and operator of Crown's casino's that had satisfied probity hurdles. The possibility that Star could also step into manage Crown's casino's in the event the latter was found temporarily unsuitable, was also a solution bandied around.
But all corporate activity around Crown had been in hibernation until the outcome of Ray Finkelstein's Victorian royal commission.
Star would have been hoping to make the most of the opportunities that came its way as Crown is forced to clean up its act.
And it may yet get a chance, but any regulatory cloud over Star just adds another layer of complication to the future ownership of Crown.
The Market Recap newsletter is a wrap of the day's trading. Get it each weekday afternoon.
Most Viewed in Business
From our partners
Source: Read Full Article