Warren Buffett is back on his dealmaking roll thanks to a more volatile stock market and some very familiar assets.
His Berkshire Hathaway announced a $US11.6 billion ($15.7 billion) deal to buy Alleghany on Monday, coming on the heels of massive purchases of Occidental Petroleum common stock that gave it a roughly $US7.2 billion stake in the oil giant. Buffett has been putting more of Berkshire's $US146.6 billion cash pile to work, aided by an S&P 500 Index that's fallen more than 6 per cent this year.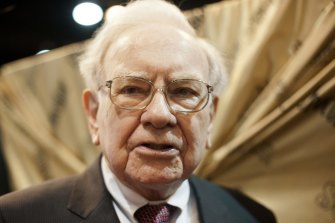 Warren Buffet is in a dealmaking mood once again.Credit:Bloomberg
The purchases follow a few rough years for the Berkshire dealmaking machine. High valuations stymied Buffett's appetite for the multi-billion dollar deals that made him famous while uncertainty caused by the pandemic prompted the billionaire to dump airline stocks. But for the highly-domestic Berkshire, the impact of volatility sparked by Russia's invasion of Ukraine has been less direct. The conglomerate's Class A shares have gained 13.8 per cent from the end of last year through Friday.
"Buffett, in part, may be sending a signal to the world, to investors, to financial markets, that even in this current environment of great uncertainty, that he still thinks there are wonderful opportunities to invest in at least US companies going forward," said David Kass, a finance professor at the University of Maryland's Robert H. Smith School of Business.
Both the Alleghany acquisition and Occidental stock purchases are familiar areas for Berkshire. Buffett already invested in Occidental through preferred stock and warrants acquired in 2019. Alleghany's main focus, insurance, is considered one of Berkshire's "Big Four" businesses and has been instrumental to the conglomerate's success.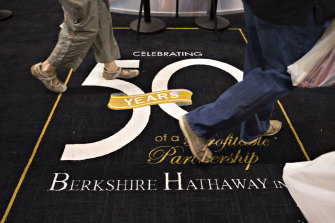 Alleghany's main focus, insurance, is considered one of Berkshire's "Big Four" businesses and has been instrumental to the conglomerate's success.Credit:Bloomberg
"This is a unique situation because the Alleghany business is so complementary to Berkshire," Jim Shanahan, an analyst at Edward Jones, said of the deal.
Berkshire is very familiar with the management team it'll be getting from Alleghany. Joseph Brandon, currently Alleghany's chief executive officer, previously ran Berkshire's Gen Re unit. That could help deepen Berkshire's insurance bench of talent, which is led by Berkshire vice chairman Ajit Jain, according to Shanahan.
Alleghany also maintains some investments in industrial businesses through its Alleghany Capital unit. That includes operations such as machine tool cutting business Precision Cutting Technologies, and a business serving funeral providers and cemeteries with Wilbert Funeral Services Inc., according to its website.
Berkshire, which itself owns a metal cutting tool business through IMC International Metalworking Cos., is essentially gaining a "mini-me" with the Alleghany deal, according to Bloomberg Intelligence's Matthew Palazola and Kylie Towbin.
"The insurance business is made to order for Berkshire," Buffett said in February in his annual shareholder letter. "The product will never be obsolete, and sales volume will generally increase along with both economic growth and inflation. Also, integrity and capital will forever be important. Our company can and will behave well."
Bloomberg
The Market Recap newsletter is a wrap of the day's trading. Get it each weekday afternoon.
Most Viewed in Business
From our partners
Source: Read Full Article