Save articles for later
Add articles to your saved list and come back to them any time.
Hybrid public broadcaster SBS is introducing controls for viewers to avoid gambling, alcohol and fast-food ads on its digital streaming platform SBS On Demand as part of its responsible advertising practices.
The initiative, announced at the broadcaster's Upfront event in Sydney on Tuesday, will be introduced in the first quarter of 2024.
Managing director James Taylor said the move was unrelated to incoming legislation on wagering ads.
SBS boss James Taylor wants the broadcaster to offer responsible advertising.Credit: SBS
"Audiences have complete control over the content they choose to watch on streaming platforms, and we'd like to give audiences a degree of control over the ads they see as well," said Taylor, who was recently handed a second term as boss of the broadcaster. 
The three advertising categories were logical choices and the ones people tended to have the strongest views on, he said.
The "solid start" was another step in increasing personalisation of services, and a demonstration of the broadcaster's responsible advertising practices, Taylor said.
"We are providing audience members the opportunity to tell us that they don't want to see ads in one of these categories, and I think that's a really positive demonstration of our commitment to audiences," he said.
"We're not judging the products, as evidenced by the fact that we have launch partners in those categories. What we're saying is that our commercial clients have an incentive not to advertise to people who have expressed a view about their products."
Drinks giant Endeavour Group and wagering firm Tabcorp have backed the change.
Tabcorp's general manager of marketing and media, Vanessa Sanford, called it an innovative initiative "that ensures advertising reaches a receptive audience".
Jo Rose, Endeavour's chief marketing officer, said the group was committed to "maintaining a culture of industry leadership in the responsible service, ranging, sale and marketing of alcohol".
Unlike national broadcaster ABC, SBS derives significant revenue through commercial avenues, alongside government funding. Its recent annual report showed $173 million was raised from advertising, sponsorship and client service activities in the 2022-23 financial year, a 12.7 per cent rise on the previous year.
SBS serves its audience a much lower ad load than its commercial competitors – about five minutes an hour, close to three times less.
Taylor declined to comment on the three categories' contribution to the broadcaster's total commercial revenue.
The move could mean SBS forfeits some revenue from many of the nation's biggest advertisers. According to Nielsen Ad Intel, fast-food giants McDonald's and KFC were among the 10 biggest spenders on advertising nationally in the first half of 2023.
The gambling sector has spent exponentially more on advertising over the past decade. In 2022, gambling companies spent $310 million on advertising, half of that on commercial television. Wagering firms typically spend a lot on advertising during coverage of major sporting competitions such as the AFL, NRL and the Melbourne Cup due to the mass reach and target audience viewing those events.
Unlike TV networks Nine and Seven, SBS does not broadcast a major sporting code, meaning its exposure to revenue losses from wagering firms is reduced. However, its coverage of the FIFA Men's World Cup, of which TAB was a major sponsor, gave SBS's revenue a boost in 2022-23.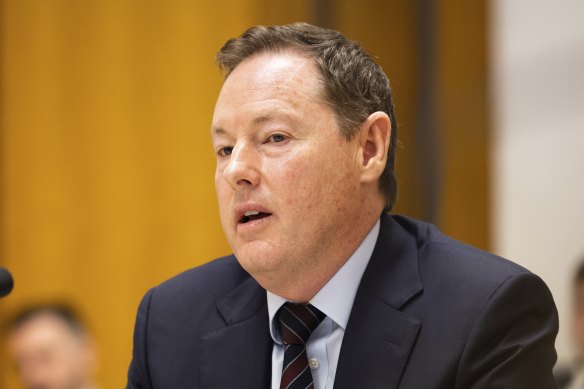 Tabcorp chief executive Adam Rytenskild has welcomed potential curbs to gambling advertising.Credit: Alex Ellinghausen
Following an extensive consultation process, the government is expected to introduce legislation placing controls on gambling advertising in the coming weeks, addressing community concerns over the impacts of gambling advertising on society.
Some proposed controls include caps on the frequency of gambling ads on television, bans on radio ads during school pick-up times and limits on promotional billboards.
Crossbench MPs and advocate bodies support much harsher reforms, including a blanket ban on TV and digital advertising.
In June, a standing committee, chaired by Labor MP Peta Murphy, recommended a phased-out ban on gambling advertising to address the damage caused by legal wagering. Annual gaming losses are estimated at $25 billion, according to the Institute of Family Studies, making Australians the biggest losers per person globally.
While Taylor said there was a commercial impact related to the personalisation of advertising, "our view is it's the right thing to do, and we think that in the long term we're simply starting a process that will evolve across all platforms".
SBS On Demand users can register interest for the beta version of the opt-out function from today. Taylor said audiences would still see the same number of ads on the platform, but from other categories.
The Business Briefing newsletter delivers major stories, exclusive coverage and expert opinion. Sign up to get it every weekday morning.
Most Viewed in Business
From our partners
Source: Read Full Article