Welcome to Quick Q – Monday's Media weekly Q&A series dedicated to finding out more about the personalities that matter most in the Australian media landscape.
Every week The Sydney Morning Herald and The Age asks key figures across corporate media, business, sport, federal politics, radio, television and culture to answer a series of questions about their life, careers, hobbies and news habits.
This week's conversation is with SAS Australia chief instructor and best-selling author Ant Middleton.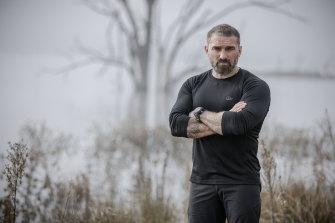 Ant Middleton, chief instructor on SAS Australia
How did you get your big break?
I simply received a phone call asking if I wanted to do an SAS selection course for normal folk! There's not many of us (former Special Forces) out there that are willing to expose our identity, but I saw it as an opportunity and made it my own. And now of course everyone's at it.
What are daily news media habits?
Reading how harsh and controversial I am. I merely say it how it is but in this new age people can't handle the truth. Being honest with others and yourself is the fastest and most efficient way to a solution. FACT!
Which living person do you most admire?
Jordan Peterson – he talks sense, facts and like myself is obsessed with bettering people and making them realise their full potential.
Your guilty streaming pleasure?
I don't actually watch TV that much (I haven't got time) but I used to be obsessed with Family Guy and I do like the Marvel franchise.
Which phrase do you overuse?
Don't f**k this up! I like seeing how different people deal with pressure.
What did you want to do when you grew up?
I actually wanted to be a photographer! I'm a people person and I love travelling and learning.
What was your first job?
I joined the British Army at the age of 16 straight after school.
Facebook or Instagram?
Instagram… a picture paints a thousand words.
Recommend a podcast…
James Smith. He's a no-nonsense PT and says it exactly how it is! I love straight talkers that keep things simple and real.
What's one vice you wish you could give up?
Crisps, I'm so weak when it comes to crisps! I can literally fire through five to six packs no problems. Monster Munch Roast Beef are my favourite. I can smash four packs until my jaw starts hurting.
The song that's always on high rotation?
Dr Dre ft. Eminem 'Forgot about Dre'
What are you reading?
Ross Edgley 'Blueprint'. It isn't out yet, but he's a pal of mine and sent me a copy. It's a fascinating read. Buy it when it's released.
Favourite movie of the past decade?
I'm not normally into military movies but Lone Survivor is so real that when I watched it the first time, I could taste Afghanistan in my mouth! No BS… great film!
Top of your sporting bucket list?
I've a need for speed so it would have to be rally driving. I think I'd need a couple of cars on standby to wreck, or an ambulance ‍️
What's the best piece of advice you've ever received?
Never give to receive! A pure gesture keeps the heart full!
What are the three things you couldn't live without?
My wife, my children and the mountains! When I incorporate all three together, I'm as happy as pig in s—t!
The next episode of SAS Australia airs September 20 at 7.30pm on Channel 7 and 7plus.
Most Viewed in Business
From our partners
Source: Read Full Article