Rio Tinto, the largest Australian iron ore miner, has boosted its exposure to metals standing to benefit from the world's rising electric vehicle uptake after completing a $1.1 billion acquisition of a lithium project in Argentina.
In the mining giant's first acquisition for several years, Rio Tinto on Tuesday told shareholders it had secured a key approval from Australia's Foreign Investment Review Board to buy the undeveloped Rincon lithium brine project sitting within the so-called "lithium triangle" of South America.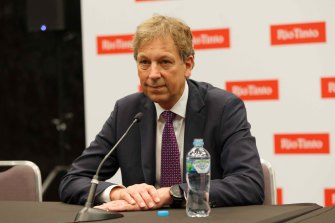 Rio Tinto CEO Jakob Stausholm.Credit:Trevor Collens
Rio has been pushing to diversify its iron ore-dominated portfolio into other commodities such as lithium – a key ingredient in the lithium-ion batteries that will be urgently needed in greater volumes as global carmakers from Tesla to Volkswagen accelerate the rollout of electric vehicles.
"Rincon strengthens our battery materials business and positions Rio Tinto to meet the double-digit growth in demand for lithium over the next decade, at a time when supply is constrained," chief executive Jakob Stausholm said.
"We will be working with local communities, the province of Salta and the government of Argentina as we develop this project to the highest environmental, social and governance standards."
As the electric vehicle revolution gathers pace, the world's supplies of lithium and other vital components such as copper, nickel, cobalt and graphite are failing to keep up with ballooning demand.
The supply crunch sparked a stunning rally last year in prices for lithium, one of the key building blocks for EV batteries. Shipments of hard-rock lithium concentrate known as spodumene from Australia averaged $US400 a tonne in 2020 and are fetching more than $US2000 today.
Rio's Rincon project in Argentina is a long-life, scalable project capable of producing battery-grade lithium carbonate.
"The market fundamentals for battery-grade lithium carbonate are strong, with lithium demand forecast to grow 25-35 per cent per annum over the next decade with a significant supply-demand deficit expected from the second half of this decade," the company said.
Completion of the $US825 million ($1.1 billion) acquisition of Rincon from private equity group Sentient Equity Partners comes as another of Rio Tinto's biggest lithium projects, the Jadar lithium mine in western Serbia, remains in doubt. In January, the Serbian government revoked the company's licences to develop the $US2.4 billion mine, in a shock decision coinciding with escalating protests over the project's potential environmental impacts and a deterioration of relations between Serbia and Australia because of the deportation of unvaccinated tennis star Novak Djokovic.
Glyn Lawcock, head of mining research at Barrenjoey, last month noted Rio Tinto was optimistic about lithium's outlook and was focusing on early-stage entry projects including Rincon and Jadar rather than developed assets.
"Rio is positive on the outlook for lithium, with demand seen 10 times 2020 levels by 2030," he said.
In October, Rio unveiled a major strategic shift including spending $US7.5 billion to halve its carbon footprint by 2030 and earmarking $US3 billion for new investments in minerals considered vital to driving the global shift towards carbon neutrality.
The Market Recap newsletter is a wrap of the day's trading. Get it each weekday afternoon.
Most Viewed in Business
From our partners
Source: Read Full Article