The boss of News Corp's local real-estate listings portal REA Group is expecting the decline in the number of houses listed on the market to slow over the next few months, forecasting a more healthy property environment in the second half of the calendar year.
REA Group chief executive Owen Wilson brushed off concerns the latest interest rate rises would have an impact on his business, despite rising rates and inflation driving a 9 per cent fall in profit to $201.6 million in the last three months of 2022.
At its first meeting of the year, the Reserve Bank board lifted the official cash rate to a fresh 10-year high of 3.35 per cent – the ninth consecutive increase.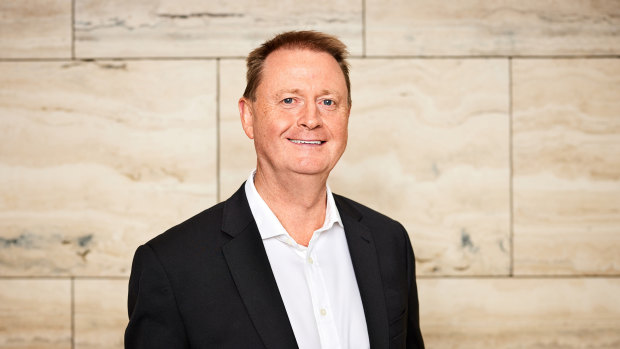 REA Group chief executive Owen Wilson is not worried about the latest interest rate rises.Credit:REA Group
Wilson said he did not believe the latest increase would have an impact on his assets, which include realestate.com.au, data and insights business PropTrack and broking business Mortgage Choice.
"Banks are already factoring in higher interest rates into their assessment of mortgages," Wilson said. "The next [rise] and the one after that will absolutely already be factored in when you go to apply for a mortgage and certainly for anyone thinking of buying and selling in this market.
"What will change is when it becomes clear later this year that we've hit the top, or we're very close to the top – that's when people's attitude will change, and we'll see an increase in activity."
REA Group increased its revenue by 5 per cent to $617.3 million in the second quarter, despite a 21 per cent fall in national listings volumes. Wilson said the growth came from a rise in premium products and a 6 per cent price increase, which was rolled out last July. That was despite listings being down 34 per cent in Sydney and 31 per cent in Melbourne during the reporting period. Wilson said the market was already stabilising.
"It's going to be a calendar year of two very different halves. There is potential that we'll have seen the top of the interest rate cycle in the middle of the year, so we could see a very healthy environment in the second half of this calendar year."
The results beat expectations of analysts, who forecast $611.2 million in revenue, but fell short in profit. News Corp chief executive Robert Thomson reassured analysts on Friday that REA Group was a "core part" of the company's portfolio. The Murdoch-controlled media company is in talks to sell its 80 per cent stake in US real estate listings company Move, raising concerns among industry observers that it may be considering a sale of its 61 per cent stake in REA Group.
"[REA Group] is a different company to Move, and you can do the math of what REA is worth to us. Its market cap is $16.6 billion Australian," Thomson said on Friday. "We all owe Lachlan Murdoch a debt of gratitude for his digital property prescience."
REA Group owns 20 per cent of Move and would benefit from a successful transaction, which could be worth as much as US$3 billion ($4.3 billion). Wilson declined to comment on the transaction.
News Corp also used its announcement to flag a 5 per cent reduction in headcount across the business. That decision does not impact REA Group, but Wilson confirmed the company was also implementing its own measures to manage costs, and also expected a reduction in staff numbers by the end of this calendar year. He said most of that would occur organically, by slowing hiring processes when a person leaves.
Shares in REA Group were down 2.6 per cent to $121.2 in early morning trading, but analysts are upbeat. UBS media analyst Lucy Huang said it was a strong result.
"Outlook commentary is relatively positive for now," Huang said. "We remain watchful on second half volumes… it is likely too early to see the full impact of recent rate rises on consumer seller sentiment."
It was "a strong result for REA, especially Aus (residential) depth penetration," she said, noting the group had "significantly outperformed our expectations, suggesting REA is potentially taking more share in the current uncertain environment".
The Business Briefing newsletter delivers major stories, exclusive coverage and expert opinion. Sign up to get it every weekday morning.
Most Viewed in Business
From our partners
Source: Read Full Article