Qantas has sent out an urgent plea to unrostered pilots to fly three international flights and a number of domestic flights scheduled for Wednesday due to "critically short uncrewed flying for tomorrow April 13″.
The communication, sent from Qantas Operations on Tuesday morning sighted by this masthead said flights to London, to Johannesburg and from Melbourne to Los Angeles were short captains and first officers.
It is also looking for an unspecified number of crew to pilot A330 domestic flights on Wednesday – the start of the busy Easter holiday break.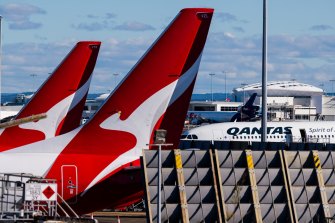 Qantas is scrambling to find pilots to fly a number of flights on Wednesday. Credit:James Brickwood
Airlines have been in damage control over the past week as customers have taken to social media to complain about customer service phone wait times, culminating in Qantas issuing an email apology to its Frequent Flyers.
The snaking queues of passengers at Sydney and Melbourne airports over the past four days is further evidence that neither the airlines nor the airports have properly prepared for the return of passengers following COVID.
Qantas has promised to boost call centre operators to 750 and there have been calls to increase the number of ground staff as check in kiosks and baggage drop were a bottleneck point at airport terminals.
Ground security, which is the responsibility of the airport, has been an even bigger choke point for passengers that are now being warned to turn up a minimum of two hours before a domestic flight.
But the shortage of pilots suggests that the problems run deeper and add weight to the argument that the airline sliced too deep in its cost-cutting measures, including reducing its staff numbers.
(That said Qantas maintains it lost very few pilots – with most of those that left were the result of the retirement of the Boeing 747 aircraft from its fleet.)
The industry appears to be suffering from a more broad-based meltdown – and is a long way from match fit.
And the situation has been compounded by airline staff having to isolate due to being a close COVID contact. The 'reserve line' of pilots have been chewed through, leaving some flights unable to operate unless unrostered or on-leave pilots are prepared to step in.
A Qantas spokesman responded on Tuesday saying, "We have a lot of COVID-19 related absences at the moment, and we're pulling out all the stops to make sure we can get people to their destinations. The industry is seeing the same challenges, but more severe, around the world, and we're managing this the best we can."
While it seems evident that the airlines have had trouble managing the surge in travelling, it is only two years since they were financially crippled by COVID. Virgin was placed into administration while Qantas boss Alan Joyce grounded the majority of its fleet, and undertook emergency measures to raise capital and increase its debt facilities.
Since then, it has needed to deal with the COVID yo-yo effect – huge swings in passenger demand as international and state borders changed.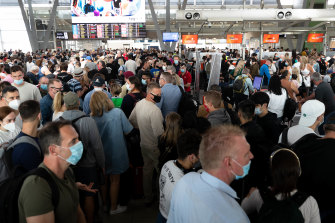 Airlines and airports have been grappling with staff shortages during the busy Easter period.Credit:Janie Barrett
But the COVID hangover is causing a degree of havoc that may not be evident to passengers.
A recent post on a pilot chat room, Qrewroom, noted that on 17 flights they piloted over the past week, there had been delays on all 'first flights' waiting for baggage handling and/or catering, that some flights had departed with no catering (and no passenger compensation) and that there had been a wait for pushback vehicles to arrive due to the limited number of operating tugs operating in Sydney.
On another chat site contained a post which said that a labour hire company Swissport had offered a $2,000 sign on bonus in Melbourne for baggage handlers.
The fact that airlines around the world are suffering similarly debilitating issues will be of little comfort to Australian passengers trying to take their Easter holidays.
The Business Briefing newsletter delivers major stories, exclusive coverage and expert opinion. Sign up to get it every weekday morning.
Most Viewed in Business
From our partners
Source: Read Full Article