Save articles for later
Add articles to your saved list and come back to them any time.
Qantas chairman Richard Goyder is optimistic the airline will be able to launch new routes to destinations such as Taiwan and South Korea early next year thanks to coronavirus-safe "travel bubbles", while the United States and the UK remain shut off.
But in his opening address at the airline's annual general meeting on Friday, he expressed frustration at Queensland and Western Australia keeping their borders shut to interstate travel even as COVID-19 infection numbers came under control.
"This inertia that doesn't seem to be based on the actual health risk. And that seems to ignore the broader economic and social risk involved with staying shut – especially as federal income support winds down," Mr Goyder said.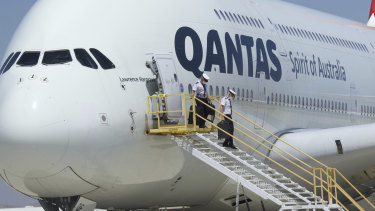 Qantas said previously it did not expect international flying to resume until mid-2021. Credit:AP
Qantas said on Friday its domestic operations have now recovered to almost 30 per cent of its pre-pandemic network capacity, compared to previous expectations it would have bounced back to 60 per cent by this stage.
The delay in opening state borders cost it $100 million in the past three months, while around 18,000 workers remain stood down and surviving on the Jobkeeper wage subsidy, it said.
Mr Goyder said the lifting of restrictions in New Zealand and the potential for Australia to join "travel bubbles" allowing quarantine-free travel to countries that also have COVID-19 cases under control were encouraging.
"Qantas and Jetstar are keeping a close eye on new markets that might open up as a result of these bubbles – including places that weren't part of our pre-COVID network," he said in his remarks.
"By early next year, we may find that Korea, Taiwan and various islands in the Pacific are top Qantas destinations while we wait for our core international markets like the US and UK to re-open."
Qantas had previously said it did not expect to resume any meaningful international flying until the middle of next year.
The airline has embarked on a three-year, $15 billion cost-cutting program to help it recover from the COVID-19 crisis which devastated airlines globally.
That includes making 6000 employees redundant, with another 2400 go following a decision to outsource all ground handling work, representing a reduction of Qantas' workforce by close to a third since the start of the pandemic.
More to come
Search ASX quotes
Most Viewed in Business
Source: Read Full Article