The pandemic has put diagnostic respiratory health on the radar of major players with Pfizer making a bid for an ASX-listed health start-up and putting a spring in the step of other home-grown firms hoping to crack the international market.
Investor interest was piqued last week when vaccine maker Pfizer lobbed a $100 million bid for Brisbane business ResApp, which is trialling a smartphone technology designed to help diagnose coronavirus by listening to recordings of a patient's cough.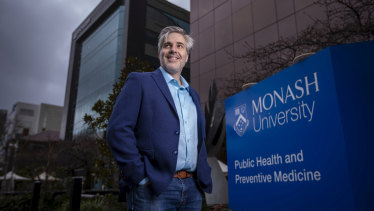 Dr Andreas Fouras is ready to bring his company's real-time, lung-tracking technology to the US market.Credit:Wayne Taylor
The business has also entered into a research and development deal with Pfizer to work on projects related to COVID-19. ResApp shares closed at 12 cents on Thursday, marking a gain of 64 per cent year-to-date, compared with the broader ASX healthcare index, which is down 13 per cent over the same period.
But ResApp is not the only ASX-listed biotech wanting to overhaul the way that doctors track lung health in a post-pandemic world. Other home-grown biotechs are also chasing international reach in the hopes of becoming the next ResMed – the sleep and respiratory technology maker with a market capitalisation of $US34 billion ($46 billion).
The boss of 4DMedical, Dr Andreas Fouras, will be travelling backwards and forwards between Australia and the US multiple times in the coming months as his company works to prove the value of its lung-tracking software in the US market.
The company's LVAS platform tracks lung function in real time and the company hopes it will become a new non-invasive way to track the health of patients with diseases like long-COVID. "The numbers are somewhere in the ballpark of one in 10 people who have had COVID are going to need some follow up," Fouras said.
"That's millions of people across Australia and the United States, and you need a technology that's inexpensive, that is scalable, and that doesn't have its own safety risks for the population."
Fouras acknowledges that investors have revalued health stocks since the start of the year, but believes there is enduring value for companies working on lung health beyond the pandemic.
"If you are in respiratory and there is a real opportunity to be part of the solution for COVID, there is a really significant value opportunity right now."
The chief executive of asthma monitoring startup Respiri, Marjan Mikel, is also hoping to crack the US market. Reflecting on Pfizer's bid for ResApp, Mikel said his company has had conversations with major pharmaceutical players but has yet to see a compelling offer for collaboration or a takeover.
Respiri offers a smartphone monitoring system called Wheezo which is designed to track a user's wheezes and log their asthma symptoms for better treatment.
The company is hoping the tech will appeal to doctors in the US, who have only recently transitioned to telehealth systems for patients because of the pandemic. The American healthcare system has clearer reimbursement pathways for the tech, which the company estimates means that a US patient using the tech generates up to five times as much revenue as Australian patients.
"The US is our first, second and third priority," Mikel said.
There's still research to be done – while 4DMedical's platform has a Therapeutic Goods Administration registration, the company is still working through clinical trials to show exactly how its software can be used to track various respiratory diseases.
As international travel reopens, so too does the conference circuit. Fouras said his company is ready to share research findings with industry during upcoming events, including the American Thoracic Society's annual conference in San Francisco next month.
"It provides us with the perfect opportunity to get those results out."
The Business Briefing newsletter delivers major stories, exclusive coverage and expert opinion. Sign up to get it every weekday morning.
Most Viewed in Business
From our partners
Source: Read Full Article