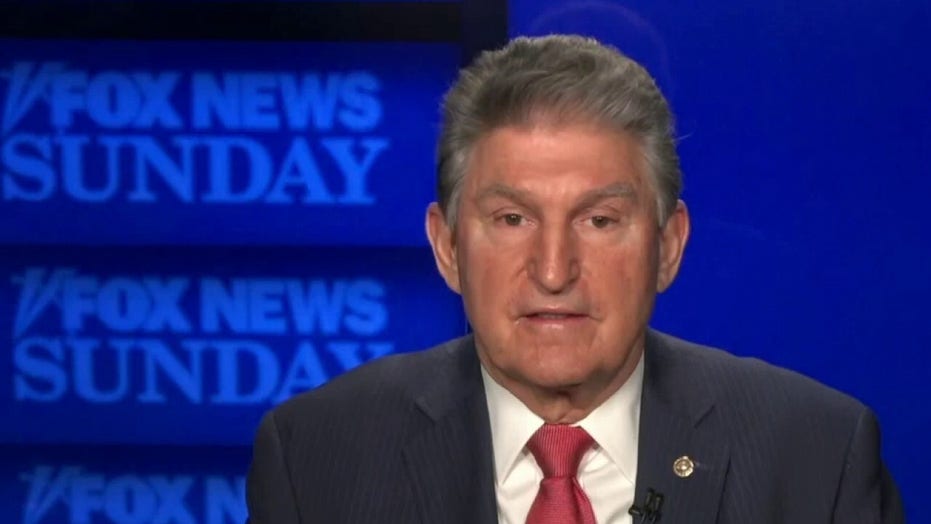 Sen. Joe Manchin: 'I cannot vote' for Build Back Better amid 'real' inflation
Sen. Joe Manchin, D-W. Va., explains why he 'cannot vote' for the 'mammoth legislation,' noting that he's had reservations since he first heard about it.
House Speaker Nancy Pelosi may have an ambitious New Year's resolution: revive President Biden's Build Back Better plan that was dealt a major blow on Sunday after Sen. Joe Manchin, D-W.Va., announced on "Fox News Sunday" that he is a "no" on the social spending bill.
Democrats knew that they could not spare a single vote because of the 50-50 split in the Senate. Pelosi called the developments "disappointing," but vowed more negotiating. She said she is "hopeful that we will soon reach an agreement so that this vital legislation can pass as soon as possible next year."
Manchin told Fox News that his rationale was simple: he wants to be able to explain to his constituents in his home state why he voted for the bill. He told Bret Baier, the host, that he "cannot vote to continue with this piece of legislation."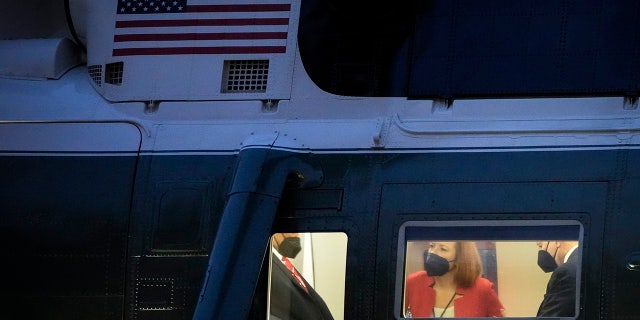 White House Press Secretary Jen Psaki and President Joe Biden sit in Marine One prior to lifting off on the South Lawn of the White House December 17, 2021 in Washington, DC. (Photo by Drew Angerer/Getty Images)
( Drew Angerer/Getty Images)
"I just can't," he said. "I've tried everything humanly possible. I can't get there."
Jen Psaki, the White House press secretary, called Manchin's announcement "a sudden and inexplicable reversal in his position" and "a breach of his commitments" to Biden and congressional Democrats. She pointedly said that Manchin, whose state is among the nation's poorest, "will have to explain" why many families will have to cope with higher health and child care costs the bill is intended to address.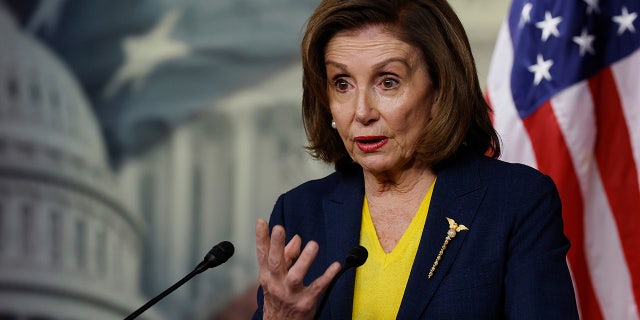 Speaker of the House Nancy Pelosi talks to reporters during her weekly news conference in the U.S. Capitol Visitors Center on December 15, 2021 in Washington, D.C. (Photo by Chip Somodevilla/Getty Images)
Psaki said in a statement that Manchin had "in person" given Biden a written proposal last Tuesday that was "the same size and scope" of a framework for the bill that Democrats rallied behind in October, and agreed he'd continue talks. That framework had a 10-year cost of $1.85 trillion. Officials hadn't previously disclosed that Tuesday meeting.
Pelosi said in the statement released late Sunday night that there was an agreement on the "fundamental framework" of the plan, with a focus on the "most critical provisions" that included the Child Tax Credit, expanding home health care, and strengthening the Affordable Care Act.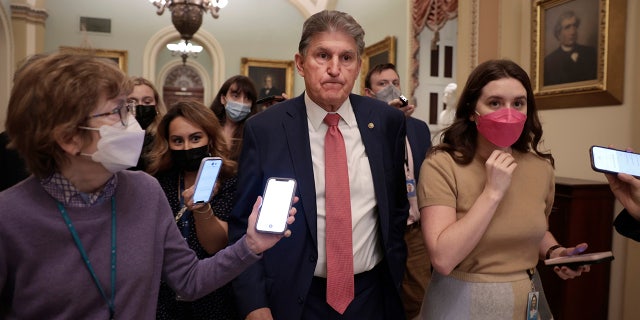 Sen. Joe Manchin is followed by reporters as he leaves a caucus meeting with Senate Democrats at the U.S. Capitol Building on December 17, 2021 in Washington, D.C. (Photo by Anna Moneymaker/Getty Images)
(Anna Moneymaker/Getty Images)
She said the "inflation-fighting package" a plan that will actually cut government costs, a claim that has been challenged by Republicans.
"I think this is actually great news for the country," Rep. Byron Donalds, R-Fla., told Fox News on Sunday. "It was a bad bill. Everybody knows it's a bad bill, especially where our economy is. The answer is really for Washington to start spending trillions of dollars more that it doesn't have, we would be paying people to stay at home, we would be investing in this Green New Deal agenda – which is going to make energy costs even more expensive? And that somehow is the recipe America needs in order to 'build back better?' It's a joke. It's a bad bill."
Fox News' Joseph A. Wulfshon, Lindsay Kornick and the Associated Press contributed to this report
Source: Read Full Article