Singtel Optus has attempted to diffuse claims made by a senior executive that spacecraft from "unfriendly nations" have come close to its satellites, but said it works closely with government on issues of national security.
The telco's head of satellite and space systems Nick Leake told the Australasia Satellite Forum on Tuesday that space was facing challenges as it became crowded with debris and satellites from tech. But he went one step further, claiming that spacecraft from state-based actors had ended up in the orbital rotation of its satellites.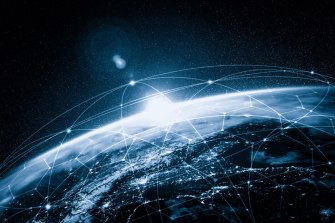 Optus' head of satellites said earlier this week that spacecraft from "unfriendly nations" had entered the telco's orbit.Credit:Rivada Networks
"On some occasions, we have had to make avoidance manoeuvres to ensure our satellite was not struck," he said. "We're obviously looking at actors from unfriendly nations that are putting out a spacecraft to look and listen to what is actually going on in our fleet. And we've had certain spacecraft from certain actors that have followed a flight plan that slightly deviated and ended up in one of our orbital rotations."
When asked about the specific incidents and countries involved, an Optus spokesperson said it would not comment publicly on "such sensitive matters". "Optus works closely with the Australian government on all security concerns," the spokesperson said. The government declined to comment.
Optus has five geostationary satellites that provide services across Australia and New Zealand, and to McMurdo Sound in the Antarctic, but it is one of several telco providers operating in space. Vocus Group runs the base stations for Elon Musk's satellite company Starlink, and Telstra has deals in place with satellite providers OneWeb and Viasat. NBN Co, which is government funded, owns and operates two satellites.
NBN declined to comment specifically on whether it had any similar issues with "unfriendly nations". NBN's satellites "provide secure, reliable broadband coverage to remote and regional parts of Australia," a spokesperson said. "We carefully monitor the operation and performance of our equipment at all times."
The proliferation of satellites – specifically low-earth orbit satellites run by companies such as Musk's SpaceX – are creating challenges: everything from cybersecurity vulnerabilities, increased debris in the atmosphere and light pollution that makes it difficult to see the stars.
SpaceX's Starlink constellation has 12,000 satellites approved through the Federal Communications Commission and has asked for another 30,000. Project Kuiper – run by Amazon – plans to launch thousands of satellites and OneWeb has about 600 operating in space. The Chinese government is talking about a "mega constellation", while entrepreneur Greg Wyler is talking about launching up to 100,000 satellites.
A paper presented at the 70th International Astronautical Congress in 2019 said there would be unintended consequences of the increase in satellites in space, such as cyberattacks through lasers that are capable of disrupting satellite communications.
The number of satellites and spacecraft near the earth and threat of collisions with debris were among concerns publicly discussed at the satellite forum earlier this week. Leake and other executives warned that space would become unusable if the issues weren't resolved.
"The rapid proliferation of man-made objects in space, whether active satellites or debris, can threaten the safe and secure launch and operation of spacecraft; and with more anti-satellite missile weapon tests being conducted, leaving tracking debris and over 100,000 smaller objects, the space domain is becoming increasingly complex," he said.
The Market Recap newsletter is a wrap of the day's trading. Get it each weekday afternoon.
Most Viewed in Business
From our partners
Source: Read Full Article