First Peloton's John Foley lost his billionaire status in November. Then he stepped down as chief executive officer in February, a position he held for a decade, though retained considerable influence at the company he co-founded.
Now he has exited entirely, with Peloton announcing this week that he's resigning as executive chair as part of a larger shake-up to its leadership team. It caps a dramatic rise and just-as-spectacular fall at the in-home exercise company that quickly became a favourite among traders during the pandemic.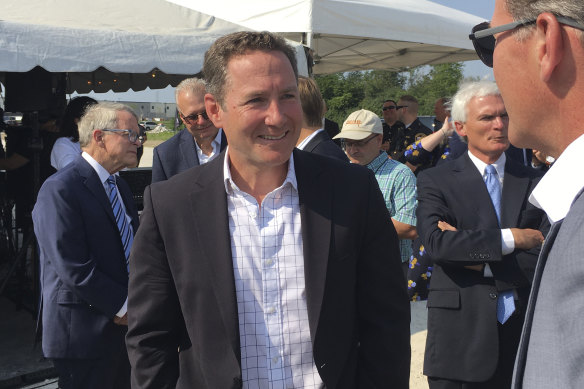 Peloton founder John Foley is exiting the company.Credit:AP
Foley created Peloton in 2012, posting a video to Kickstarter and raising $US307,000 ($456,000) to help get the startup off the ground. It grew into a company that was worth almost $US50 billion in January 2021. At that point, Foley had a fortune of about $US1.9 billion, according to the Bloomberg Billionaires Index.
But his time as a billionaire was shortlived. As pandemic restrictions ease, Peloton has struggled to adapt, issuing dire forecasts and posting steep losses even after CEO Barry McCarthy set a turnaround plan in motion. Foley leaves Peloton worth about $US225 million, according to the Bloomberg index, representing a drop of more than 80 per cent from his peak. His wealth — like the company's share price — is lower than it was in March 2020.
A Peloton spokesperson declined to comment beyond its statement on Monday, which called Foley "the pioneer who was the driving, creative force behind today's global connected fitness industry."
Still, Foley has permanently gained from the company's stunning rise. He's sold Peloton stock worth more than $US165 million since 2020, according to Bloomberg calculations, including some transactions in early 2021 when shares were trading near all-time highs. Foley also offloaded $US50 million in March in a privately negotiated deal with Michael Dell's MSD Partners.
Peloton was a big winner of COVID lockdowns but its shares have plunged in 2022.Credit: Supplied
Peloton's shares are down 72 per cent this year, including an 10 per cent plunge on Tuesday as stock markets tumbled after hotter-than-expected US inflation data raised the prospect of more aggressive Federal Reserve interest-rate increases.
Foley, in a statement, said he plans to start a business "in a new space."
"I don't view this as goodbye," he said. "I will always be a Peloton member and a passionate advocate for our mission. So until we meet again, stay safe and strong. And I'll see you on the leaderboard."
The executive helped turn Peloton into an iconic fitness brand with a loyal following, but was criticised for not forecasting a sharp downturn in demand for its exercise bikes.
Some Peloton investors also had hoped that Foley – and then McCarthy – would consider selling the company. But no suitor emerged, and McCarthy has said that he didn't take the CEO job to oversee a sale.
Bloomberg
The Market Recap newsletter is a wrap of the day's trading. Get it each weekday afternoon.
Most Viewed in Business
From our partners
Source: Read Full Article