If you think Twitter is a bin fire now, a successful takeover by Elon Musk could turn it into a raging inferno of misinformation, and spark an even bigger tussle with regulators.
That is if we agree to take Musk's free speech schtick, which got us to the current standoff between the world's richest man and Twitter's management, at face value. Given the speed at which things have escalated so far, the takeover scenario may yet evaporate into the ether.
Musk's ruminations on the future of Twitter started with him expressing concerns about the constraints to free speech that were being imposed by the platform. The so-called "public square" of netizens was being shackled, which, according to Musk, poses a critical threat to democracy.
Elon Musk is now showing his social media muscle.Credit:AP
That was three weeks ago and since then, Musk has bought a 9.2 per cent stake in Twitter, rejected a seat on its board and now lobbed a $US43 billion ($58 billion) take-it-or-leave-it offer for the company.
While Twitter's board and management work on a cogent response to the whimsy of a bored multi-billionaire with a taste for causing trouble, public reaction to Musk getting the keys to the platform has been predictably polarising.
Musk is either the messiah of free-speech, ready to expunge the so-called 'woke' bias plaguing Twitter, or he is about to trigger the meltdown of a million snowflakes by making it the most unsafe of spaces on the planet.
Institutional investors aren't sold on the idea of Musk calling the shots at Twitter, with the company's stock falling on news of the bid. But retail shareholders, who powered the meme stock craze of 2021 are stoked.
As far as they are concerned, Musk is the guy to take Twitter to the next level. Just what that level is no one is sure of, but the overarching sentiment is that Musk will lift the censorship that is seemingly locking conservative voices out of the conversation.
In spelling out his aspirations for Twitter overnight, Musk said that the social media giant can't function effectively in its current form. "Having a public platform that is maximally trusted and broadly inclusive is extremely important to the future of civilisation," he said in an onstage interview at the TED 2022 conference.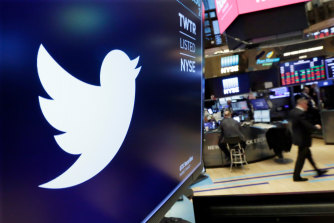 Elon Musk holds the whip hand as he makes his play for Twitter Credit:AP
Musk's maximalist position is very much in keeping with the platform's current appeal, as it serves as the arena of choice for a select segment of the society to play out the daily cut and thrust of the 'culture wars'.
But Musk's instinct for inclusivity will make things even more complicated on Twitter, and not just because Donald Trump may have his account reactivated.
Containing Twitter's corrosive qualities – abuse, misinformation, bots and spam – combined with its oversized influence in shaping the news cycle is already a challenge. Watering down the platform's existing moderation measures, opaque and arbitrary as they are, would make a regulatory crackdown inevitable
While its potential to disseminate and amplify information is undeniable, Twitter has increasingly become a haven of acrimony and animus, and Musk's pursuit of free expression could cause more harm than any supposed good.
Moderation and accountability are necessary for the good health of a healthy 'public square' digital or otherwise but that may not gel with what Musk's plans for Twitter, provided he ends up taking control of it at all.
There's no clarity on how he will pay for the acquisition and Twitter's existing shareholders are digging in for a fight. He can always dump his Twitter stock and tank the company's share price, so this is a fight that Musk is not looking to avoid and in a way he can't lose no matter what the outcome.
His persona as a professional agitator will remain unscathed. And his adoring band of acolytes will be there to cheer him on to his next big idea.
The Business Briefing newsletter delivers major stories, exclusive coverage and expert opinion. Sign up to get it every weekday morning.
Most Viewed in Business
From our partners
Source: Read Full Article