Save articles for later
Add articles to your saved list and come back to them any time.
Rupert Murdoch may have technically stepped back from running the media empire he built over many decades, but don't be fooled by his new title of chairman "emeritus" of News Corp and Fox – an honorary title typically retained after retirement from academia – he will still be calling the shots.
Rupert made that clear with the statement that he will continue to "be involved every day in the contest of ideas" despite – technically – retiring from the board of both companies. What the announcement does do is embed his chosen heir, Lachlan Murdoch, as the undisputed successor.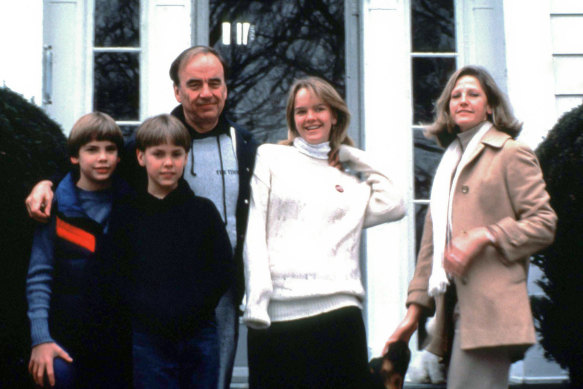 Rupert Murdoch and then wife Anna Murdoch with their children Lachlan, James and Elisabeth in New York City in 1989.
But as Rupert draws even closer to the end of his reign as the most influential media figure the world has ever seen, he cannot escape the karmic irony that will emerge from his family's own succession battle when he does die: the man who has anointed prime ministers and presidents on both sides of the Atlantic will not control the fate of his own family business.
News Corp has been asked if Rupert can still attend board meetings in this role as chairman emeritus, and if there is any boardroom business he will now be precluded from attending.
The announcement only underlines how he hopes his family's succession drama will end. Lachlan has been on prominent display all year – starting from when plans to merge the two arms of the media empire, Fox Corp and News Corp, fell apart.
"As you know, my father and I reached the conclusion that exploring a combination with News Corp is not optimal for shareholders of Fox or News Corp at this time," Lachlan told the market in February.
Fellow investors turned up their noses at a deal that many felt was designed to do nothing more than consolidate Lachlan's control of the family business.
The family has gotten used to running the two businesses, with a combined market capitalisation of about $US27 billion ($42 billion), as their personal fiefdom despite owning a minority stake in both.
Murdoch's control of the super shares that dominate voting rights at both Fox and News Corp gives the family about 40 per cent of votes despite owning just 14 per cent of each.
Rupert's determination to maintain an iron grip on the group by means fair and foul may have been triggered by the precariousness of his own control of the family's holding.
From the time he took control in 1952 until the early 1990s, Rupert effectively shared control of the family stake with three sisters; Helen, Anne and Janet. They had equal shares of the business alongside Rupert but effectively deferred control to their brother.
In the 1990s, Rupert succeeded in finally gaining control with a deal to buy out his own siblings.
But control of the voting rights is only in Lachlan and Rupert's hands while the family patriarch is alive.
Ironically, the heir apparent has his mother to thank for this fact.
Trouble emerged in April 1998, when Rupert ended his 30-year marriage to Anna Murdoch to pursue his new love interest, Wendy Deng.
A furious Anna took her time in reaching a settlement with Rupert that could have, technically at least, given her half of his multibillion-dollar fortune under California law.
With potentially new heirs on the horizon, Anna played the long game on behalf of her three children and stepdaughter Prudence – as she revealed to the Australian Women's Weekly in a rare interview in February 2000.
"I'm very comfortable and my children are protected and that was really what I was most anxious about – that my children and their inheritance would be protected. And that's what took so long – between the separation and the divorce – to get that right," she said.
The trusts that guard the Murdoch family's control of the media empire are shrouded in secrecy, but enough details have emerged to shape the bargain that was made between the warring husband and wife.
The four adult children were given equal votes via representatives on the board of the trust that control the Murdoch family shares.
Rupert had equal votes to the children, but the changes meant he no longer rules unencumbered.
In a 2006 interview on the Charlie Rose talk show Murdoch, a spry 75-year-old at that time, confirmed for the first time that his older children would control the company's future when he dies.
"It's really up to them," he told Rose. "If I go under a bus tomorrow, It will be the four of them who will have to decide which one should lead."
The only challenge to this equilibrium came from Deng who sought equal status for her daughters Chloe and Grace.
Rupert dangled $150 million in front of his four eldest children. It was enough to ensure the economic benefits of the trust were now split six ways: Deng's daughters Chloe and Grace would get a cut of the spoils without any of the control. As Anna demanded, the votes remain with the eldest four who will collectively determine the family's control of Fox and News Corp.
You don't need to be a fan of Succession to appreciate the problems here. The family feuding has been writ large in print.
Lachlan's brother, James, has effectively exiled himself from the media group after the film business, and other assets, were sold off to Disney last year but has made clear his dissatisfaction with the right-wing tilt of the media group – and its climate change coverage.
Their sister Elisabeth, has also been sidelined and left to start up yet another media business on her own. Prudence, the eldest sibling with the lowest profile, is the only one who has not been seen to seek leadership of the business and is viewed as supportive of Lachlan.
Prudence, the eldest sibling with the lowest profile and pictured at News Corp's 2004 AGM, is the only one who has not been seen to seek leadership of the business.Credit: David Mariuz
A plan for Lachlan to buy out his siblings was apparently scuttled, according to a New York Times report in 2019 when he baulked at the deal that could have guaranteed his future.
Any thoughts that Lachlan can count on the continuing support of Prudence and Elisabeth to keep the media empire on its current path was shattered with the aftermath of Donald Trump's election loss which is still playing out in the courts for Fox News.
Fox Corp agreed to a billion dollar-plus defamation settlement with Dominion over claims it helped rig the election, but only after damaging internal emails and text messages came to light revealing how the network deliberately pandered to the false allegations of a stolen election to retain its Trump-supporting viewers.
It highlighted the invidious position Rupert and Lachlan found themselves in with the extremist right-wing audience they had cultivated at the network, now holding Fox captive. Smartmatic, another voting equipment company, is suing Fox for $US2.7 billion.
According to Lachlan Murdoch biographer, Paddy Manning, it has only made the other three siblings more determined to bring Fox to heel and assert control over the two media companies.
"There is an intention, on the part of the other siblings, to reassert control of the trust the moment Rupert dies, and to do it in a way which promotes and enhances democracies around the world rather than undermines them," Manning says, highlighting one of the main points from his book.
But another Murdoch veteran, Australian Financial Review journalist Neil Chenoweth, is not sure the old sibling alliances – which has traditionally seen Prudence aligned with Lachlan, and Elisabeth with James – would dissolve that easily and trigger the ejection of Lachlan when they all control the family trust.
"I just can't see that happening," he says.
There are many different scenarios that could play out, according to Chenoweth. The four siblings would be expected to sit down and vote to distribute the billions of dollars worth of Disney shares they received from the movie giant's takeover of Fox's film business last year.
What if they vote to disperse the Fox and News Corp shares as well?
"That's what would bring the Murdoch control of those companies to an end … it seems to be unlikely but the Murdoch family relationships [are] so complex, that it's hard to know," Chenoweth says.
The Business Briefing newsletter delivers major stories, exclusive coverage and expert opinion. Sign up to get it every weekday morning.
Most Viewed in Business
From our partners
Source: Read Full Article