Australia's most popular sports are urging the federal government to ease laws that determine which matches can be watched for free, warning any further restrictions would prevent them from gaining large sums of money needed to invest in the future of their games.
The Coalition of Major Professional and Participation Sports (COMPPS) – which represents the AFL, Cricket Australia, the NRL, Tennis Australia, Rugby Australia, Netball Australia and Football Australia –said in a submission to a government review of Australia's anti-siphoning laws that it wants to number of sports competitions and matches required to be shown on free-to-air television to be reduced, and more content put behind a paywall.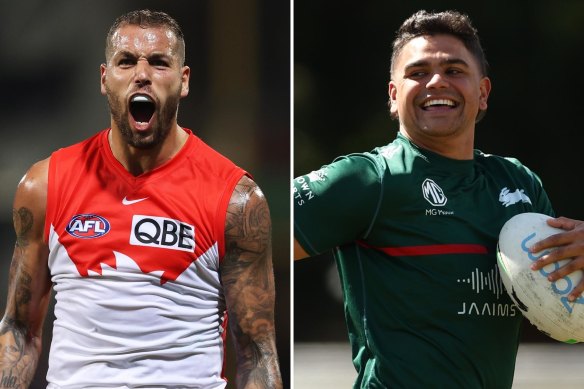 More AFL and NRL matches could end up behind a paywall to ensure sports bodies can maximise revenue.Credit:Getty
Australia's anti-siphoning laws currently make it difficult for events such as the Melbourne Cup, State of Origin and the winter football grand finals to be shown on paid platforms such as streaming services and pay-TV.
COMPPS said in its submission to the review that easing restrictions would allow sports to access more money that could be used to invest in women's games and diversity and inclusion programs. If successful, the group's lobbying efforts would almost certainly result in Australians being required to pay to watch more sporting matches across a number of codes.
COMPPS' views are similar to News Corp-controlled cable TV and streaming company, Foxtel, which is currently prevented from acquiring major sporting events before the free-to-air networks. However, its views contradict Australia's largest free-to-air television networks including Nine Entertainment Co, the owner of this masthead, which want more regulation.
"The commercialisation and sale of their media rights is critical to COMPPS members being able to invest in their sport from the grassroots to the elite level," the submission says. "The scheme and the associated list are outdated and overdue for reform.
"Put simply, the anti-siphoning scheme and associated process limits and restricts competition and innovation in a rapidly evolving media landscape."
Australia's anti-siphoning laws were introduced 1992 at the dawn of the pay-TV era, and were designed to keep major sporting and cultural events free for the public. They were also considered a way to protect the free-to-air networks from losing key rights (and with that profits and influence) from Rupert Murdoch's newly created pay-TV company, Foxtel. The laws give free-to-air networks first dibs in broadcast negotiations on a range of cultural and sporting events such as the AFL grand final, Australian Open and Commonwealth Games.
The media industry has changed substantially since the 1990s and a number of new paywalled services such as Amazon Prime Video, Optus Sport, Stan Sport and Paramount+ have a keen interest in obtaining the rights to sports to boost subscribers.
The proliferation of streaming was the catalyst for a review of the anti-siphoning laws by Communications Minister Michelle Rowland, who plans to change the rules in the new year.
Sports like cricket and the NRL generate most of their money from the sale of broadcast rights to partners, which has been exemplified this year with historic deals struck between the AFL and partners Foxtel and Seven, Tennis Australia and its broadcaster Nine, and more recently Nine and the International Olympics Committee. Cricket Australia is still negotiating a new deal and one of the key points of discussion is which matches will go behind the paywall.
COMMPS argues reducing restrictions would allow sports to maximise the amount of revenue they can earn from a potential broadcast partner by allowing streaming services to bid against free-to-air networks. The group says it would allow sports to pay their players in a competitive market for athletes, and fund grassroots development.
It does not support obligations on how much content should be aired on free-to-air, or disclosing the terms of the deals. It also believes the list should be narrowed to cover events that are "genuinely" nationally important and culturally significant. Currently, all AFL and NRL matches are on the anti-siphoning list, which COMMPS says is "unreasonable and inappropriate". It says a requirement for the Australian Open to remain free is "inappropriate and unnecessarily restrictive".
"The focus of any scheme should remain around the process for the acquisition of rights to listed events and which events are listed rather than prescribing where and when listed events can or must be broadcast," it added.
Industry body Free TV, which represents Nine, Seven West Media and Network Ten, wants the current laws to apply to streaming providers like Amazon Prime Video (currently Foxtel is the only streaming provider prevented from putting events such as the AFL and NRL finals behind a paywall). It also wants sporting codes to sell the traditional TV and streaming rights together and is against any watering down of the list of sports and events covered.
Free TV referenced modelling by consultancy Deloitte Access Economics which found millions of Australians did not have strong internet connections that would allow them to stream sports. It says "general online content service providers" should be covered by the scheme to avoid platforms like Disney or Optus Sport exclusively acquiring rights of major events on the anti-siphoning list.
Charles River Associates economist Dr Geoff Edwards ran research on behalf of Foxtel to support its submission to the review of the scheme. Like the sporting bodies, he said the current laws would limit the revenue that sporting bodies can earn.
"Greater revenue for sports bodies would increase the amounts that sports clubs can afford to spend on players, coaches and programs," Edwards told this masthead. "Greater revenue would also increase the investments sports bodies would be able to make in new competitions (including women's competitions), sports facilities (including stadiums), grassroots development of their sports and inclusivity programs."
In its own submission, Foxtel – which wants the scheme's list to be reduced – also argues the current scheme should be replaced by a "technology-neutral" approach, which would ensure listed events are made freely available regardless of which media company acquires the rights.
The Australian Premier League, which currently benefits from a five-year $200 million deal with Paramount and its free-to-air network Ten is asking for caution to be taken in the review, so it doesn't affect flexibility in broadcast agreements. A-League and League matches are not currently on the anti-siphoning list (the APL said it does not want them added).
The Business Briefing newsletter delivers major stories, exclusive coverage and expert opinion. Sign up to get it every weekday morning.
Most Viewed in Business
From our partners
Source: Read Full Article