Save articles for later
Add articles to your saved list and come back to them any time.
The Australian media sector is gearing up to welcome what could be the most ambitious deal in recent memory, provided KIIS FM owner ARN Media is successful in its bid to absorb rival Southern Cross Media, which owns radio stations Fox, 2DayFM and Triple M.
ARN, valued at $300 million, already holds a 14.8 per cent stake in Southern Cross, and given the limits imposed by the Broadcasting Services Act 1992 – which prevents ARN from crossing the 15 per cent ownership threshold – a full-blooded takeover was always on the cards.
The deal could see a national radio shake-up.Credit: SMH
On Wednesday, ARN, alongside private equity firm Anchorage Capital Partners, submitted a non-binding takeover bid for its slightly smaller rival. If successful, the deal will redefine the local radio market, as ARN takes control of Triple M from its rival, along with 55 regional stations.
Triple M is the main prize in ARN boss Ciaran Davis' sights, but to get it, ARN will need to give something up in return. Courtesy of the Broadcasting Services Act, ARN cannot own more than two stations in one market, and the sacrifice in this case will be the Gen X-focused Pure Gold Network, which broadcasts in Melbourne, Sydney and Adelaide.
It's a trade-off that Davis calls unfortunate. Pure Gold is home to top-tier talent such as Melbourne's Christian O'Connell and Sydney's Jonesy & Amanda, but Davis will need to let that go given what's at stake.
ARN made one of the boldest talent moves in an otherwise predictable sector in 2018, bringing O'Connell, a British radio icon, to Melbourne as breakfast host on the popular Gold FM. He has become a mainstay at the top of the FM ratings since.
Southern Cross shares jumped on the news of the bid, with Barrenjoey analysts Eric Choi and Minnie Tong telling investors the deal "makes a lot of sense". However, they warn that Australia's media laws will make it a "complex transaction".
Adrian Roeling, chief operating officer of media buying agency Hatched, agrees, arguing that ARN and Southern Cross cannot afford to wreck the tie-up. With the share prices of both companies under pressure, Roeling says they "have to do something".
"They're both carrying a lot of cost, plus Kyle and Jackie O want a lot of money [from ARN]. Strategically, the deal makes sense," Roeling said.
ARN is in the final stages of its negotiations with its star duo – Kyle Sandilands and Jackie Henderson – who are reportedly on the cusp of signing a 10-year contract worth $200 million.
Thanks to the pair, KIIS has locked up close to 15 per cent of Sydney's breakfast market, with a cumulative daily total audience for the show standing at more than 750,000. Keeping the pair and expanding their hit show into other markets, including Melbourne, is key to Davis' plan of building a network of 10 metro stations that speak to every segment of the audience.
"What we're trying to build here is a network built on KIIS targeting females 25 to 54, and males 25 to 54 [Triple M], backed by really good talent," Davis said.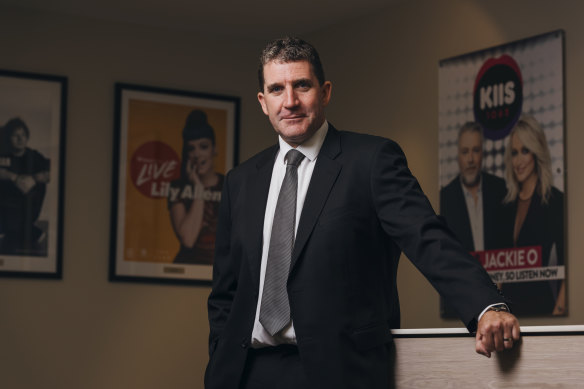 ARN Media chief executive Ciaran Davis is ready to do whatever it takes to get one of the most ambitious media deals in recent memory across the line. Credit: James Brickwood.
While it isn't a ratings juggernaut, Southern Cross-owned Triple M has one key thing going for it. It's got a direct line to an audience that's hard to reach – younger and middle-aged men. It gets this audience thanks to broadcast deals for the AFL, Test cricket and other sports, leveraging that content on its digital platform LiSTNR, and underpinning its live radio offerings on a combination of rock, sports and comedy.
With talent such as Mick Molloy, Marty Sheargold (who has taken a leave of absence this week due to ongoing mental health issues), and other known sports personalities, Triple M's cashed-up male audience is a boon for advertisers.
"I think you're taking two of the strongest assets and combining them, which would give them disproportionate reach in market and disproportionate share of advertiser revenue," said Claire Butterworth, national head of investment at global media buying group GroupM.
Under ARN's proposed deal, Southern Cross' podcast network LiSTNR and ARN's iHeartMedia, the two largest digital audio companies in Australia by some distance, will end up under one umbrella.
Meanwhile, a new, privately owned entity would house the leftover radio assets (Pure Gold and the Hit Network), alongside its underperforming regional television assets.
Davis said the deal, while disruptive, offered a path to securing the futures of both companies.
"We're both losing money at the moment, we're both on a path to profitability," Davis said of the digital assets. "But that extra footprint, that extra scale is something that will allow us to compete with the global players."
ARN's complex solution to making the deal happen could also test the limits of existing media laws, a feat last performed in 2017 when the Turnbull government removed a law preventing one company from owning more than two out of the three mediums: TV, newspapers and radio stations.
This opened the door for a merger between Fairfax and Nine in 2018. Nine owns this masthead.
Barrenjoey analysts have raised the prospect of whether ARN and Southern Cross will lobby for the abolition of the radio licence limitations, citing audience fragmentation and growing digital competition – similar to the argument used six years ago.
"Some consolidation would be beneficial in fragmented market," Hatched's Roeling said.
GroupM's Butterworth said Australia's radio market needed "stronger content producers and stronger Australian content", adding that an ARN/Southern cross combo could "challenge the likes of Spotify".
Lofty ambitions aside, Davis' immediate challenge will be to convince Southern Cross' four other big shareholders to sign up.
Southern Cross' annual meeting, scheduled for October 27, should provide a glimpse into which way they are leaning.
The Business Briefing newsletter delivers major stories, exclusive coverage and expert opinion. Sign up to get it every weekday morning.
Most Viewed in Business
From our partners
Source: Read Full Article