Save articles for later
Add articles to your saved list and come back to them any time.
Grocery giants Coles and Woolworths have defended the information available about items in their online stores after a study of thousands of product listings pointed to inconsistencies in how retailers represent key information such as nutrition and allergens online.
The research puts a spotlight on whether food labelling requirements are fit for purpose in the e-commerce era, given regulations focus on what is printed on the package of foods rather than explicitly outlining how this information should be displayed online.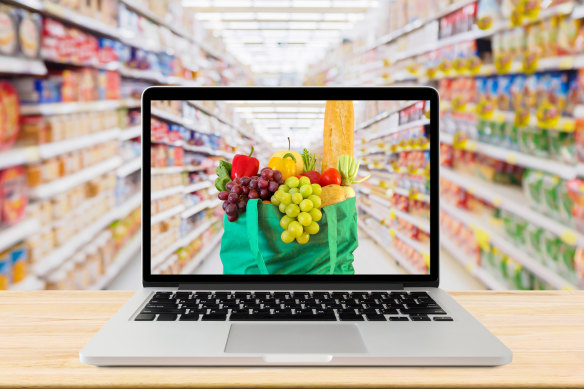 The research from UNSW academics said the findings highlight the need for regulation to be updated to account for the rise in online retail. Credit: iStock
The study, titled Current food labelling practices in online supermarkets in Australia, published last week in the International Journal of Behavioural Nutrition and Physical Activity, was led by a UNSW Sydney researcher and analysed more than 22,000 products listed in the online stores of Coles and Woolworths in 2022.
It found product information was inconsistently displayed and many product listings lacked complete details for factors such as nutrition information panels and allergen information.
Both supermarkets displayed country-of-origin labels across the vast majority of their listings, but the study found only 53 per cent had allergen labels displayed, and only 49 per cent had nutrition information panels clearly visible.
Thirty-four per cent of products reviewed had a full ingredients list, while only 14 per cent of the goods had a voluntary "health star rating" reading available.
Damian Maganja, the study's lead author, said that shoppers in a store could pick up a product to find key information such as ingredients and allergens, but this was changing as e-commerce boomed.
"It's not surprising to see a huge gap in how the major supermarkets provide product information in their online grocery stores, which might not be deliberate or malicious but does fail to help people with choosing products that meet dietary or health needs," he said.
Coles and Woolworths both said that they were committed to making sure relevant product information was available online.
A Woolworths spokesperson said the data for the study was collected a year ago "so it won't have captured the additional improvements we've continued to make to online product information across our range".
Woolworths said its site includes filters for allergens and dietary requirements to help shoppers make choices, and noted that the research paper looked at product pages but excluded information seen in product images on its site.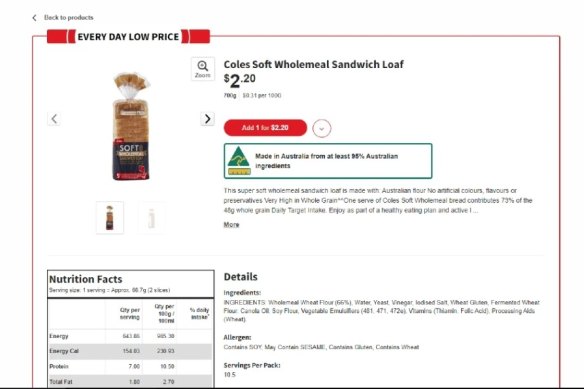 A product listing from Coles used in the research. The researchers said this listing contains country of origin and allergen info, but the nutritional information panel is not fully visible without scrolling, and the health star rating is not on the page.
A Coles spokesperson said the business was committed to including relevant product information in its listings online.
"Our team works closely with our suppliers to build on this information. Nevertheless, we encourage customers to always read the label on the product," they said.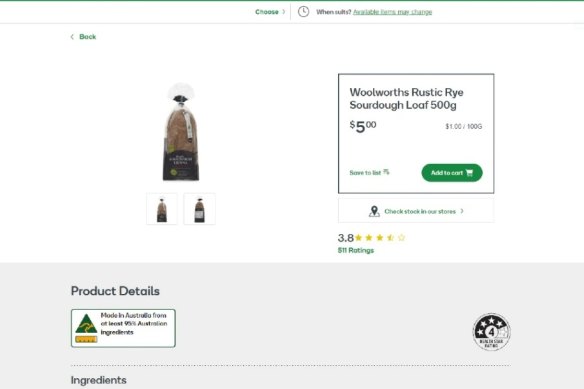 A Woolworths product listing from the research. The researchers noted the health star rating is visible, but the ingredients are only partially visible and need scrolling to see. Allergens and nutritional information are not visible without scrolling.
"We welcome ongoing feedback from our customers to help us provide the best information." Coles also now has filters that let shoppers screen for allergens and dietary requirements.
The Australia New Zealand Food Standards Code sets out the information that food suppliers must provide about their products, though this is focused on what should be on the labels of packaged food.
Food Standards Australia and New Zealand is responsible for developing standards and regulatory measures around food, while any breaches of the code are enforced by authorities in each state and territory.
Food Standards Australia and New Zealand said it did not currently have any work or investigation under way to update the Food Standards Code to apply to online retail as well as physical packaging.
The Business Briefing newsletter delivers major stories, exclusive coverage and expert opinion. Sign up to get it every weekday morning.
Most Viewed in Business
From our partners
Source: Read Full Article