Supermarket giant Coles says customers are changing the way they shop to absorb the rising cost of living, including cutting back on treats and focusing more on discounted products.
"We understand many Aussie households are feeling the pinch following Christmas," the group's chief executive of commercial and express, Leah Weckert, said.
The retailer said a survey of more than 7500 customers showed 82 per cent reported they had adjusted how they shopped in the face of rising living costs.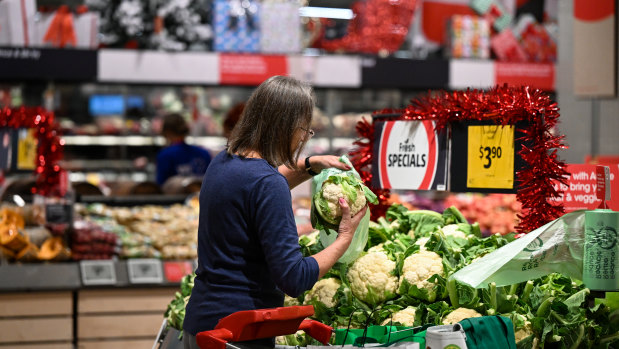 Food inflation looks set to moderate in 2023, but food and non-alcoholic drink prices were up 9.4 per cent for the 12 months to November 2022.Credit:Joe Armao.
Fifty-seven per cent of consumers said they were stocking up on more discounted products and 55 per cent said they were cutting back on non-essentials and nice-to-have products or "treats" that would otherwise be on their shopping lists. More than half of those surveyed said they were also cooking more at home.
Coles on Monday will begin a new phase of its price-freezing policy for everyday groceries. Its original "dropped and locked" program, which froze the prices of 150 items, finishes at the end of January. The second part of the scheme will lower and freeze the price of 300 more grocery items between January 18 and the end of Easter weekend on April 11.
"Price locking" became a key part of promotions at the major supermarkets over the past 12 months as Australians faced inflation at 30-year highs.
Many of these policies promised to hold the price of groceries steady for three or six months, however. A price-freeze policy at Coles' rival Woolworths finished at the end of last year, with the company switching to seasonal deals, such as campaigns for summer-specific groceries.
Coles said this week it would extend price freezes for some items in its original campaign, such as chicken and some beef steaks, until April 2023.
Consumer price index data from the Australian Bureau of Statistics released last week showed grocery prices continued to climb at the end of last year, with food and non-alcoholic beverage prices up 9.4 per cent in the 12 months to November.
The UBS grocery price tracker, which monitors the prices of fresh and dry goods across Coles and Woolworths, shows that the price of dry and packaged grocery items has been rising even as fruits and vegetables start to moderate.
"Trade feedback indicates that cost pressures remain (for example, supply chains, specific product inputs) and are arguably still rising for dry grocery suppliers, with the expected further cost increases to support dry grocery inflation in early calendar year 2023," its equities team said in a note.
Economists and supply chain experts said last week that food inflation is likely to moderate later this year, but noted that higher input costs including fuel and fertiliser prices would continue.
Meanwhile, UBS analysts have found that the while consumers still expect spending to remain strong over the next 12 months, those on lower incomes of less than $48,000 are really feeling the pinch as the cost of living rises.
"Low-income earners now expect their income to contract over the coming 12 months, while their
expectations on savings are now the most negative on record," strategist Richard Schellbach said in a note to clients.
The Business Briefing newsletter delivers major stories, exclusive coverage and expert opinion. Sign up to get it every weekday morning.
Most Viewed in Business
From our partners
Source: Read Full Article