Save articles for later
Add articles to your saved list and come back to them any time.
Humble home brand products are getting fancy as the cost-of-living crisis broadens their appeal.
From coffee to cleansing wipes, and baby food to beer, thousands of supermarket-owned brands now line the aisles of our major grocery retailers, with more products added each quarter.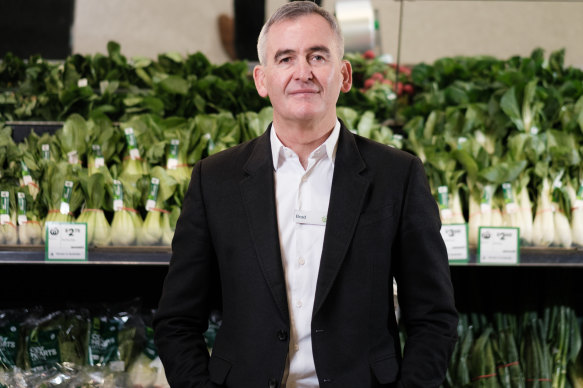 Woolworths chief executive Brad Banducci says shoppers are becoming more functional in their shopping.Credit: Oscar Colman
These products are a far cry from the typical home brands found in Australia 30 years ago. After years of steady investment, major grocery giants have axed basic, budget packaging and replaced it with sleeker, more premium designs, and built product lines that shoppers might not even immediately register are supermarket-owned.
Whether it's Daley St coffee at Coles or Voeu face masks at Woolworths, exclusive supermarket goods are taking on their own brand identities, and courting thousands of fans.
Rocketing inflation and rising mortgage rates have created the perfect climate for home brands to prosper, and the supermarket giants say business is booming as shoppers change their purchasing habits to make their dollars stretch as far as possible.
Sales of Coles' exclusive brands jumped by 11.4 per cent in the three months to March, hitting $2.9 billion.
It was the same story at Woolworths. Its own brand sales jumped by 9.1 per cent, with some categories such as pantry staples and dairy products accelerating by as much as 20 per cent.
The retailers say much of the success is due to the trend of "trading down", or the phenomenon of shoppers moving to more value-friendly items when economic times are tough.
"We've been growing own brand faster than total sales for quite some time now – it has been a key part of our strategy to do that," outgoing Coles chief executive Steven Cain said last month when discussing the company's quarterly results.
"If you take one category that's done particularly well, I'd point to pasta … own brand pasta sales are up 40 per cent year-on-year."
Coles has a portfolio of more than 6000 exclusive products, including KOi body care.
Woolworths boss Brad Banducci also called out the performance of home brand staples, with products such as own brand rice flying off the shelves.
"[Shoppers] are becoming more functional, and they are having more meal occasions at home," he said in early May.
But the evolution of home brand products in Australia is about more than just the cash-strapped customer.
Exclusive private labels have become more important to retailers inside and out of the grocery sector. The launch of discount grocery chain Aldi into the Australian market in 2001 helped drive progress, showing traders it was possible to deliver value-focused products that shoppers would often choose over more premium brands.
The director and founder of food and grocery consultancy Prof. Consulting Group, Mark Field, said there had been a real shift in how Australian retailers think about the own brand space. "There has been a significant focus on quality," he said.
"There has been a real focus on understanding the quality of the products in the market from a branded [product] perspective, to make private labels at least equivalent to those brands, and make sure they are priced competitively."
This change in focus means home brand products are no longer the domain of only the most budget-conscious shopper.
Grocery retailers are also generating major traction by developing unique products at a higher price point, including speciality meat ranges, toiletries and home goods.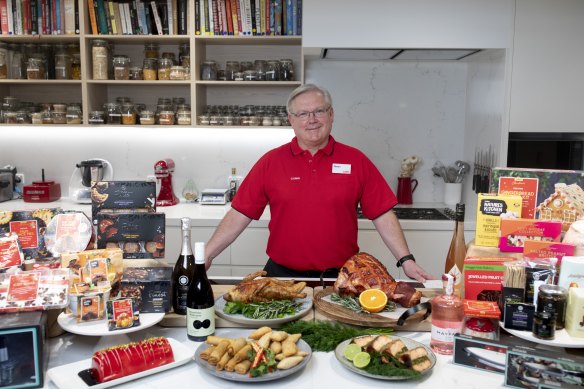 Outgoing Coles boss Steven Cain with a variety of the supermarket's own brand items in 2021.Credit: Arsineh Houspian
"Our highest growth brand inside our own brands has been the Macro brand," Banducci said this week when discussing Woolworths' quarterly sales. The Macro Wholefoods range includes steaks, nuts and other speciality health foods.
Australia's growing affection for home brands is also on display outside the supermarket, at retailers such as discount department store Kmart.
The group's Anko products are so successful that the company is starting to export the line globally.
Kmart's parent company, Wesfarmers, confirmed in a presentation to the Macquarie Australia conference earlier this month that Anko was now being sold into Canada, as well as into India via Amazon.
While retailers are focused on growing their exclusive product lines, experts expect the major supermarkets will still place a high value on products from external suppliers.
Developing a strong, value-conscious portfolio of own brands was primarily a way for supermarkets to differentiate themselves and build loyalty with shoppers, Field said.
"I don't believe the aim for any retailer is to get a customer to buy everything private label. What you do have to do is get a reason for a customer to come in and buy from you [instead of others]. You have to have that drawcard."
The Business Briefing newsletter delivers major stories, exclusive coverage and expert opinion. Sign up to get it every weekday morning.
Most Viewed in Business
From our partners
Source: Read Full Article