After a decade of drama, Sydney finally has two casinos vying for its gambling dollar – separated by the barest sliver of a harbour.
Crown Resorts and Star Entertainment Group have been put through the regulatory ringer, many would say belatedly, for their shoddy approach to compliance. But suitably chastened, both are now ready to go toe-to-toe in their pursuit for punters.
However, as Crown Sydney's marketing brochures highlight, the multibillion-dollar resort dreamed up by billionaire James Packer is staying true to its promise of focusing on high rollers. There is no enticement for the grind market, which is the staple of The Star and the poker machine dens across Sydney.
A $10,500 bar tab is the sort of spend needed to get a punter through Crown Sydney's VIP gaming room doors at Barangaroo, which opened for the first time this week. This figure is based on Crown's rewards program for Barangaroo which, ironically, does not specify how much gambling is needed to reach the Gold and Platinum status needed to gain entry to its gaming facilities.
One thing is clear, Crown clearly does not have to worry about the "RSL on steroids" tag, which dogged The Star for years.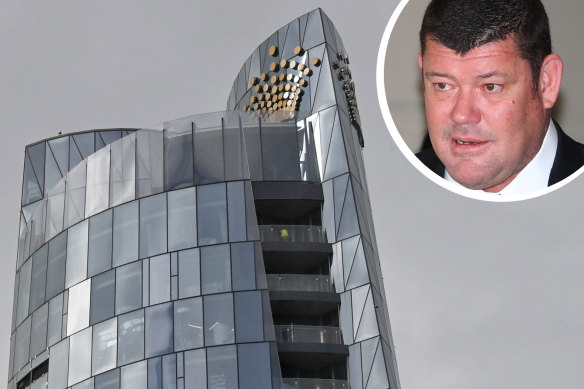 James Packer may be gone but high rollers remain the big bet for Crown's Barangaroo casino. Credit:Nick Moir, Getty
Crown, under the new ownership of US private equity group Blackstone, has also remained faithful to Packer's mantra that the gaming operation – which was originally due to open alongside the hotel in December 2020 – remains central to the economic feasibility of the entire resort.
"Crown Sydney is quite a unique facility and integrated resort. I think that integrated nature will also extend itself to the integrated nature of income," Crown Sydney chief executive Simon McGrath said.
"It's got a very good balance of gaming, hospitality, restaurants, bars and spas and other facilities. And I think that's really important."
Barangaroo needs to be firing on all cylinders. Blackstone paid $8.9 billion for the entire Crown operation in Australia, a price that took the casino operator back to a valuation that pre-dated the scandals and a regulatory nightmare that has seen it deemed unfit to hold a casino licence in all three states in which it operates.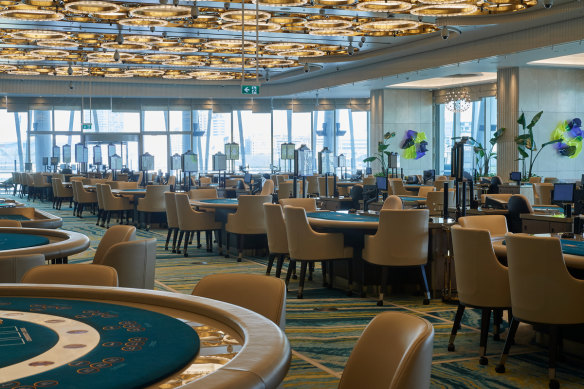 Crown Barangaroo's main gaming floor, the Crystal Room.
The inquiries were triggered by a series of reports by The Sydney Morning Herald, The Age and 60 Minutes in 2019 that examined Crown's irresponsible treatment of problem gamblers and its relationship with high-roller "junket" operators linked to powerful Asian criminal gangs.
The regulatory upheaval, which is still impacting both Crown and Star, is another unwelcome juggle for the newly opened facility.
"First, and foremost, we've got to make sure that we deliver safe and responsible gaming, and then we deliver the curated experience of luxury service," McGrath says. "I think the combination of both those will give us a strong and sustainable business going forward."
Also making life tougher is the fact that the disgraced junket operators, which did the dirty work of attracting Chinese high rollers, and extracting the cash when they lost – for a significant fee – have been banned.
But Crown's new operation offered a not-so-subtle hint that Chinese gamblers are still on the radar with its opening date 08.08.22: eight is the luckiest number in Chinese culture with its traditional association with wealth.
Whether it succeeds in wooing them will be clearer in October when its exclusive high-roller floor opens.
To enter the hallways of Barangaroo's Mahogany room – which houses 30 private salons for the serious high-rollers that Crown once enticed with its own private jets – a minimum spend of $45,000 across its bars, restaurants and hotel is needed to attain the Platinum status necessary for entry. Once again, Crown's brochures do not specify the level of gambling spend needed for Platinum status.
Of course, the serious high rollers will be offered the Black tier membership which is by invite only.
Market analysts no longer track Crown as it is a private company, but in December last year, Macquarie forecast that Barangaroo could end up with 35 per cent of Sydney's tables-based gambling market by the 2025 financial year. This is expected to be worth $923 million. Macquarie forecast VIP turnover of $10 billion by 2025.
Meanwhile, analyst reports focused on the ASX-listed Star following a July market update highlighted that poker machine and non-gambling revenue, across its Sydney and Queensland casinos, have soared above pre-COVID levels. Table gaming revenue, which is all Crown is relying on in Sydney, remains subdued.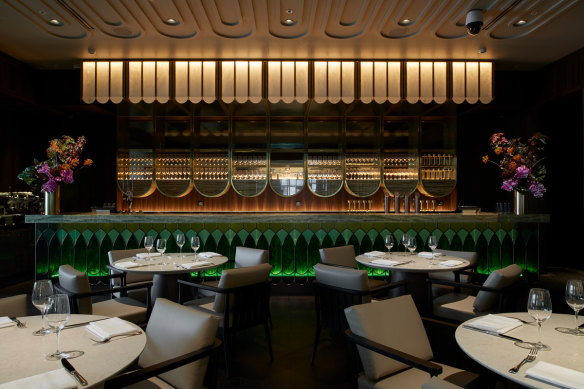 Crown Barangaroo's main gaming floor, the Crystal Room, is finally open to punters.
Crown will have 160 tables, plus 66 electronic tables operating across the Crystal Room and 30 private salons on the Mahogany floor. While Crown Sydney will ensure Star's table gaming revenue does not recover in Sydney, Star does have a secret weapon that Crown cannot rely on: the grind market.
"In NSW, we note that Club electronic gaming machine (EGM) data to May-22 is consistent with Queensland, with profit per EGM running at 129 per cent of pre-Covid levels," a report from Goldman Sachs said last month.
And as JP Morgan analyst Don Carducci pointed out in a recent research note, The Star has a lot at stake as it extracts roughly $115 million in EGM, or slot, revenue from its top-tier gamblers on top of what it gets from their table-based gaming.
"The slot support for Star cannot be overstated; approximately one-third of Sydney (VIP) revenues are linked to slot play," he said.
A fund manager who watches the casino market closely, says Crown has had the edge with high rollers in Melbourne due to the assets it had at its disposal including golf, horse racing and the Grand Prix.
"They always attracted that Tier One player and probably didn't have to do as much as what Star needed to do to attract those players to this market," the fund manager, who did not wish to be identified due to the sensitivities of the high roller business, said.
But high roller rooms are not where the big money is made.
"Crown had the advantage on that part of the business, but it's worth remembering. It's not the best part of the business," he said.
"The grind, that's where you make your margin. That's 80 per cent of your profit."
The Business Briefing newsletter delivers major stories, exclusive coverage and expert opinion. Sign up to get it every weekday morning.
Most Viewed in Business
From our partners
Source: Read Full Article