Technology giant Google has warned the federal government against plans to force it and other manufacturers to make free-to-air television available on its devices, arguing it would come at a huge cost and make it harder to find popular shows a user may want to watch.
Communications Minister Michelle Rowland is planning to legislate a "prominence" framework, which will ensure local broadcasters and their online video applications such as 9Now, 7Plus and ABCiview can easily be found on smart television devices.
Television networks are lobbying for a must-carry and must-promote framework, which would force manufacturers to ensure live television broadcasts and online streaming websites appear first on smart TVs. But Google, which sells Android TVs, Google TVs and Chromecast devices, has taken aim at key components of the proposal, arguing that regulation should not affect what viewers prefer to watch or stifle innovation.
Google, which sells a range of television products including Chromecast, is opposing laws that may force them to prioritise free-to-air broadcasters on devices.
"Provided any obligations were expressly limited to free-to-air and public broadcaster … apps, and those broadcasters had commensurate obligations to maintain and manage those apps, then this could be workable," Google said in its submission, which became public last week. "A preferred approach would be through a single app which contains the relevant content of free-to-air broadcasters."
Google said that the most desirable proposal for free-to-air networks – forcing regulated TV devices to make local services available with no additional fees or payments to the manufacturer – wouldn't work.
"It is unworkable to mandate that providers offer apps, without a commensurate obligation on broadcasters to make those apps available in an appropriate form," it said.
Google said any changes to remote controls would also "pose a significant cost". It is advocating for the lightest touch framework being considered: a reporting scheme that would require regulated parties to report on systems they have in place to ensure local TV services are easily discoverable on their devices.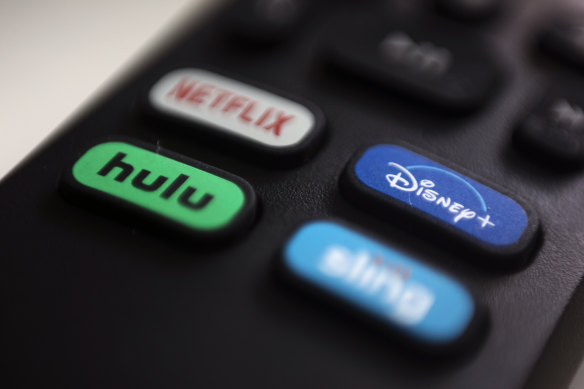 Smart TVs can divert viewer traffic by pre-installing streaming apps, placing these apps prominently in the digital menu and having specific app buttons on remote controls. Google says changing remote controls would be costly.Credit:AP
Google's stance is unsurprising: it is often opposed to regulation that could affect its ability to generate local revenue. When the federal government tried to introduce laws to force Google to pay for the appearance of news content on its site, it threatened to shut down search. However, other manufacturers and telco giant Telstra, which owns stakes in pay TV company Foxtel and aggregator Fetch TV, agree with Google's position on prominence.
Smart TVs – devices that allow people to watch television through an internet connection – are increasingly common in Australian households. But manufacturers such as Google, Samsung, Toshiba and Sony often have relationships with international tech and media companies, such as Netflix and Amazon Prime Video, and strike global deals to feature their apps in favourable positions on their interfaces.
Local television networks argue that this hinders their ability to increase audiences and generate advertising revenue.
The Consumer Electronics Suppliers Association, which represents Sony, Samsung and Panasonic, said the legislation would compromise television quality.
"It would generate significant costs … this would also likely result in a much smaller range of TVs available to Australian consumers," a submission said. "It is also perverse that local commercial stations charge TV manufacturers to advertise with them and yet see no reason to reciprocate with payment for app placement or advertising on device menu/home page."
"[It will] instead will result in imposing a cost on the manufacturers of regulated TV devices. These costs will ultimately be borne by Australian consumers."
Telco giant Telstra is strongly opposed to the legislation, arguing it would stifle innovation and lead to price rises across devices. In its submission, it warns against the introduction of laws for mobile phones, laptops, and tablets. The telco also puts the onus back on free-to-air broadcasters to make content easily accessible through measures such as consolidating the content onto a single app that can be integrated into smart TV devices.
"We are concerned that a legislated prominence framework is a blunt instrument that is not necessarily capable of solving the government's concerns related to the availability and consumption of Australian content," it said. "Instead [it] will result in imposing a cost on the manufacturers of regulated TV devices. These costs will ultimately be borne by Australian consumers."
A prominence framework is a key election commitment of Rowland's and will go ahead irrespective of Google or Telstra's concerns. Free TV, the lobby group that represents Nine Entertainment Co (the owner of this masthead), Seven West Media and Network 10 believe prominence is the most urgent regulator issue for the sector.
Global streaming giant Netflix, which often appears as an app on smart television remote controls, said it supported a "must carry" obligation, but that any measures should respect customer needs.
"A 'must carry' obligation will adequately address the government's policy objective to ensure the availability of diverse Australian programming," Netflix said in its submission. "In the context of a thriving market … there is no demonstrable need for more prescriptive regulation to ensure Australian content is available to Australian audiences."
The Business Briefing newsletter delivers major stories, exclusive coverage and expert opinion. Sign up to get it every weekday morning.
Most Viewed in Business
From our partners
Source: Read Full Article