The drumroll to the announcement of a public offering of Virgin shares began on Monday – an immodestly quick three years after the country's second-largest airline fell into administration.
Sharemarket listings are about finding the sweet spot where profits are strong and market conditions are ripe.
The speed of the corporation restoration undertaken by the private equity player that acquired it, Bain Capital, says plenty about the amount of work undertaken by its owners and even more about the potential for profit in an industry which is essentially a two-player national market.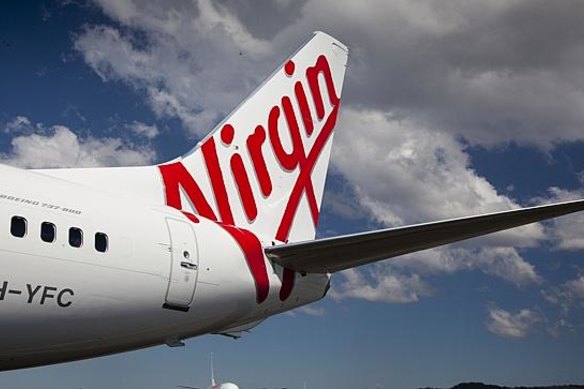 Bain partner Mike Murphy described Virgin Airlines as being "in great shape".Credit: Glenn Hunt
The announcement that Virgin was seeking advice on the potential public share offering comes less than two months after Qantas forecast it would make a record-breaking $1.4 billion profit in the six months to December calendar year 2022, and three months after Virgin Australia boss Jayne Hrdlicka declared the airline had returned to profitability.
After a couple of years of diabolical losses, Qantas isn't about to announce just any profit, rather a mega-profit, which it will post even after accounting for elevated fuel costs.
We are in the midst of the airline industry's purple patch and not just in Australia.
Demand for travel has been booming in the post-COVID lockdown environment has collided with some capacity constraints and given birth to elevated fares.
Because Virgin is in private hands, it is not burdened by particularly onerous disclosure issues, so we can only guess how much profit it chalked up in the six months to December and how it is travelling now. A partner at Bain, Mike Murphy, described the airline as being "in great shape".
We do know that Virgin administration allowed its balance sheet to be cleared of some previous creditors, and that the fleet has been streamlined and costs reduced.
The foundations have been laid for the airline to achieve profit lift-off, the customer demand has done the rest.
The timing of when Bain hits the go button on Virgin will depend largely on the markets.
And while the owners will cringe at the mention of the timing for an initial public offering being opportunistic, it's hard to imagine anyone selling an asset not trying to sell it at an opportune time.
Clearly Bain expects Virgin's performance to remain strong for the remainder of the year. Its challenge will be to convince would-be investors that this is the new normal – rather than post-COVID aberrant.
And Bain has made it clear that it will remain in the ownership cockpit for a period of time – maintaining a "significant holding", according to a statement it released on Monday.
Hrdlicka argued in October that the increase in demand for air travel was not a "sugar hit" but the desire for people to physically reconnect.
That said, the history of Australian airline profits demonstrates clearly that it's not a clear gliding path.
Numerous issues have resulted in airlines moving from outsized profits to large losses. Some, such as the capacity wars and industrial relations upheaval, have been of their own making, others such as COVID have been outside their control.
Investors will want to have confidence that no new travel restrictions will be imposed by governments around Australia. This is a fair bet but not a certainty.
The timing of when Bain hits the go button on Virgin will depend largely on the markets.
Last year was a terrible year for markets and resulted in something of a drought for new listings.
The 2023 calendar year should be better as the anxiety around central banks increasing interest rates in response to inflation is beginning to ease.
But given we are only halfway through January, the jury is still out on whether the 6 per cent gain the Australian market has made to date is the start of better times or more volatility is to come.
The Business Briefing newsletter delivers major stories, exclusive coverage and expert opinion. Sign up to get it every weekday morning.
Most Viewed in Business
From our partners
Source: Read Full Article