Save articles for later
Add articles to your saved list and come back to them any time.
CSL has been forced to defend its performance and its long-term strategy including the value of the recently acquired kidney disease treatments maker Vifor, with more than 20 per cent of shareholders voting against the company's remuneration report on Wednesday.
The $123 billion biotech giant was upfront with investors at its annual meeting about the challenging environment in which it is operating, with chair Brian McNamee pointing to the impact of inflation on the company's margins and currency movements that have impacted performance.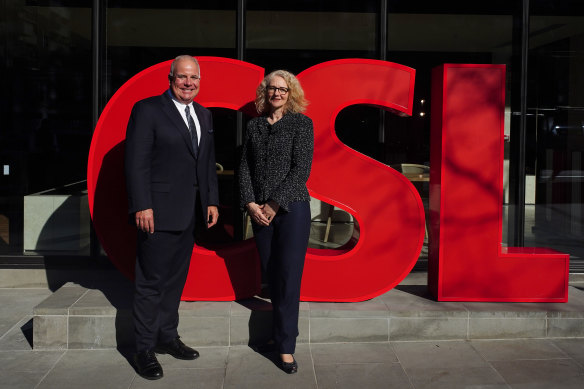 CSL chief executive Paul McKenzie and chief financial officer Joy Linton. Credit: Luis Enrique Ascui
But the company was still grilled by shareholders on a range of topics from the level of dividend payout it gives shareholders to the long-term potential of its $16 billion acquisition of Vifor and how it structures its long-term incentives.
CSL narrowly avoided a "first strike" on its remuneration report after 23.03 per cent of shareholders voted against executive pay. A vote of 25 per cent or more would have resulted in a first strike against pay. When a company receives a vote against of 25 per cent or more for two years or more, shareholders may vote on whether to spill the board.
A motion to grant performance share rights to chief executive Paul McKenzie, who took the role in March, also had a strong protest vote of 24.95 per cent against.
CSL shares were down by 9.6 per cent for the year on Wednesday, trading at $254.44 at 2.45pm. The stock was hit earlier this year after the company was forced to issue a downgrade to its 2023 financial results, citing foreign currency headwinds.
Investors also remain cautious about the recovery of margins in the group's blood plasma business, where the cost of collecting plasma have remained elevated since the pandemic, and the performance of Vifor, which faces competition from generic medicines set to hit the market in the coming months.
McNamee defended Vifor's long-term potential on Wednesday, emphasising that the company will become a major pillar of CSL's growth.
"CSL has a history of doing deals that not everyone is a fan of," he said.
"We have a lot of work to do, I accept that – but we are confident that this will be seen in a number of years' time as another significant growth corridor for the company."
He also defended the company's share price after one investor questioned the group's recent performance and the level of dividends it returns to shareholders.
"We can't control the share price… all we can do is run a good business," he said, pointing to the impact that interest rate rises have had on company valuations right across the healthcare sector.
"You have every reason to be grumpy – nobody likes valuations to be down."
He said the group's intention was to remain a growth company and manage the business well through this period.
"In our view, that will be reflected in time in the share price."
The business will be reporting a number of research updates in the coming months, including results for a phase three trial of its blockbuster heart attack drug, CSL 112, in early 2024.
The Business Briefing newsletter delivers major stories, exclusive coverage and expert opinion. Sign up to get it every weekday morning.
Most Viewed in Business
From our partners
Source: Read Full Article