The chief executive of Deloitte Australia has revealed he was an investor in an allegedly fraudulent scheme created by a senior partner at the consulting giant.
The Age and The Sydney Morning Herald revealed on Wednesday that Amberjit Endow ran a suspected multimillion-dollar fraud while working at Deloitte, ensnaring AFL legend Rodney Eade, dozens of executives and many of the prestigious company's own partners. Investors estimate the scheme could involve more than $60 million.
Deloitte CEO Adam Powick.Credit:Louie Douvis
Endow disappeared in December and can no longer be found or contacted by the worried investors, who have hired asset-tracers to find him and the money.
Deloitte Australia boss Adam Powick on Thursday said in a statement that he had provided funds for what was described to him by Endow as a private investment in India.
"This was a personal investment decision and I only dealt directly with Mr Endow in relation to this investment. At no stage have I ever encouraged or invited anyone to be part of this investment," he said.
"I have recently been made aware that Mr Endow allegedly used my name and title to help recruit additional investors. At no time did I give permission or was aware my name was being used in this capacity. I view this as a significant betrayal of trust, and I am appalled that my name was misused in this way.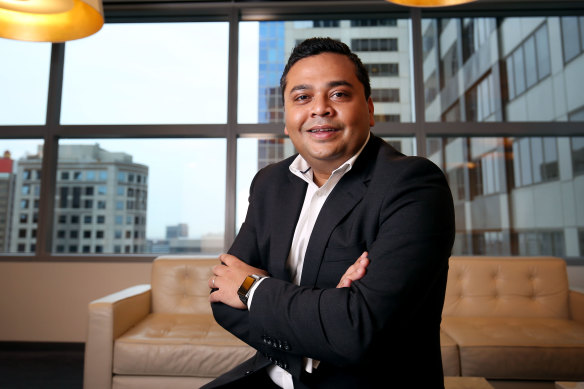 Amberjit Endow during his time at Deloitte.Credit:Nicole Cleary
"I was unaware, and remain unaware, that this investment was anything other than what was represented to me by Mr Endow. I will, of course, provide assistance with any further inquiries into this matter."
The revelation that Powick, who became Deloitte Australia chief executive in April 2021, invested in the scheme raises questions, including why he did not suspect the scheme was fraudulent given a number of red flags.
The investors said another issue was preferential payments, which involve early investors recouping their capital and sometimes additional interest payments unwittingly at the expense of those later lured to the suspected scheme.
Endow promised investors huge returns of up to 40 per cent with zero risk for lending him money to buy what he claimed were Indian government-issued bonds.
Investors, who in addition to over a dozen Deloitte partners include senior executives from consulting and IT firms across Australia, told The Age and The Sydney Morning Herald they were convinced to send funds to multiple personal accounts Endow was operating across the big four banks.
"The promised returns are obviously eye-watering and should have raised major red flags," said one source, who asked to remain anonymous because he was not authorised to comment.
Endow claimed the Indian bonds were linked to a large, ongoing government infrastructure program called the Pradhan Mantri Gram Sadak Yojana that is working to improve India's rural road network. Endow said he was servicing the project as a contractor, according to documents he provided to investors.
Investors who spoke on the condition of anonymity due to the sensitivity of ongoing investigations told this masthead earlier this week that when Endow was pitching the investment, a key selling point was that they were told Powick was an early investor.
Endow allegedly said to them that Powick had been at his wedding in India, alongside other senior partners, and it was there that the idea for the foreign direct investment scheme was created.
"That's how he roped me into it, by mentioning Adam's name," said one investor. "At the time, it influenced me and others to join the scheme."
Another investor said it brought "a lot more trust" to the investment.
"It legitimises it, and these are all successful prominent people [who invested]," he said. "We trusted this guy … I thought it was fairly safe because of who was involved."
"At no stage have I ever encouraged or invited anyone to be part of this investment."
A Deloitte spokesperson on Wednesday had declined to answer questions and in response to questions directed to Powick said: "Deloitte does not comment on the personal investments of our partners."
Endow's pitch also centred on his own position at Deloitte, where he had worked his way up to a senior role of lead partner of robotics and automation, along with the fact multiple Deloitte partners were investors in his scheme.
Endow promised investors huge returns for lending him money. A 2019 pitch document said those who provided more than $250,000 were guaranteed returns of 39.02 per cent over six months. An updated 2022 document outlines returns of 29.19 per cent over six months on investments of $950,000 or more.
Several investors have made complaints of fraud to police in New South Wales and Victoria. Police in both states are investigating.
Sources not authorised to speak publicly said the Australian Securities and Investments Commission had also received several reports about the suspected fraud in late December and January, and had contacted police to assist them in their inquiries.
Our Breaking News Alert will notify you of significant breaking news when it happens. Get it here.
Most Viewed in Business
From our partners
Source: Read Full Article