"I'm not sure ambitious is the right word," the billionaire Bernard Arnault told The Telegraph's Celia Walden in 2015 when quizzed about his current levels of drive. "What I love is to win. What I love is being number one." He's certainly achieved that, as head of LVMH, who control major luxury brands from Moet to Louis Vuitton. In December, he knocked Elon Musk off the world's richest man spot.
This week, Arnault, 73, gave every indication that he had just sounded the starting pistol on the world's most glamorous and potentially most fraught contest to see which of his five children will succeed him to become the next number one. He appointed his daughter Delphine, 47, the new CEO of Dior, the most beloved of all his many prestigious trinkets.
Bernard Arnault, billionaire and chairman of LVMH Moet Hennessy Louis Vuitton. Credit:Bloomberg
While the Arnaults all have far too much self-control for there ever to be visible blood on the Aubusson, what Arnault has done, explains Luca Solca, an analyst at investment firm Bernstein, is create a "Darwinian contest" among his children.
Far from openly indicating that he's about to retire from LVMH, the conglomerate he founded in 1987, Arnault recently had the rules at LVMH changed so that its CEO can work until they're 80. Slim, tall (over 183 centimetres) and a keen tennis player (for his 65th birthday his children organised a surprise match between him and Roger Federer – Arnault scored a few points), he appears healthy and so far shows no signs of slowing down.
Still, every measured strategist has a moral responsibility to plan their eventual succession. And this one will be quite the battle. At stake is a maze of some of the world's most luxurious brands – Dior, Louis Vuitton, Celine, Givenchy, Tiffany, Loro Piana, Moet et Chandon – and an empire recently valued at $390 billion ($560 billion).
Arnault has frequently been labelled "the wolf in cashmere", partly for his pale blue, constantly vigilant, lupine eyes and glide-y manner, and wholly for his seemingly imperturbable demeanour and implacable ruthlessness. His daughter, Delphine, is inscrutable but what is certain is that this latest move is big. So big that her next in line, darkly handsome brother Antoine, 45 (married to Russian supermodel Natalia Vodianova), who has been appointed vice-CEO, may well be feeling he needs to up his game.
Forget the Roys of HBO's darkly comic Succession. There are only four children involved there and at least one of them's a flake. Banish thoughts also of the Murdoch media dynasty, who allegedly inspired Succession.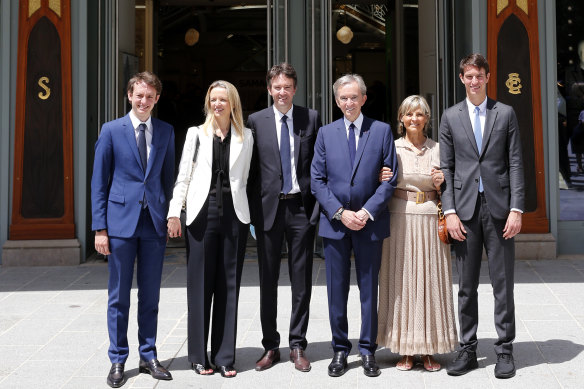 Head of French multinational corporation LVMH Bernard Arnault (centre) and his wife Helene (second from right), with their children (from left) Frederic Arnault, Delphine Arnault, Antoine Arnault and Alexandre Arnault.Credit:Getty
The Arnault patriarch Bernard, born into an affluent family with a solid construction business, has painstakingly constructed an empire and a dynasty more glamorous and far, far richer than anything conjured up by Murdoch, Musk or the fictitious Roy. His house, an 18th-century neoclassical 12-bedroom pile, not far from the Arc de Triomphe in the 8th arrondissement, has, for Paris, almost unimaginably large grounds. Rupert Murdoch's personal fortune of $US17.3 billion is almost pathetically weedy compared with Bernard's personal $US203 billion stash.
And yet there are echoes… Logan Roy, the thuggish patriarch of Succession, enjoys nothing more than pitting his deeply disturbed offspring against one another. Arnault, meanwhile, has all five of his children from two marriages working in the various tentacles of his empire.
Delphine Arnault, from his first marriage to Anne Dewavrin, is poised and elegant with creamy hair. She has her father's arrestingly light eyes as well as his height. She's just under 183 centimetres tall and her first marriage to Alessandro Vallarino Gancia, heir to an Italian wine fortune, in 2005 was a major event. The bride wore a dress designed by John Galliano, who worked for her father at Dior, and Karl Lagerfeld, who worked for Arnault at Fendi, took the photos.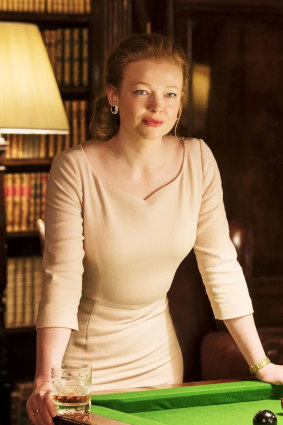 Succession character Shiv Roy (Australian actor Sarah Snook) from the HBO television series. Credit:HBO
Like Shiv Roy in Succession, she is also smart. These days her partner is Xavier Niel, a French tech billionaire with whom she has two children. She's fluent in English, having studied in the US and at the London School of Economics, and she graduated to McKinsey's before working for her father at Louis Vuitton and Dior. Perhaps in an unconscious compliment to her father, Delphine tends to wear monochromatic, pared-back tailoring (usually from Dior) and sits beside him in the front row at shows with the same impassive inscrutability. Not surly or snarling, but not what you'd call approachable.
Antoine is more twinkly – and less averse to posing on the red carpet. If Delphine's motto is "live hidden, live happy", Antoine, in his bachelor days, relished the title of playboy. While he was working at Louis Vuitton, he masterminded the A++ celebrity campaign in 2007 that starred, inter alia, Keith Richards, Catherine Deneuve, Pele, Maradona, Muhammad Ali and Mikhail Gorbachev. He also served as CEO of Berluti (from 2011), boosting growth from around $US45 million to $US130 million a year in sales. Impressive, but is it enough to overtake his big sister?
There are three other Arnault claimants, from Bernard's second marriage to Canadian classical pianist Helene Mercier, 62, whom he married in 1991 – all of them with the same wide noses and long, ascetic faces of their father and elder siblings. Alexandre, 30, is head of products and communication at Tiffany & Co, previously CEO and president of Rimowa after the upmarket German luggage brand was acquired by LVMH in 2017. Frederic, 28, is chief executive of Tag Heuer. Jean, 24, is head of marketing and product development for Louis Vuitton's watches division.
Antoine Arnault, designer Karl Lagerfeld, Helene and Bernard Arnault in 2009. Credit:Nebinger Frederic
Talk about keeping it en famille. But far from being merely nepo-babies, as Generation Z might describe them, this lot are all highly accomplished, academic, sporty and musical. Arnault is far too astute to entrust the conglomerate he has assiduously constructed over four decades to a bunch of second raters. And make no mistake, what he has done since 1987 has changed the meaning and worth of luxury beyond recognition.
Hunting down illustrious family names, such as the Rome-based Fendi and Madrid-based Loewe, and building them into much bigger businesses, he turned high-end fashion, beauty and watches into a mega industry. The secret of his success, says Solca, was the invention of a paradox: "Selling exclusivity by the million".
There has, inevitably, been collateral human damage. As he moved his designers across his ever-expanding chess board, there were collisions and disappearances. Arnault's designers live like emperors while in his favour – he cannot be accused of undervaluing creativity – but the shadows are a very cold place.
A photograph from the 1990s showing Arnault with his three biggest stars at the time says it all. John Galliano flamed out spectacularly in 2011 after 15 years. Alexander McQueen, who worked for Arnault at Givenchy for five years and never got the praise he sought, fled back to London where he committed suicide in 2010. Marc Jacobs, in his 16 years as creative director of Louis Vuitton, periodically vanished into rehab. All were replaced and at Givenchy and Dior, their replacements were replaced.
In Arnault's fashion paradigm no one is indispensable forever.
The Daily Telegraph
The Business Briefing newsletter delivers major stories, exclusive coverage and expert opinion. Sign up to get it every weekday morning.
Most Viewed in Business
From our partners
Source: Read Full Article