Drinks retailing giant Dan Murphy's is hoping a new experimental zero alcohol bar in Melbourne will convince a new cohort of 'athleisure-wearing wine mums' to pick booze-free alternatives as the no-alcohol grog market continues to boom.
On Tuesday, the ASX-listed retailer opened the doors of its new ZERO% bar in the well-heeled suburb of Hampton in Melbourne's south, where customers will be able to drink a selection of zero-to-low alcohol beer, wine and spirits in a traditional bar setting.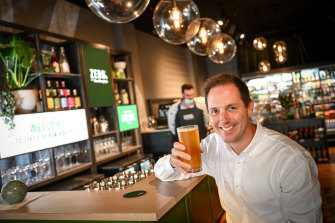 Dan Murphy's Managing Director Alex Freudmann at the company's new zero alcohol bar in Hampton.Credit:Eddie Jim
Dan Murphy's managing director, Alex Freudmann, told The Age and The Sydney Morning Herald he was hopeful the bar would give customers who were curious about low-alcohol options a chance to try a glass.
"People who haven't yet tried a non-alcoholic version of their favourite drink are a bit nervous about buying a whole bottle, so if they can buy a glass and consume it in a social environment, it makes it more accessible," he said.
However, the placement of Dan Murphy's new bar in Melbourne's ritzy south is no accident either. Mr Freudmann admits that the target market for the new bar is 'athleisure wine mums' who might be looking to switch up a mid-week glass with something more healthy.
"The bullseye customer is a female customer who is sophisticated, health-conscious, but also enjoys premium wines," he said. "These are customers who still want to consume premium champagnes, pinos and chardonnays on the weekend, but for other occasions in the week they're increasingly happy to include a zero alcohol option."
Zero or low-alcohol beverages have exploded in popularity in recent years, with Dan Murphy's reporting it as one of the company's fastest-growing drinks categories, with sales doubling over the past two years.
The popularity is in part driven by a rise in health-conscious Australians looking for alternatives, but also by a rapid rise in the number of brewers, growers and distillers putting in the work to make flavourful options, Mr Freudmann said.
"Beer has grown the most rapidly because they cracked the flavour first, and the second-largest now is spirits because they've started to crack it too," he said.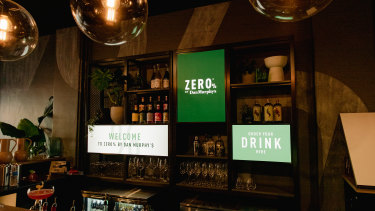 Dan Murphy's Zero alcohol bar in Melbourne.
"Wine is technologically the most difficult to crack because the alcohol makes up so much of the spine of the product, but what we've seen in the last 12 months is great progress, particularly in white and sparkling."
The ZERO% bar will run until June, though Mr Freudmann said the company could certainly open more across the country if the initial experiment is successful.
However, despite the bar serving drinks with very little to no alcoholic content, minors will still not be allowed to imbibe, with Dan Murphy's maintaining a strict over-18 policy, Mr Freudmann said.
"This is about meeting the trend of adults who want to change their drinking habits. It definitely isn't about encouraging underage drinkers into the category," he said.
The Market Recap newsletter is a wrap of the day's trading. Get it each weekday afternoon.
Most Viewed in Business
From our partners
Source: Read Full Article