Save articles for later
Add articles to your saved list and come back to them any time.
The darling of the Australian technology sector, Canva, is banking on its growing cash pile to protect it from the downturn that has put local start-ups under pressure and claimed tens of thousands of jobs globally.
But the Sydney-based company, which is taking on industry giants, including the $US170 billion graphics design giant Adobe and Microsoft, is burning through a lot of cash.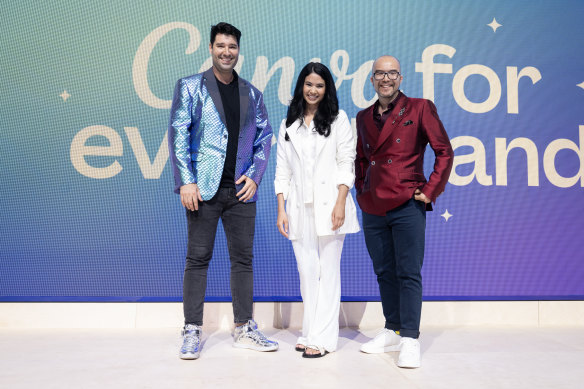 Profitability went out of fashion in the tech industry says Canva's Melanie Perkins, pictured (centre) with her co-founders Cliff Obrecht and Cameron Adams. Credit: Louie Douvis
When Canva's co-founder and chief executive, Melanie Perkins, launched the graphic design group's AI upgrades last month, she assured journalists that it was sheltered from the tech storm that had hit other local tech players, including Atlassian and Xero.
"Profitability went out of fashion in the tech industry for a little while … our sixth year of profitability was last year. And we're on track again this year for profitability," she said at the time.
However, a peek into Canva's books shows the financial strain of keeping its workforce intact and developing the pipeline of products needed to meet its ambitions. Canva's accounts for the year ending December 31, 2020, reported a 130 per cent lift in revenue to $391.9 million, which was not enough to stem the losses clocking in at $25.1 million.
'It took us nearly five years to reach our first 10 million users. And we added the last 10 million in just the last 30 days, so you can really see that acceleration of growth.'
Staffing costs ballooned to more than $125 million for the period, while sales and marketing expenses more than doubled to $82 million. The workforce, which stood at almost 1300 in 2020, has jumped to 3500 and Canva plans to add 1000 more workers this year.
A Canva spokesman said the account filings to the Australian regulator were representative of its Australian entity only and were not indicative of Canva's global financial performance.
"These filings don't provide any meaningful representation of our current financial performance, which we shared an update on at Canva Create (we recently surpassed $1.4 billion in annualised revenue, and we remain profitable)," he said.
However, Canva did confirm that it uses free cash flows as its primary measure of profitability, rather than financial reporting standards. In 2020, it generated more than $60 million of cash from its business operations.
Canva co-founder and chief product officer Cameron Adams, pointed out that the cash-flow metric is what counts when it comes to maintaining control of the business and its future.
"We focused on profitability so that we wouldn't have to be in that desperate position of having to raise cash," he said.
"We never wanted someone else to dictate what was going on, or change our course, or require us to do something that we didn't think was in the best interest of Canva."
Canva now has a $750 million cash war chest, although the correction in the technology sector has dented its valuation. Canva's investors, including venture capital group Square Peg, slashed their valuations of the privately held company from $US40 billion to $US25.6 billion in July last year, despite its strong customer growth which has continued into 2023.
The company says its user base now exceeds 125 million.
"It took us nearly five years to reach our first 10 million users. And we added the last 10 million in just the last 30 days, so you can really see that acceleration of growth," Perkins said last month ahead of the new product launch at its Canva Create event.
But given its freemium model, the most important number for the company is how many people are actually paying to use its design software.
"We've now got 13 million paid users," Perkins said. This includes six million paid seats in Canva Teams, which more than doubled over the past year.
Single-user Canva Pro has been in the market for years, targeting small to medium business, while the release of Canva Teams last year established Canva as a collaborative business tool.
Cameron Adams, chief product officer and co-founder of Canva.Credit: Peter Braig
"Small to medium businesses really powered our revenue growth," Adams said.
"And that's still a massively growing market of ours. But we've added on another layer now which goes beyond small to medium and goes to the larger enterprises," he says of Canva's latest release Brand Hub.
If Canva can ride out the storm, it's shaping up as a real threat to Adobe, which relies on a sticky base of professional design customers, who are charged on a per-user licence model. While lucrative, that model does not easily mesh with the growing need for web-based collaborative applications.
Meanwhile, Canva's freemium model ensures a growing army of end users are already familiar with its product as it works its way further into major corporate accounts that pay the big bucks. According to financial news publisher Barron's, a Canva subscription for five users is priced at $US150 per year, while Adobe charges more than $US1000 for a single Creative Cloud suite licence.
While Canva isn't afraid of taking on established industry players, according to Adams, playing nicely with other vendors is crucial to its growth plans.
"I think we've we've played really well with everyone in the ecosystem, helping people get into Canva and get out of Canva, has been a strong focus of ours," he said.
"Once they're in Canva, they really like using it. So, they increasingly find more reason to just stay in Canva."
The Business Briefing newsletter delivers major stories, exclusive coverage and expert opinion. Sign up to get it every weekday morning.
Most Viewed in Business
From our partners
Source: Read Full Article