New York (CNN Business)A version of this article first appeared in the "Reliable Sources" newsletter. You can sign up for free right here.
Presidential interviews are rare forums for journalists to channel the public's attitudes and see how the commander-in-chief responds. That's what "NBC Nightly News" anchor Lester Holt did with President Biden on Thursday, in Biden's first TV interview of the year.
Holt asked Biden if he acknowledged the "restlessness" that many Americans feel after two years of the pandemic. Biden said yes.
"All the variants have had a profound impact on the psyche of the American people," he said.
But Biden did little in the interview to raise spirits.
At one point Holt brought up the view held by many Americans "that this thing feels like it's over." At another point he channeled a more cautious point of view, asking, "Are you afraid that some states and cities are moving too quickly to loosen indoor mask mandates?" Through the questions, Holt was giving voice to different constituencies.
Biden suggested that he thinks the Democratic governors who are ending mask mandates are moving too quickly, but said "it's, you know, it's a tough call." On the subject of requiring children to wear masks in schools, he dodged Holt's question, and said "the more protection they have," meaning protection thanks to vaccines, "probably you're going to see less and less requirement to have the masks."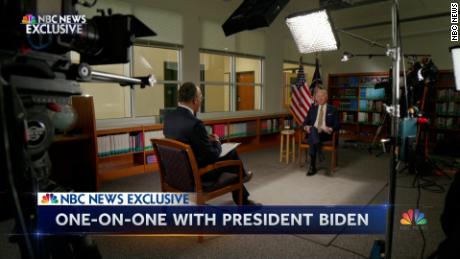 Utterly missing from Biden's answers: Any sense of the "Urgency of Normal," a phrase that doubles as the name of an advocacy group led by health professionals who want to restore pre-Covid norms for children. Rising case counts and struggling emergency rooms created a sense of urgency in March of 2020 and again in December of 2021. But the situation has reversed itself now. Returning to normal deserves the same sort of urgency.
Holt also presented Biden with America's anxieties when he said, "I think it was back in July you said inflation was going to be temporary. I think a lot of Americans are wondering what your definition of temporary is."
"Well," Biden responded, "you're being a wise guy with me a little bit. I understand that's your job." Holt then delivered a specific question: "When can Americans expect some relief from this soaring inflation?" Biden cited experts and asserted that it "ought to be able to start to taper off as we go through this year."
New CNN polling
In this new CNN poll, "three-quarters of Americans said they were burned out by the pandemic, with most also describing themselves as angry (60%) and worried (58%). About half (49%) said they were confused about the pandemic, with 47% describing themselves as optimistic."
CNN found "a wide partisan divide when it comes to worrying about the current state of the pandemic," with 76% of Democrats "worried" versus 43% of Republicans. As David Leonhardt of The New York Times has observed, people who are better-protected against the virus also tend to be more worried about the virus, even though they have less to worry about.
This jumble of feelings was what Holt was getting at. His Biden interview was pegged to the Super Bowl, which NBC will televise on Sunday. Portions of the interview will air on Sunday's pre-game show in what has become something of a presidential tradition.
The Super Bowl itself will reflect America's complicated relationship to Covid after nearly two years of pandemic restrictions.
Sofi Stadium will be at full capacity, but attendees "must provide proof of COVID-19 vaccination or a negative PCR test within 48 hours of the event or a negative antigen test within 24 hours of the event," according to local news reports.
The New York Times noted that "some mainstay Super Bowl week events were canceled or postponed in response to Omicron, including the players' union's Pitch Day competition for entrepreneurs. Players and coaches gave media interviews over video conference, with the only in-person media availability scheduled for Friday."
Recommended reading and viewing
— What are the most effective ways to communicate about Covid? In this essay for The Atlantic, Dick Tofel offers four lessons, including that "the conventional wisdom about avoiding ambiguity and uncertainty is wrong."
— A "brand new CNN analysis shows that the Covid data relied upon by public health officials to make decisions is faulty — and it has been that way from the beginning of the pandemic," Jake Tapper said on "The Lead" on Thursday. This has been "a challenge" for reporters, Dr. Sanjay Gupta said, since "the data has been so hard to parse through…"
— "If 2021 was the year of the vaccine, 2022 is already shaping up to be the year voters demand the U.S. moves on," ABC's Anne Flaherty wrote.
— Yascha Mounk, who memorably wrote a March 2020 article titled "Cancel Everything" that presaged what was about to happen, is out with a bookend titled "Open Everything." His message: "Let's shake off the pandemic malaise."
— Julia Carrie Wong observes: "I feel like a big part of the disconnect between the 'open everything' camp and the 'everything is already open' camp is the former's refusal to accept that we're never going back to the way things were and that's sad but we can't change it."
— J-school professor Steven W. Thrasher says "Mass media and policy makers are pushing for a return to pre‐COVID times while trying to normalize a staggering death toll."
— "The single most appalling fact about the US and Covid in the past year," Chris Hayes says, "is how much unnecessary death and illness we have due to vaccine resistance. This is THE central story even if people are bored of it!"
Source: Read Full Article