Mining giant BHP believes the reopening of China's economy following the end of its long-running zero-COVID policy will prop up demand for some of Australia's largest commodity exports even as many other nations across the world suffer slowdowns this year.
BHP, the biggest Australian mining company, reported on Thursday that it had achieved record half-year production of iron ore after its flagship operations in WA's Pilbara region posted a stronger-than-expected end to 2022.
China is by far the largest consumer of Australian iron ore, the key ingredient needed to make steel.Credit:Getty
China is by far the largest consumer of Australian iron ore, the key ingredient needed to make steel. Iron ore is BHP's most lucrative commodity and one of Australia's single biggest exports.
The mining giant told investors it had shipped 74.3 million tonnes of iron ore in the December quarter, an increase of 1 per cent from the same time last year and slightly ahead of what most analysts had been expecting.
While others in the mining sector are bracing for the threat of volatility from China's reopening, fearing a growing wave of coronavirus cases that could dent steel production, BHP chief executive Mike Henry on Thursday said he believed China would be a "stabilising force" for commodity demand during 2023 as OECD nations experienced economic headwinds.
"China's pro-growth policies, including in the property sector, and an easing of COVID-19 restrictions are expected to support progressive improvement from the difficult economic conditions of the first half," Henry said.
"China is expected to achieve its fifth straight year of over 1 billion tonnes of steel production."
Iron ore typically ranks as Australia's biggest export, raking in record earnings of more than $150 billion in 2021 and driving stunning profits for mining heavyweights Rio Tinto, BHP and Andrew Forrest's Fortescue Metals Group.
Since last year, the nation's earnings from iron ore were overtaken by coal because of Russia's invasion of Ukraine deepening a worldwide shortage of fossil fuels and pushing coal prices to all-time highs. At the same time, severe COVID-10 lockdowns across 2022 and a property market slowdown in China, the biggest consumer of Australian iron ore, have led to weaker demand.
However, after bottoming out below $US80 a tonne in October last year, iron ore prices have been rallying this month amid China's sudden retreat from its "zero-COVID" strategy.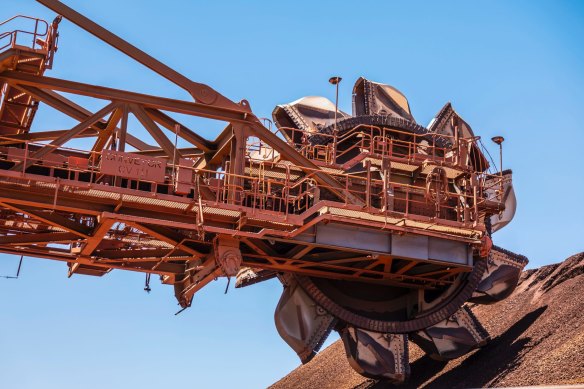 BHP is the largest Australian mining company and one of the biggest exporters of the steel-making raw material iron ore.Credit:Tony McDonough
BHP's comments on the outlook in China are at odds with Rio Tinto, the second-largest Australian miner. Earlier this week, Rio Tinto warned shareholders that the coming months could bring "high volatility" as China faced a growing wave of COVID-19 infections. New outbreaks were expected to intensify short-term risks of supply chain disruptions and labour shortages across the country.
"Steel demand recovery hinges on the country's ability to control the COVID outbreak," the company said.
BHP and Rio Tinto derive the bulk of the earnings from iron ore, but both are accelerating efforts to diversify their portfolios into other commodities, particularly those standing to benefit from the growing global trends towards decarbonisation. BHP is seeking to increase its supplies of copper and nickel, two minerals the world needs much more of in coming years as raw materials in electric cars and clean energy infrastructure. Electric cars require up to four times as much copper as internal combustion-engine vehicles, says BHP, while nickel is a critical ingredient in lithium-ion batteries.
Last month, BHP signed a binding $9.6 billion takeover offer to acquire Adelaide-based copper and nickel producer Oz Minerals, which has two copper and gold mines in South Australia, located either side of BHP's vast Olympic Dam mining hub.
The Oz Minerals deal, if it succeeds, will make BHP's biggest acquisition since it paid $US12 billion for US shale gas producer Petrohawk in 2011.
BHP last year sold off its global oil and gas division, but remains a producer of fossil fuels with several coal mines across Australia, most of which produce coking coal for the steel-making sector.
The Market Recap newsletter is a wrap of the day's trading. Get it each weekday afternoon.
Most Viewed in Business
From our partners
Source: Read Full Article