Ash Barty is walking away from millions of dollars in potential earnings from prizemoney, but experts say her shock retirement from tennis won't affect her lucrative off-the-court commercial deals because of the role model she has become for Australians.
Andrew Condon, managing director of sports marketing consultancy Gemba, said Barty's position as the defending women's Australian Open champion and an exit at the peak of her career would allow her to keep existing deals and create new opportunities. However, he said the long-term financial impact would ultimately be decided by whether Barty chooses to remain in the spotlight.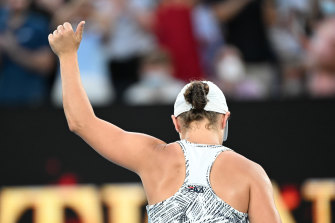 Ash Barty is unlikely to lose any major sponsorship deals with brands like Fila in the short-term.Credit:Eddie Jim
"What Ash has shown with this announcement is that she's not defined by playing tennis, being the world No. 1 or the benefits that come with that, so you wouldn't expect her to follow the traditional path of a retired athlete into the media. That probably will have an impact on her long term off-court commercial power.
"But in the short term, I don't think there's going to be too much of an impact. There'll be a plethora of 'thank you' messages and campaigns, potentially from partners, and a lot of the brands she had can will still be able to find a compelling and authentic way to leverage her."
Barty announced her retirement from tennis at the age of 25 on Wednesday afternoon, two months after winning her third major grand slam at the Australian Open. In an interview Barty said the "gut feeling" to consider retirement emerged after Wimbledon last year when she became the first Australian woman to win on the London grass in 41 years. Barty's idol and close friend Evonne Goolagong Cawley won the second of her Wimbledon titles in 1980.
Since her return to tennis in 2016, Barty has attracted sponsors from a range of sector such as Fila, sports equipment brand Head, Jaguar and Vegemite. More recently she became an ambassador for insurance company AIA Australia to promote health awareness.
Vegemite, a sponsor of Ash Barty, temporarily changed its name to "Bartymite" in 2019.Credit:
A 2022 report from Forbes Magazine said Barty has collected US$3.9 million ($5.2 million) in on-the-court earnings in the past year and US$3 million off-the-court.
"I think brands will want to leverage this opportunity because she's leaving the sport at her peak with an enormous amount of deserving plaudits," Condon said. "She's had unbelievable on court success without changing as an individual. That will serve her well for commercial opportunities if she wants to pursue them down the track."
Barty has made $31.9 million in on court earnings in her career to date. She is the 14th highest earning female player in the history of tennis.
Condon said Barty's advertising partners could find other ways to keep her involved if she was interested, but any future deals – including commentary opportunities at major tennis tournaments or work with Indigenous communities – would depend on how much the three-time major champion wants to stay in the spotlight.
"For the foreseeable future, she's going to be Australia's best tennis player, most successful tennis player, defending Australian Open champion and … likely to be our most recent homegrown Australian Open champion for some time," he said.
"Every year that's going to bring her back into the spotlight. How much she leans into that will determine what other commercial opportunities come her way.
"It's very much going be on her terms, as we've seen today."
The Morning Edition newsletter is our guide to the day's most important and interesting stories, analysis and insights. Sign up here.
Most Viewed in Business
From our partners
Source: Read Full Article