Australia is expected to retain its title as the world's biggest exporter of liquefied natural gas (LNG) after shipments hit a record high last year amid a huge rally in global energy demand and prices.
Cargoes of the super-chilled fossil fuel from Australia rose to an estimated 80.9 million tonnes in the 2021 calendar year, according to figures from energy consultancy EnergyQuest, beating the nation's pre-pandemic level of 77 million tonnes and likely exceeding output from second-biggest LNG shipper Qatar.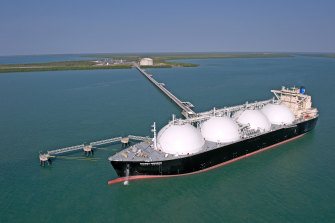 Australia is expected to have ranked as the world's biggest shipper of LNG in 2021.Credit:
After COVID-19 lockdowns wiped out oil and gas demand and sent commodity prices falling to multi-year lows, a faster-than-expected rebound in economic activity around the world during recent months and intensifying competition for cargoes has led to a stunning rally in the price of LNG, Australia's third biggest export.
"In the current world of supply chain and shipping challenges, the steady increase in Australian LNG exports is a significant achievement," EnergyQuest chief executive Graeme Bethune said.
Last year, Australia's LNG revenue is estimated to have risen to $48 billion from $36 billion in 2020, he said. However, Australia is less likely to rank as the top exporter next year amid major LNG industry expansion plans being pursued by Qatar and the United States.
Australia's 2021 output may also now be "close to the peak", Dr Bethune added, due to natural declines in gas fields feeding existing projects and a limited pipeline of new fields being developed.
Two new LNG projects — Santos's Barossa field near Darwin and Woodside's Scarborough field in WA — may bring Australia's LNG production back to existing levels, but are unlikely to lift it to new highs.
"Reaching new levels would require new sources of gas to turn around the decline in the North West Shelf, Australia's largest LNG project," Dr Bethune said.
For oil and gas producers, funding new fields is becoming increasingly challenging, as concerns about global warming drive investors and lenders to retreat from the sector, pushing the cost of capital higher.
While demand for gas — a fuel used in heating, cooking, power generation and manufacturing — is tipped to remain strong in the near-term, its long-term future is less certain. Efforts are continuing globally to reduce the consumption of fossil fuels, while major gas markets including Japan and South Korea have enshrined net-zero emissions goals.
Supporters of natural gas promote it as the "transition" fuel required to smooth the path from coal-fired power to more intermittent wind and solar energy sources. Scientists and climate advocates, however, say it remains a significant source of emissions that must be phased out, not expanded, to avoid the worst effects of climate change.
Federal Resources Minister Keith Pitt said the global energy crunch was driving higher prices and record earnings from some of Australia's top fossil fuel exports including thermal coal, metallurgical coal and LNG.
Government trade forecasts suggest LNG export earnings could reach as high as $63 billion in the 2022 financial year, before settling back to $55 billion.
"The resources sector has risen above the challenges of the pandemic and will continue to deliver for our nation in the years ahead," he said.
Most Viewed in Business
From our partners
Source: Read Full Article