Blinded by the smog of war there was nowhere for the AGL board to go – it has been ambushed by billionaire Mike Cannon-Brookes and a team of large investors who skilfully choreographed their strategy on the corporate stage.
AGL's plan to keep its largest coal burning power station open until 2045 has now been abandoned – a complete capitulation to Cannon-Brookes' "green print" for the transformation of the company.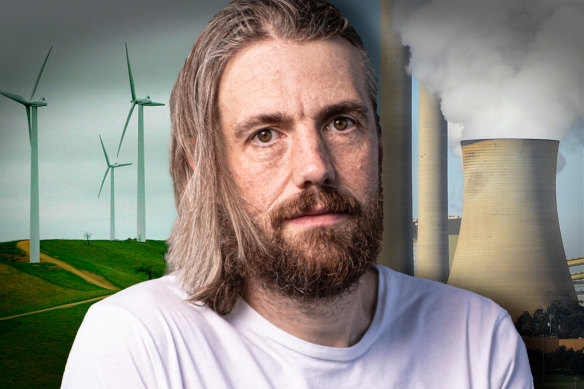 Mike Cannon-Brookes amassed a stealth position in AGL Energy to pressure the company.Credit:TheAge
Thus, AGL, Australia's biggest polluter and a climate change dinosaur, has been dragged into taking its first big step on the green road – one which will cost up to $20 billion over 12 years.
The push by Cannon-Brookes' Grok, and others like-minded industry funds group – HESTA, UK investor outfit Martin Currie, Brookfield, Van Eck and a coalition of smaller activist investor under the banner of, Sentient together had 18 to 19 per cent shareholding in AGL – enough muscle to get the job done.
Technically, AGL's incumbent board and management control AGL's agenda. Technically, it was their decision to unveil a strategy on Thursday that rejects everything they had stood for before Cannon-Brookes flexed his muscles.
AGL chairman Patricia McKenzie on Thursday was insistent that the current board holds the reins at AGL. However, the practical reality of AGL's decision to pursue Cannon-Brookes' decarbonisation vision for the company is that he has taken de facto control of the business without having to make a takeover bid.
With the value of hindsight, the AGL board should be kicking itself for rejecting the $8 billion offer made by Grok and Brookfield earlier this year at $8.25 per share. AGL shares since have fallen 11 per cent.
AGL was foiled in its attempts to demerge its retail business from its wholesale coal generation business in May, prompting the departure of its chief executive and chairman. Since then, the company has been largely rudderless in leadership.
And that has further opened the door to Cannon-Brookes to stamp his influence all over AGL, as evidenced a few weeks back when the company's attempt to install its choice of a new chairman, Paula Dwyer, was stymied by shareholders, including Grok.
Grok has since put forward a list of four new board candidates which McKenzie told this masthead she and her fellow directors would consider. But it will put McKenzie in an unenviable bind. To capitulate to this degree on governance would further undermine her authority.
However, resisting Cannon-Brookes further risks her losing a shareholder vote, making her position and that of fellow board incumbents untenable.
When queried by investors on how AGL could explain a complete strategic about face in a matter of six months, interim chief executive Damien Nicks argued much had changed over that time. According to Nicks, the accelerated push to decarbonisation meant AGL would find it difficult to borrow money from banks or raise money from shareholders without a structural move away from high emissions.
It's a whiplash inducing strategic swivel that now allows AGL to move from being Australia's largest polluter and rebrand itself as a decarbonisation saviour.
The Loy Yang Power Station in Victoria's Latrobe Valley will close in 2035; a decade earlier than previously planned.Credit:Eamon Gallagher
"We have heard it from our customers, communities, governments, capital providers and shareholders – the time is now for AGL to show leadership in the energy transition," Nicks said.
The 'leadership' boat may have sailed a while ago but becoming a latter-day climate apostle is still an improvement for AGL.
"This strategic direction we're sharing today, for the faster decarbonisation of our business, is what we consider to be in the best interests of the company having listened to our stakeholders – in particular, our shareholders, and it is what our community expects of us, and it is above all the right thing to do," McKenzie told investors during Thursday's webcast.
The practicalities of how AGL would source the $20 billion in capital needed for its environmental rebirth were not well fleshed out by McKenzie and Nicks on Thursday. Some would be project financed with partners, others would be funded from AGL's existing cash flow or balance sheet debt, asset sales and the use of offtake agreements.
All that detail will have to wait for another day, another update.
The Market Recap newsletter is a wrap of the day's trading. Get it each weekday afternoon.
Most Viewed in Business
From our partners
Source: Read Full Article