Energy giant AGL is culling its executive ranks in a leadership shake-up as it embarks on a historic demerger to separate its carbon-heavy coal and gas-fired power stations from its retailing business.
Australia's largest and oldest utility told staff on Tuesday that four of its nine-person executive team would leave the company ahead of or shortly after the demerger, expected to take place in June 2022.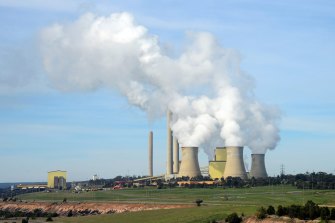 AGL intends to split off its power generation business into a separate company.Credit:Caria Gottgens
AGL's head of future business and technology, John Chambers, will depart in February 2022; head of corporate affairs Liz McNamara and general secretary John Fitzgerald will leave at the demerger; and company secretary John Fitzgerald will depart six months after, expected to be in December 2022.
Staff were also told that both demerged businesses would be shifting their corporate headquarters from Sydney to Melbourne.
"Today we can confirm we are making progress with designing two organisational structures," an AGL spokeswoman said.
"Both organisations will be headquartered in Melbourne and both will continue to have a strong presence in Sydney."
AGL, the nation's heaviest greenhouse gas emitter, is progressing plans to separate itself into two companies as the accelerating clean-energy transition drives down wholesale power prices and hammers its profits. Under the demerger, a new company, Accel Energy, will own AGL's fleet of huge coal- and gas-fired power plants. The other, to be called AGL Australia, will hold its power, gas and telecommunications retailing business along with some cleaner generation assets.
At Accell Energy – to be led by Graeme Hunt – Amanda Lee has been named chief people officer and Melinda Hunter will be general counsel and company secretary. A recruitment process for its chief financial officer remains ongoing.
At AGL Australia – led by Christine Corbett – Mr Fitzgerald will temporarily be general counsel and company secretary until his expected departure in December 2022. Jo Fox has been appointed general manager of people and corporate affairs; Ray Warburton will be general manager of business and commercial customers; and Jo Egan has been named chief customer officer. The search for its general manager of trading, supply and operations is under way.
The decision to break up the company came as chairman Peter Botten declared AGL had hit an "inflection point" as the rapid influx of rooftop solar panels and large-scale wind and solar farms undercut the profits of fossil fuel-based power stations and cast a cloud over its future earnings outlook.
In the 12 months to June 30, AGL sunk from a $1 billion full-year profit to a $2.06 billion loss
"There is no doubt that the winds of change in the electricity market have been substantially faster than many people have anticipated," Mr Botten said in June. "We are very committed to turning this ship around."
By creating AGL Australia, the board hopes to appeal to equity investors and lenders that are increasingly exiting coal assets as part of efforts to reduce exposure to the risks posed by global warming.
Housing its fleet of power plants within Accel would also permit a greater focus on the responsible operation of its assets and their transition to lower-carbon energy "hubs", AGL said. These could eventually include batteries and future-energy technologies such as hydrogen manufacturing and carbon capture and storage (CCS).
The Market Recap newsletter is a wrap of the day's trading. Get it each weekday afternoon.
Most Viewed in Business
From our partners
Source: Read Full Article