Dairy giant A2 Milk has been given the green light to export its infant formula to the US, more than five months after its smaller rival Bubs Australia was given approval – but has flagged that the earnings potential will be offset by freight and rework costs.
The US has been grappling with an infant formula shortage since February after a major infant formula plant in Michigan was forced to shut down after fatal bacterial infection was discovered, sparking a nationwide shortage.
A2 Milk has finally gained US FDA approval to sell products to the US under the temporary enforcement discretion.
The US Food and Drug Administration (FDA) released a temporary measure on May 16 that provided a fast-tracked regulatory process for global companies to help patch the shortage. Bubs Australia was the first manufacturer in the world to submit its application, and secured approval from the FDA shortly after. Bellamy's Organic, a smaller brand, secured approval on July 5.
A2 Milk submitted its application on May 26, but had to wait at the starting line for months before being told by the FDA on August 10 that it had its submission delayed, along with a number of other applicants.
A2 Milk was notified by the FDA on Thursday morning that it had received approval.
"We are pleased to be able to assist parents and caregivers in the US by providing access to significant volumes of high quality, a2 Platinum infant and toddler milk formula manufactured in New Zealand during this challenging period," said A2 Milk chief executive David Bortolussi.
The company is increasing its infant formula supply in response to securing approval and assured that it would continue to meet regular supply to other markets, such as China.
The dual-listed company will be able to stock its A2 Platinum infant formula products, stage 1 and 2 on US shelves until January 6, but it will have to make these products from scratch.
While the formula inside the tins will be the same as a2 Platinum formula sold elsewhere, it has to have different scoops, mixing instructions and labelling requirements to meet US rules.
"This product is not currently available in inventory and needs to be manufactured as soon as possible," A2 Milk said in a statement.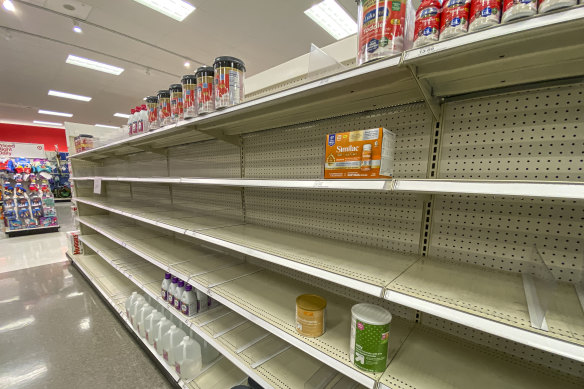 The US has been grappling with a baby formula shortage since the start of the year. Credit:Bloomberg
The company expects to sell up to 1 million tins of formula within the second half of the 2023 financial year, provided the enforcement discretion remains in place past January 6.
A2 Milk described the earnings impact as "incrementally beneficial". "The company expects gross margins to be lower than average, distribution costs to be higher due to potential air freight and rework costs in the near term, and incremental marketing and trade investment to enter the category."
It will provide a market update about US earnings gains when it presents its half-yearly results or potentially earlier.
The FDA has published transition guidance that allows enforcement discretion-approved companies seeking a permanent pathway to the US to extend the temporary period until October 18, 2025.
"If the US requires further support over an extended period, we have the proven ability to scale up significantly," Bortolussi said.
The Market Recap newsletter is a wrap of the day's trading. Get it each weekday afternoon.
Most Viewed in Business
From our partners
Source: Read Full Article