For our free coronavirus pandemic coverage, learn more here.
Westpac's head of business banking says hardship claims from the bank's customers have been much smaller than in earlier waves of the pandemic, but warns the Omicron wave has created a multi-speed economy.
As many consumers avoid physical stores, Westpac senior executive Shane Howell said industries struggling the most included hospitality, entertainment, and gyms, and some firms in these parts of the economy had sought extra financial support.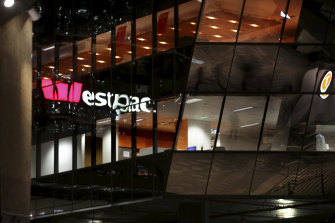 Westpac said businesses that were highly exposed to foot traffic were struggling.Credit:James Alcock
Even so, Mr Howell said the overall number of hardship requests from business clients had been much smaller than in earlier waves of the pandemic, and that some firms that sold their products online were thriving.
Mr Howell said it was still too early to say what the economic impact of the Omicron wave would be, but there was less uncertainty than in earlier stages of the pandemic, and clients were generally more confident that trading conditions would improve once case numbers dropped.
"It's really a multi-speed game right now. There are customers who are really struggling – those exposed to foot traffic, High Street businesses," Mr Howell said in an interview.
"But then there are customers who have been able to tilt to this digital online transformation that's occurred over the past couple of years, and really do well," he said.
As COVID-19 case numbers have surged over summer, bricks and mortar retailers have been hit hard by consumers trying to dodge the virus by largely avoiding the shops, but other businesses have suffered from operational woes including shortages of staff and stock. Mr Howell warned the pandemic was also taking a growing toll on the mental health of some business operators, as many struggled with the disruption to supply chains.
"With supply chain issues, people are booked to do a job, then it disappears, then all of a sudden there's an over-demand and they can't deliver, so there's a lot of angst in the system," he said.
In a sign of the severe impact on retail businesses, the Australian Retailers Association last week said a survey had found about two-thirds of its members had some staff in isolation, and most saw trading conditions as "poor" or "terrible."
Mr Howell, who is responsible for small, medium and commercial business lending by Westpac, said the smaller firms had generally been hardest hit because they did not have specialist departments dealing with human resources, finance, or supply chains.
Unlike during the government-mandated lockdowns that occurred earlier in the pandemic, banks are no longer allowing any struggling small business customer to put their loan repayments on hold. Lenders' hardship departments will still consider putting repayments on hold on a case-by-case basis, and Mr Howell said government-backed low-interest loans also allowed customers to request a deferral.
Despite the challenges, Mr Howell said many small businesses were still optimistic, and the bank's conversations with struggling clients often focused on providing relatively short-term support.
"They're not saying I need years of support. They're saying help me bridge the gap, I'm confident things will turn, and how can we get through the next 30 to 90 days," he said.
"Businesses are optimistic that once we've peaked and come down, that we're going to see some normality. That's the light on the hill."
Westpac will provide an update on its loan book early next month, and Morgan Stanley analysts said they expected a "modest" rise in its stressed exposures.
The Market Recap newsletter is a wrap of the day's trading. Get it each weekday afternoon.
Most Viewed in Business
From our partners
Source: Read Full Article