Afterpay and PayPal are among several companies being scrutinised by US regulators over their policies of letting consumers buy products now, while paying for them later.
The Consumer Financial Protection Bureau said on Thursday it's demanding information from the firms because it's concerned that borrowers are accumulating debt, companies might be engaging in regulatory arbitrage and consumers' personal data could be misused. The regulator said it's also seeking responses from Klarna Bank, Affirm Holdings and Zip.
"Buy now, pay later is the new version of the old layaway plan, but with modern, faster twists where the consumer gets the product immediately but gets the debt immediately too," CFPB Director Rohit Chopra said in the statement. The agency is requesting information so that it "can report to the public about industry practices and risks." he added.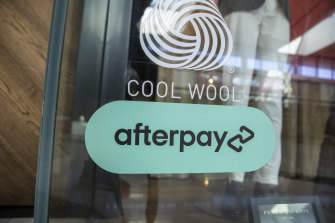 The US regulator is looking into Afterpay and other buy now pay later providers.Credit:Louie Douvis
The consumer finance watchdog said it's also working with the Federal Reserve, state officials and international regulators to address concerns about these types of financial technology companies.
Since taking helm of the CFPB in October, Chopra has made a priority of going after technology companies' finance ambitions, and has previously launched a probe into Apple, Facebook's parent Meta and other giants to glean information about how they are using consumer data.
Buy now, pay later services allows customers to split payments into instalments, often interest-free. Earlier this year, Twitter boss Jack Dorsey's Square — later renamed Block — announced plans to acquire Australian market leader Afterpay in a blockbuster $39 billion deal. PayPal has seen rapid growth of its own product.
Consumer advocates worry the product could cause people to overextend their means and descend into debt.
Shares of the BNPL providers fell on Wall Street, with PayPal down 1 per cent, Affirm slumping 11 per cent and Block declining more than 4 per cent at the close of trading in New York.
Afterpay's shares opened sharply lower in Sydney on Friday, falling 5.7 per cent to $84.39 in early trading.
A spokesperson for Affirm said the company welcomed the CFPB's review. A representative for PayPal did not respond to a request for comment.
Afterpay said in an emailed statement on Friday it "welcomes efforts to ensure that there are appropriate regulatory protections for consumers in the diverse BNPL industry, and that providers are meeting high standards and delivering positive consumer outcomes while protecting their data".
Bloomberg, with staff reporters.
The Market Recap newsletter is a wrap of the day's trading. Get it each weekday afternoon.
Most Viewed in Business
From our partners
Source: Read Full Article