Sydney investment guru Phil King says now is a good time to be short-selling stocks, after his firm signed a binding merger agreement with VGI Partners to become the country's leading alternative investment house.
ASX-listed VGI Partners and Regal Funds Management announced on Wednesday a binding agreement to fully merge operations under fresh branding for a company that will be listed on the ASX under a new ticker.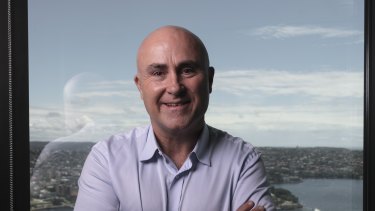 Regal's Phil King has brushed off concerns about VGI's underperformance and staff turnover. Credit:AFR
The deal, if approved by VGI shareholders at an upcoming vote in May, will create a $5.6 billion investment company specialising in long-short strategies and alternative assets. VGI will own one-third while Regal will own the remainder, although both will retain equal board representation.
The high-profile stock pickers at both companies, Robert Luciano and Mr King, will retain independent control of separate investment strategies but Mr King stressed the two shared the same investment philosophies and foundations. "We tend to agree more than we disagree," he said.
Both firms have been pioneers of short-selling in Australia, using a strategy where the investor seeks to benefit by falling stock markets by leasing shares at a certain price and returning them when the stock falls.
The risky strategy has attracted criticism for creating increased volatility in markets, and short-sellers have been accused of running smear campaigns to artificially push down stock prices.
Short-selling will continue to be a core part of the merged entity's approach to managing money. Mr King said short-selling was "certainly very difficult" in the 18 months after the COVID-19 induced market crash in March 2020.
"What we found was fiscal stimulus, very low interest rates and a lot of retail investors entering the market made short selling difficult and made some of the most speculative stocks go up the most," he said.
"But what we've found in the last six months is that short selling has become easier again and in fact we're actually producing very good outcomes, positive alpha on the short side at the moment."
Regal chief executive Brendan O'Connor, who will be chief executive of the merged entity, said it had become harder for investors to achieve growth in traditional assets, such as equities, fixed income and real estate, which had pushed investors towards alternative strategies.
"They can either transact or invest in traditional assets like equities through a different way – such as long-short investing. And we think that's the best way to get exposure to equities.
"Or they can seek out niche areas such as water, or farmland, that takes technical skill to deliver."
The merger comes at a tumultuous time for VGI, which has suffered underperformance and a string of high-profile staff departures, including co-founder Dough Tynan in June 2020. Mr Luciano denied there were cultural problems within the company and pointed to the long tenures of other staff.
"There have been some people with the organisation for over 10 years. We had some people who started with us as university graduates. They've been with us for their entire investment career," he said. "In terms of more recent departures, the reality is – we've seen turnover in the years. [And] we've been able to replace a number of staff with some extremely good hires."
In terms of underperformance, Mr Luciano said his highly concentrated approach to stock picking meant poor records at a few companies put a drag on the entire fund although he would not outline plans for turning this around. "It's been a difficult period for concentrated stock pickers and it's been difficult for us."
Mr King said Mr Luciano was known for his demanding management style and played down any concerns around governance or performance at VGI.
"I don't think recent returns have diminished our respect for Rob at all," Mr King said. "He [Rob] has very high standards, not everyone can accept the high standards he demands. But we're very, very confident we can work well together."
The Business Briefing newsletter delivers major stories, exclusive coverage and expert opinion. Sign up to get it every weekday morning.
Most Viewed in Business
From our partners
Source: Read Full Article