For our free coronavirus pandemic coverage, learn more here.
National Australia Bank's chief executive Ross McEwan says ongoing border closures are unsustainable, and has called for national and international vaccine passports for Australians once the nation's 80 per cent vaccination targets are met.
Mr McEwan, speaking before the government's economics committee on Thursday, said 80 per cent of eligible Australians were on track to be fully vaccinated by mid-November, and greater clarity was needed on what this means for citizens.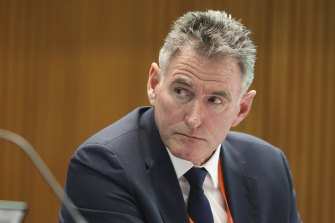 NAB chief executive Ross McEwan has called for vaccine passports to be launched once 80 per cent targets are met. Credit:Alex Ellinghausen
Mr McEwan said the federal government should follow Europe's strategy in using a pass that "gives people freedom to attend restaurants, sporting events, major concerts and domestic travel" if they are vaccinated.
"Australia needs its own national vaccine pass, providing similar freedoms, ready to launch when we reach 80 per cent," Mr McEwan said. "This should be developed alongside existing plans for an international vaccine passport for Australians to prove their immunisation status overseas and on their return to Australia.
"When we can safely move from restrictions to freedoms, I am very confident the Australian economy will recover swiftly."
His comments come as the federal government this week announced plans to make vaccination passports available from October and said negotiations were under-way to establish international travel bubbles. Prime Minister Scott Morrison has also asked state and territory leaders how they plan to integrate vaccination certificates into existing check-in apps and what their timelines are on introducing home quarantine.
Mr McEwan said the latest lockdowns impacting Melbourne and Sydney "have not been as financially damaging for many of our customers as last year's lockdowns", but were nonetheless hitting some industries harder than others.
"Many businesses are in a state of hibernation, waiting for restrictions to open up and ready to get going again," he said. "For others, in particular, small business customers in Sydney and Melbourne CBDs, the situation is more fragile."
"We all know that this situation is unsustainable. Tourism businesses are running at sub-capacity and I have spoken to manufacturing customers who are getting zero applications for jobs. Farmers can't get pickers for their crops."
Mr McEwan last month called for November 2 to be dubbed "Freedom Day", referencing the UK's strategy to remove all restrictions once majority vaccination targets were met. He said the restrictions could be lifted in time for Melbourne Cup Day.
The government significantly expanded its loan scheme to assist small-to-medium sized businesses in March, increasing the size of eligible loans from $1 million to $5 million and raising the turnover threshold from $50 million to $250 million.
NAB's chief risk officer Shaun Dooley told the committee the bank had approved $573 million of such loans during the first half of the scheme, and $135 million in the second part of the scheme, with $404 million now outstanding.
After questioning by Liberal MP Tim Wilson, Mr McEwan said acknowledged this was a small fraction of the bank's overall business lending book of $200 billion. He said the government's loan scheme had been largely taken up by those businesses that had been "hit hard", with most of the bank's customers wanting an "extension of what they've currently got".
"It seems to suggest the money provided by the Commonwealth, very little is being utilised from SME lending," Mr Wilson said.
The Market Recap newsletter is a wrap of the day's trading. Get it each weekday afternoon.
Most Viewed in Business
From our partners
Source: Read Full Article