Shareholders in ANZ Bank have endorsed a potential move by the big four lender to acquire retail banking assets from insurance giant Suncorp, as its $4 billion plus pursuit of accounting software provider MYOB is put on ice.
Less than a week after ANZ admitted it was in talks about potentially buying MYOB, media reports surfaced on the weekend that it was closing in on the acquisition of Suncorp's banking arm, with a deal set to be announced as soon as Monday.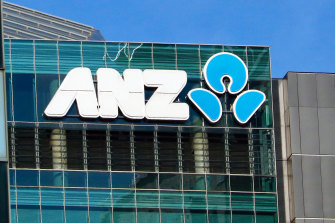 The market is wary about ANZ Bank's interest in potentially buying MYOB.Credit:Will Willitts
While there was widespread market scepticism about the rationale for ANZ buying MYOB, ANZ investors were more supportive of the potential purchase of Suncorp's bank, which had $58 billion in loans at its latest results.
Atlas Funds Management chief investment officer Hugh Dive, who holds shares in ANZ and Suncorp, backed the potential deal and its impact on both companies. Suncorp has been divesting non-core businesses in recent years including life insurance and smash repairs, and offloading the bank would make it a pure-play insurer.
"As an ANZ shareholder, I'm much happier about Suncorp [as opposed to MYOB]," Dive said. "It will change the mix of ANZ's book a bit, to a bit more retail, which is good."
The Australian Financial Review on the weekend reported investment bankers appointed by ANZ were preparing to launch an equity raising of about $3.5 billion to help fund the likely purchase of Suncorp's banking arm, which has been under strategic review. Spokespeople for ANZ and Suncorp declined to comment on Sunday.
White Funds Management managing director Angus Gluskie said a Suncorp deal would be easier to explain to the market than any purchase of MYOB because the potential benefits to ANZ were more tangible and straightforward.
"Investors would align themselves more easily with the Suncorp purchase," said Gluskie, who holds ANZ shares. "They can understand that a merger between two banks can create quite a few synergies."
Principal at fund manager Alphinity, Andrew Martin said ANZ was underweight in retail banking compared its big four rivals, and he also preferred a potential acquisition of Suncorp deal to any MYOB purchase. "It makes more strategic sense," said Martin, who also holds ANZ stock.
One potential hurdle facing any ANZ purchase of Suncorp's bank is the Australian Competition and Consumer Commission, which has expressed concerns about competition in retail banking in recent years. The watchdog would be expected to probe any deal. However, Martin said he did not think the ACCC would seek to oppose a potential sale, given ANZ was the nation's fourth-biggest retail bank.
ANZ's retail bank has struggled in recent years due to delays in home loan processing, which have caused it to lose market share. Buying Suncorp would not only bulk up its mortgage portfolio, but it would also give it a greater exposure to Suncorp's home state of Queensland.
The market was last week wary towards ANZ's interest in potentially buying MYOB, which is owned by private equity giant KKR. A source close to these talks said the discussions with ANZ had now been put on hold.
JP Morgan analyst Andrew Triggs said in a note to clients last week that he had mixed views on the mooted MYOB deal, and expected the market to remain "wary". While buying MYOB could have benefits, he said the bank should arguably be focusing on turning around its performance in mortgages. He added banks had generally been less successful with "tangential" acquisitions, such as in wealth and insurance.
"While there are some potential positives from the integration of ANZ's Business bank with MYOB, we expect the market to remain wary especially with any pay-offs being long dated," Triggs said.
The Business Briefing newsletter delivers major stories, exclusive coverage and expert opinion. Sign up to get it every weekday morning.
Most Viewed in Business
From our partners
Source: Read Full Article