Peter Chun's first impression of Melbourne when he migrated from Hong Kong as a child was the landscape.
"I've never seen so much grass," he says. "I don't know if you've been to Hong Kong but obviously, we live in a shoebox. We live in high-rise apartments."
UniSuper's new chief executive Peter Chun.Credit:Simon Schluter
It was 1978. Chun was eight years old and did not speak English. Neither did his parents, who had both spent their working lives as teachers.
The Australian government's official policy for migrants was assimilation, where new arrivals were expected to meld into the Australian-born population as quickly as possible. So Chun dropped soccer, learned Aussie rules football and his parents bought a Chinese restaurant. "As many Chinese families do," he says.
"Back in those days, there were very few Chinese people in Melbourne. Virtually none in Dandenong," he says. "And that was my memory in those times of assimilating into a new country and really trying to connect to a country where English is not our first language."
Now, Chun says he welcomes attitudes towards embracing Australia's different cultures and it's an attitude he wants to embed in his new role as chief executive of Unisuper – the $110 billion superannuation giant owned by Australia's largest universities.
Chun took over from former chief executive Kevin O'Sullivan last September and quickly put his philosophy into practice by restructuring the fund's leadership team, making three new appointments – all women.
"The new executive leadership team is now incredibly balanced and diverse," he says. "Four male, four female. People from different backgrounds, different nationalities, people who worked offshore. So, that's been important to me."
But increasing diversity is only one pillar of his strategy for Unisuper as the $3.4 trillion sector undergoes a period of immense change.
In what has been described as the biggest period of reform since superannuation was made compulsory in 1992, the federal government introduced sweeping new laws last year, including an annual performance test and stapling mechanism. This is where an existing super account is linked, or "stapled", to an individual employee so it follows them as they change jobs. It aims to reduce account fees, avoiding new super accounts being opened every time an employee starts a new job.
Stapling is particularly transformative for Unisuper, which has long been defined by the default system where university workers were automatically signed up and could not switch while outsiders were not allowed in. "It was a private club for university employees and wasn't that a good thing?" says one former Unisuper executive.
Now, the new laws mean Unisuper is open to the public. Members can leave, but Chun says outflows have been negligible. The once-inward looking fund has its branding splashed across billboards in Melbourne and Sydney and Chun has opened his diary to the media.
Chun is keen to promote his leadership priorities, which include a strategy to strengthen the organisation's financial advice network, fine-tune its retirement income solutions, expand financial contributions to university research and become the country's leading sustainable investor.
Unisuper has been the target of a vocal campaign led by the National Tertiary Education Union, where prominent scientists and academics have signed petitions calling on the fund to divest from fossil fuel companies.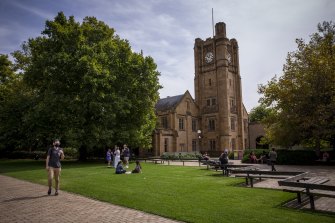 Universities were hit hard by the COVID pandemic.Credit:Wayne Taylor
Almost $14 billion of Unisuper's funds are voluntarily invested in its sustainable investment option, and Chun plans to become a leader in climate risk and transition.
Chun took the new job while both Melbourne and Sydney were grappling with lockdowns to curb the spread of COVID-19 while the vaccination rollout was finalised. Like many people around the world, Chun started in the role remotely and met many of the fund's owners, vice chancellors of major universities, via Zoom.
The university sector has been one of the hardest hit financially throughout the pandemic. The federal government refused to provide universities with wage subsidies, which caused widespread redundancies, and border closures sent international student enrolments plummeting.
Chun will not be drawn on the level of government support for the sector during the pandemic but pointed to the "resilience" of universities. He said the lockdowns created benefits too, like the faster take-up of online learning. "They have bright minds, they've got great innovators. They will continue to evolve and innovate," he says. "So I'm really positive on the outlook for the university sector. And from my conversations with some of the vice chancellors, they are too."
"For us at Unisuper, China is really important. They are our biggest trading partner … They are a significant contributor to economic growth and world GDP"
Rising tensions between Australia and China have also created headwinds for universities, putting pressure on an important cohort contributing a significant portion of fees – Chinese students. Chun dodged questions on Australia-China relations but says the country remains a key partner.
"For us at Unisuper, China is really important. They are our biggest trading partner. They are going to be the world's biggest economy. They are a significant contributor to economic growth and world GDP."
Chun's appointment has been well received in the industry. With experience working across both retail and industry super funds, Chun has been described as being very attuned to the business dynamics of superannuation at a time when competition is has fierce.
Chun lives in Sydney despite most of the fund's workforce being in Melbourne, but he makes the commute weekly and his backers are confident he is the right person to take UniSuper "to the next level".
While Chun recognises the challenges ahead, he is motivated and feels an emotional connection to the role. His family came to Australia to take advantage of what he describes as world-class tertiary education and were helped by a Hong Kong government incentive that gave teachers access to their pension if they migrated.
"My father still receives a defined benefit cheque from the Hong Kong government to this day," he says. "It really does highlight that what we do makes a big difference."
The Business Briefing newsletter delivers major stories, exclusive coverage and expert opinion. Sign up to get it every weekday morning.
Most Viewed in Business
From our partners
Source: Read Full Article