Save articles for later
Add articles to your saved list and come back to them any time.
The former chairman of the corporate watchdog said he wanted to end his life after being the subject of a "highly defamatory" advertising campaign by billionaire parliamentary hopeful Clive Palmer.
James Shipton, the former head of the Australian Securities and Investments Commission, told a Senate inquiry on Wednesday he broke down at a news-stand when confronted with yet another ad in a major newspaper placed by Palmer decrying Shipton's performance, feeling bullied by the businessman.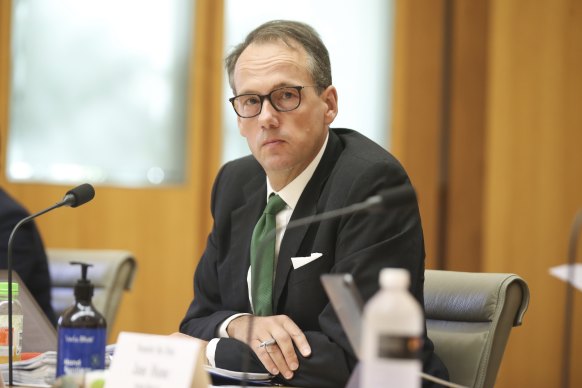 Former ASIC chairman James Shipton during his time as the head of the regulator. Credit: Alex Ellinghausen
"One Sunday morning after months of relentless advertising, I broke down in front of a newspaper stand as my own face and fanciful words about me stared back from a yellow newspaper page," Shipton recalled. "That was when the advertisement finally became too much. That was when I wanted to end my life."
Shipton also told the inquiry he was the subject of inappropriate conduct by a senior staffer at the corporate regulator over an issue separate to the Palmer ad campaign. He was disappointed about the lack of support he received from ASIC's acting chairman Karen Chester and Treasury during the Palmer campaign, highlighting the tension in ASIC's top ranks over the past two years.
Palmer ran more than 40 large print advertisements in all major newspapers between late 2020 and early 2021 with the slogan "Shifty Shipton", attacking the ASIC chairman following Shipton's sudden departure after a review of expenses that he had claimed for relocating from overseas to take the job and for tax advice.
The review by the federal government's auditor found that, while Shipton had permission to charge the expenses, his claims were outside that which was allowable.
"The advertisements were soul-destroying for me, my family and my friends. They were relentless. They cut me to my core."
"From November 2020, I was subjected to six months of intimidatory advertising, attacking my character, competence and integrity," Shipton told the Senate inquiry into ASIC's oversight. "They were published by a defendant charged with offences instigated by ASIC during my time at ASIC.
"The advertisements were soul-destroying for me, my family and my friends. They were relentless. They cut me to my core."
Palmer was charged with fraud offences by ASIC in July 2020 relating to the alleged transfer of money from his companies to fund his political campaign. The case continues, and Palmer is vigorously defending the matter and seeking to have the charges thrown out of court.
Shipton was stood aside from his position following the expenses review, but continued to be employed by ASIC. He eventually returned briefly to his role in 2021 before resigning so that new chairman Joe Longo could take over. Shipton told the inquiry he sought support from Treasury and ASIC in regard to the advertisements.
"The only communication I received at the time was from a cabinet minister, who called to say not to worry about the advertisements and not to make a fuss," he said. "I cannot fathom why that minister could treat the wellbeing of one of his senior officials, let alone a fellow human being, with such blatant disregard."
Contacted regarding Shipton's statement, Palmer said he was sympathetic to Shipton's personal issues but still believed that he had such an important role that he should have resigned immediately after the expenses issues, rather than stepping aside.
Since leaving ASIC in early 2021, Shipton appears to have put his experiences at ASIC behind him, taking up board roles and a position at the University of Melbourne's prestigious Melbourne School of Government.
Shipton also told the inquiry he tried to report a senior staffer for separate issues of misconduct during his tenure, but his complaints were not acted on. Shipton did not name the staff member but the tension between himself and Chester has been well documented in Senate inquiry hearings over the past two years.
"I was the chair of ASIC, a law enforcement agency that offered no protection. The system failed me and I need to prevent it from failing others in the future," he said.
"At the time, ASIC and the Treasury made no attempt to be a protective employer. Nor did they meet the minimum WHS [work, health and safety] standards required by law."
A spokesperson for ASIC said the regulator "takes seriously the wellbeing of all its staff, and we believe we have consulted with relevant third parties where necessary in this matter".
A report released by then treasurer Josh Frydenberg in January 2021 showed a Treasury investigation into ASIC's expenses had cleared Shipton of any wrongdoing. The advertisements are believed to have continued until at least March 2021.
Support is available at Lifeline (13 11 14 and lifeline.org.au) and beyondblue (1300 22 4636 and beyondblue.org.au)
The Business Briefing newsletter delivers major stories, exclusive coverage and expert opinion. Sign up to get it every weekday morning.
Most Viewed in Business
From our partners
Source: Read Full Article