Save articles for later
Add articles to your saved list and come back to them any time.
Jeffrey Epstein offered to help the daughter of the former Barclays chief executive Jes Staley win a place at a prestigious US university, it has been claimed.
The paedophile financier said he could introduce Staley to the president of Columbia University at Davos in a bid to secure his daughter a place on a PhD course, according to a previously confidential report.
Epstein also reportedly offered to get in touch with various officials at Columbia on behalf of Staley's daughter.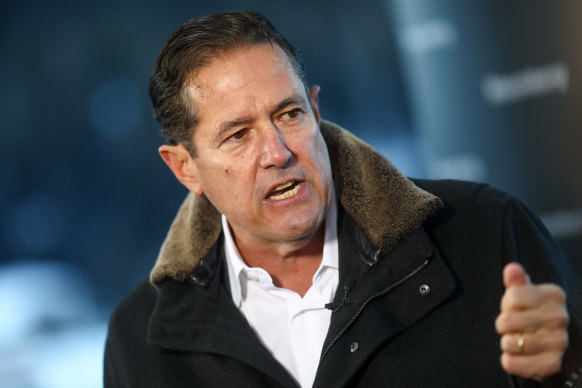 Former JPMorgan executive James "Jes" Staley had to resign as CEO of Barclays in 2021 following an investigation by British regulators into how he had characterised his prior relationship with Epstein.Credit: Bloomberg
The allegations were made in a 22-page internal review by JPMorgan, where Staley was once a senior banker responsible for wealthy clients including Epstein. Staley left the US lender in 2013 and took over Barclays two years later.
It also claimed that Epstein regularly gave personal and business advice to Staley, including setting up meetings with senior officials in foreign governments.
The report, written in 2019 after Epstein killed himself in a jail cell and first reported by the Wall Street Journal, said that he had appeared to establish close ties with senior executives and government officials including high-profile British Labour Party politician Peter Mandelson, a close adviser to former Prime Minister Tony Blair and the UK's First Secretary of State from 2009 to 2010.
Epstein then tried to connect these associates to Staley and JPMorgan for business deals and international expansions, it added.
Lord Mandelson told the Journal that his connections to Epstein were already known and that he "very much regrets ever having been introduced" to the billionaire, adding they never had any kind of professional or business relationship.
Last week, JPMorgan agreed to pay $US290 million ($423 million) to settle a lawsuit alleging that the bank knowingly benefited from its former client Jeffrey Epstein's sex-trafficking.
The US bank said it had reached an agreement in principle to settle the proposed class action launched by an unidentified Epstein victim late last year.
JPMorgan is still facing a similar lawsuit brought by the US Virgin Islands (USVI), where the financier had a private retreat where he brought several of his victims.
Unsealed emails allege that Staley drank white wine in a hot tub on Epstein's private Caribbean island while the financier was under house arrest for child sex offences.
The US bank is also still pursuing its own case against Staley. It has said Staley should be held responsible for any damages it incurs over its ties to Epstein as he managed the bank's relationship with the paedophile financier during his time there.
Epstein was a client of JPMorgan's for 15 years until 2013, including a period following his 2008 child sex conviction.
The ongoing USVI lawsuit against JPMorgan has claimed that Epstein's behaviour was so widely known at JP Morgan that senior bankers joked about his interest in young girls.
Staley had a personal relationship with Epstein when he was a client of the bank and visited the late paedophile on his Caribbean island.
Unsealed emails allege that Staley drank white wine in a hot tub on Epstein's private Caribbean island while the financier was under house arrest for child sex offences.
Although both legal claims cite Staley's relationship with the disgraced financier to argue that JPMorgan knew about the sex trafficking, neither names the former bank chief as a defendant.
Staley has repeatedly denied knowledge of Epstein's sexual abuse.
A spokesman for Columbia University said: "There was no meeting between the president and Staley. Nor did the president know Epstein, then or later. There is no factual basis for these assertions."
JPMorgan declined to comment. A lawyer for Staley was contacted for comment.
Last week, JPMorgan said: "We all now understand that Epstein's behaviour was monstrous, and we believe this settlement is in the best interest of all parties, especially the survivors, who suffered unimaginable abuse at the hands of this man.
"Any association with him was a mistake, and we regret it. We would never have continued to do business with him if we believed he was using our bank in any way to help commit heinous crimes."
Telegraph, UK
The Business Briefing newsletter delivers major stories, exclusive coverage and expert opinion. Sign up to get it every weekday morning.
Most Viewed in Business
From our partners
Source: Read Full Article