Labor Senator Deborah O'Neill says the Pandora Papers expose the potential for accountants to turn a blind eye to financial crime and has called for long-delayed reforms to be implemented that would enforce stricter requirements on the industry to report suspicious transactions.
The International Consortium of Investigative Journalists released an investigation on Monday, dubbed the Pandora Papers, that analysed millions of leaked records from 14 financial firms that have helped thousands of people, including powerbrokers and celebrities, to shovel money offshore.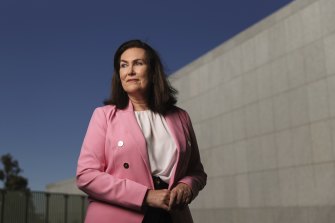 Labor senator Deb O'Neill says the Pandora Papers show the need for accountants to be subjected to anti-money laundering laws. Credit:Alex Ellinghausen
Around 400 Australians have been caught up in the exposé for using a Singaporean trust, Asiaciti, established by an Australian accountant to set up offshore structures. There is no evidence that any Asiaciti clients have broken any laws.
However, Senator O'Neill said carve-outs in Australian anti-money laundering laws (AML) that excuse accountants and lawyers from reporting suspected financial crime are undermining the integrity of Australia's financial system.
"These Pandora Papers are a reminder that a nondescript accountant can be at the heart of a massive international abuse of power and siphoning off money and illegal activity that costs the community," Senator O'Neill said. "When we look around at international standards, it's clear Australia is not meeting those international standards."
Australia's anti-money laundering laws force certain institutions, like banks and remitters, to detect and report suspicious transactions to the Australian Transaction Reports and Analysis Centre (AUSTRAC), which collaborates with law enforcement to trace money trails and stop crime.
Since the laws were first introduced in 2006, reforms that would force non-financial professions including accountants and lawyers to comply with the laws by conducting customer due diligence and reporting suspicious transactions, dubbed 'tranche two', have been delayed.
Now, Senator O'Neill has launched an inquiry into Australia's AML regime and is seeking industry feedback on the costs and benefits of implementing tranche two, to bring Australian laws into line with international standards to prevent financial crime. The delay has been criticised by international bodies including the Financial Action Task Force.
Lobby groups including the Australian Banking Association and FinTech Australia have strongly supported tranche two reforms, claiming the current regime is "light touch" and inequitable.
"[The] onus is on the financial institutions involved to be the first and last lines of defence, whereas lawyers, accountants or real estate agents (the 'gatekeepers') involved have little or no education or incentive to deter or prevent the proceeds of crime entering the Australian economy," FinTech Australia said in its submission. "High-net worth does not mean low [money laundering] risk. This weakness in the current regime appears to be the elephant in the room."
However, the Chartered Accountants Australia and Real Estate Institute of Australia (REIA) have warned tranche two could create "onerous red tape" that might not improve the overall system and could lead to "unintended consequences" such as higher costs for consumers.
"Small businesses also lack the time, resources and expertise to carry out compliance activities," REIA's submission states. "The introduction of a reporting scheme addressing money laundering in real estate would impose a cost much larger than the relatively small anticipated benefit to the community through detection of money laundering."
Senator O'Neill said similar arguments have been made in the past and that strengthening the laws was a matter of national security, needed to prevent terrorism financing and drug trafficking. "We have a very thin line of defence, you'd have to say."
"Change is always costly," she said. "It's too often simplistically framed as a red tape argument. It's incumbent upon us to meet the international standards and interrupt that illegal movement of money around the community. That's part of the ecosystem of protecting our community."
Accounting giant PwC is being sued by the ATO for allegedly misusing legal privilege to conceal documents during tax audits and KPMG was fined for widespread cheating in exams testing auditor independence. Senator O'Neill said these developments showed a troubling culture within the accounting industry.
"You're starting to get a sense of how many in that profession, at the peak of the profession, do seem to think they are above and beyond the law of the land," she said. "They don't exist in a vacuum. Australians deserve better."
Senator O'Neill said accounting firms continued to "pull a veil over the truth of what's going on" and criticised the inequality of Australia's taxation system. "It's unfair for somebody who works in Blacktown to pay more tax than someone who has multiple houses around the world," she said. "They might call it sophisticated financial structure, but let's call it what it is. It's dodging up the books to avoid paying tax."
The ICIJ investigations also raise questions about the strength of the laws requiring politicians to disclose financial assets and come amid questions over Christian Porter's use of a blind trust to fund legal fees and a lawsuit revealing former prime minister Malcolm Turnbull had "gifted" $6 million to his children allowing him to reduce his reporting obligations.
Senator O'Neill said the wealth of Australian parliamentarians also required further scrutiny. "We are not going to see any transparency or reform under Mr Morrison."
Most Viewed in Business
From our partners
Source: Read Full Article