Commonwealth Bank's head of business banking Mike Vacy-Lyle has signalled the lender will take the fight to technology companies that are trying to muscle into payments, as he vowed to continue CBA's rapid expansion in business lending.
Business banking is a key battleground between Australian banks, and is also being targeted by technology firms such as PayPal, Afterpay's owner Block, and Stripe, which are all trying to pinch the banks' merchant customers.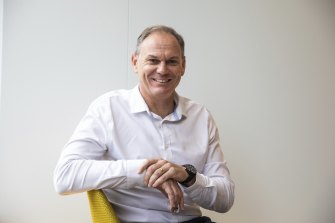 CBA's Mike Vacy-Lyle: "What Square, Stripe, Apple, etcetera are all doing in the payments space is incredibly interesting to us."Credit:Renee Nowytarger
After CBA's business division posted strong loan growth in its results last week, Mr Vacy-Lyle said it had more to do in serving e-commerce customers, as he emphasised that transactional banking was a critical priority.
Mr Vacy-Lyle also said he thought business clients could "weather the storm" of higher interest rates – provided any increase in borrowing costs was not rapid.
E-commerce is where we've got work to do
In an interview, Mr Vacy-Lyle indicated CBA was closely watching technology companies such as Apple and Block-owned Square, and it would fiercely protect its position as a provider of payment processing to businesses.
"What Square, Stripe, Apple, etcetera are all doing in the payments space is incredibly interesting to us," Mr Vacy-Lyle said.
"We are consistently focused on differentiating and improving our experience, we are the leading market share bank when it comes to merchants."
In an example of the competitive threat to banks, Block-owned Square this month said it would offer Afterpay to all its e-commerce customers. Square, which also provides business loans, argues that Afterpay can increase sales for retailers.
CBA last year launched a new device for taking in-store payments, but Mr Vacy-Lyle said the lender was focused on improving its "checkout experience" for e-commerce customers.
"E-commerce is where we've got work to do," Mr Vacy-Lyle said. "Banks have traditionally only offered card payment options at checkout, and when you get to most checkouts now, there's up to 20 different options on how you can pay. We acknowledge that, and we basically don't want to stand in the way of our merchants receiving payment from whatever mechanism the customer wants to use to pay."
CBA's business bank posted 9 per cent profit growth to almost $1.5 billion in the latest half. It is the second-largest division in CBA behind its flagship retail bank.
CBA has been trying to knock National Australia Bank off its perch as the largest lender to small and medium businesses, and last week's results showed CBA expanded its loan book 1.7 times faster than the industry average.
Mr Vacy-Lyle said it could continue to grow quickly, citing rising business confidence, and saying CBA would target sectors where it had historically been less active, such as wholesale trade, health care, manufacturing, and agriculture.
He reaffirmed CBA's generally bullish economic outlook and said businesses overall should cope with higher interest rates, citing their high cash balances and consumers' high levels of saving. While bad debts were likely to rise from very low to more normal levels as interest rates increased, he did not expect a blowout in impaired loans.
"I worry about a rapid rate increase, going from 10 basis points to 150 basis points in a short space of time will be detrimental to this economy, but it will be done responsibly, I have no doubt," he said. "I think that overall, businesses will weather the storm."
The Business Briefing newsletter delivers major stories, exclusive coverage and expert opinion. Sign up to get it every weekday morning.
Most Viewed in Business
From our partners
Source: Read Full Article