Bank of Queensland executive chairman Patrick Allaway has sought to allay market concerns over the swift removal of former chief executive George Frazis, saying he is trying to stabilise the bank's leadership and plans to improve its risk management.
Allaway on Tuesday elaborated on his account of why BOQ directors axed Frazis last Monday after only three years as CEO, saying the board had made it clear to Frazis that it wanted a different style of leadership over a "prolonged period".
Some analysts were surprised the bank removed Frazis before it had found a replacement, with Morgan Stanley analyst Ricard Wiles last week saying the change "creates significant leadership uncertainty during BOQ's complex, multi-year, strategic transformation".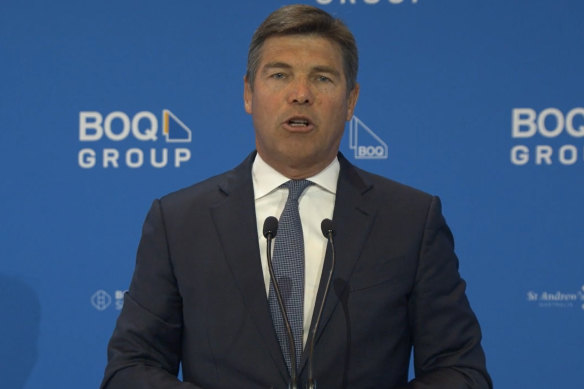 BoQ chairman Patrick Allaway sought to explain to shareholders why the board removed former CEO George Frazis.
Jefferies analyst Brian Johnson last week said the immediate exit of Frazis was "troubling", while Credit Suisse analyst Jarrod Martin said the move raised "earnings risk" as the bank appeared to be flagging plans to focus less on growth, while increasing investment in risk management.
At BOQ's annual general meeting in Brisbane, Allaway responded to such concerns by saying that once Frazis had lost support of the board, it would have been "destabilising" for him to remain in the job any longer.
Allaway is stepping in as executive chairman until a new CEO is found, a process that could take up to nine months, and he acknowledged the leadership shake-up would have surprised shareholders. But he maintained change was needed to create a "simpler and more resilient bank", which has emerged as a top priority for the board in the past week.
"We recognise the immediate departure of a CEO and the associated uncertainty is not ideal, but we felt a longer transition would not be in the best interest of BOQ," he said. "We considered it would be suboptimal and destabilising for George to continue in the CEO role knowing he did not have the ongoing support of the board while the search for his successor was under way."
Some bank watchers have also speculated relations between BOQ's board and the CEO had deteriorated, pointing to high turnover of executives and an Australian Financial Review report in March this year in which Allaway publicly raised concerns about aspects of Frazis' leadership.
In response to an Australian Shareholders' Association question about executive turnover, Allaway said that in taking on the job of executive chairman, he was seeking to provide leadership stability.
"We are certainly not comfortable with the number of executives that have left the group," he said. "What I can tell you is that succession within the group that's come through the executive ranks is very strong, and we have a really, really strong team. The reason I've stepped in as executive chair is to attempt to achieve stability in that team, and that's very, very important."
He also denied it was a "spur-of-the-moment" decision to axe Frazis, saying the board had given Frazis plenty of indications that it wanted a different style of leadership.
"We've considered this over a period of time, we've made our expectations very clear to our CEO over a prolonged period, in terms of expectations in relation to style, and priorities for the board," Allaway said.
Alllaway said he was taking a leave of absence from his seats on the boards of insurer Allianz and property group Dexus because of the greater time commitment required to be the executive chairman of BOQ until a new CEO was found. BOQ shares were down 0.4 per cent to $7.15 in afternoon trade.
The Business Briefing newsletter delivers major stories, exclusive coverage and expert opinion. Sign up to get it every weekday morning.
Most Viewed in Business
From our partners
Source: Read Full Article