Senior bankers say businesses such as pubs, restaurants, gyms and discretionary retailers will be the most vulnerable to household belt-tightening after the steep rise in mortgage interest rates.
Small business loans are riskier for banks than home loans, and some analysts think small and medium companies could be a key source of bad debts as the Reserve Bank's rate hikes cause the economy to slow markedly.
Judo Bank chief executive Joseph Healy.Credit:Justin McManus
While there are currently few signs of stress among business borrowers, leading corporate bankers said bad debts would inevitably rise from historic lows, and they were watching consumer-facing businesses particularly closely.
Judo Bank chief executive Joseph Healy was fairly upbeat at the bank's results on Tuesday, tipping a "soft landing" for the economy, and emphasising he was comfortable with the quality of his bank's loan book. The lender, founded in 2015, said profits before tax more than quadrupled to $53.2 million as its loan book expanded and net interest margins widened sharply.
Despite strong conditions in the December half, Healy said some businesses that relied on discretionary spending would inevitably feel an impact as households reined in spending, pointing to restaurants, hospitality businesses, gyms and parts of the retail sector.
"We would have our heads in the sand if we didn't believe that consumers were going to tighten their household budgets as they cope with rising interest rates and with rising costs generally," Healy said.
"I think that's inevitable. What we are seeing is that there are some sectors more vulnerable than others. It's still a bit too early, too soon, we're not seeing any evidence yet, but we are closely monitoring those sectors that we view as being heavily reliant on discretionary consumer expenditure," said Healy, a former senior National Australia Bank executive.
Modelling by banks has previously found small and medium businesses are about twice as likely to default on their loans as mortgage customers or larger corporations, the RBA said in a report last year.
Commonwealth Bank's group executive for business banking, Mike Vacy-Lyle, said on Monday discretionary spending was already slowing in areas such as footwear and clothing.
"We have seen a slowdown of spend in that end of the discretionary market, which generally is an early indicator of consumers feeling stress," he said in an interview.
CBA's results showed troublesome and impaired assets accounted for just 0.5 per cent of its business loan book, and Vacy-Lyle said the arrears rate in the portfolio was "remarkably low." CBA last week said cost of living pressures were expected to dampen demand in entertainment, leisure and tourism, and predicted household spending would soften from "elevated" levels in retail.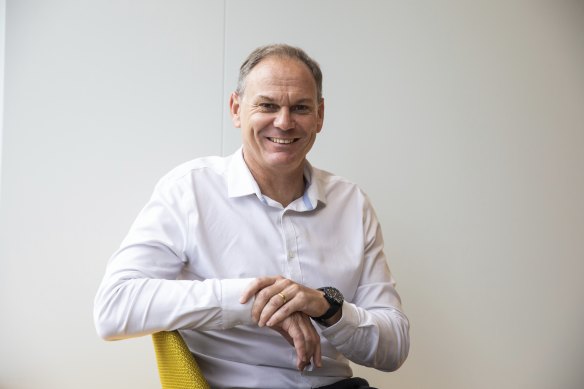 CBA's group executive for business banking, Mike Vacy-Lyle.Credit:Renee Nowytarger
"We're under no illusions that with consumers facing what they're staring into, we're expecting that there will be some pain. Businesses will start to feel some pressure," Vacy-Lyle said.
While softening household spending is the key risk for small and medium-sized businesses, both Healy and Vacy-Lyle also pointed to some positive trends, including an easing in supply chain pressures that helped to drive last year's surge in inflation.
Judo is aiming to take on the big four banks in small and medium enterprise lending, a sector Healy argues its bigger rivals have neglected. Judo reported gross loans of $7.5 billion for the December half, and said it expected to have a loan book worth more than $9 billion by the end of this financial year. In afternoon trade, its shares had climbed 3.3 per cent to $1.49.
Citi analyst Brendan Sproules said Judo's result was a "strong beat" of market expectations, but its outlook was less certain because the bank would need to be more competitive to meet its loan growth targets.
Business banking contributed almost $2 billion to CBA's first-half profits, the bank last week, and the sector has become a key battleground for banks, as the value of business credits across the economy surged by 13 to 15 per cent a year in recent months.
Vacy-Lyle said this pace of expansion was "unsustainable in the current environment," but CBA would aim to continue growing faster than the market in business lending, a market where National Australia Bank has the largest share.
The Business Briefing newsletter delivers major stories, exclusive coverage and expert opinion. Sign up to get it every weekday morning.
Most Viewed in Business
From our partners
Source: Read Full Article