Housing prices in some of Melbourne and Sydney's most affluent suburbs have dropped almost 10 per cent in the past three months, with economists predicting the falls could accelerate as interest rates continue to rise.
Data out this week from property analytics firm CoreLogic show a plunge in valuations in Australia's largest capital cities, with dwelling prices through July falling 2.2 per cent in Sydney and 1.5 per cent in Melbourne.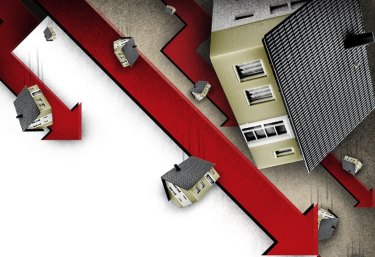 Economists have offered a grim prognosis for the housing market in Sydney and Melbourne.Credit:Sam Bennett
The latest numbers continue the trend of a downward spiral in prices over the past three months.
At a local level, the well-heeled municipality of Stonnington, in Melbourne's south-east, has been hit by the sharpest drop in prices over three months to the end of July, falling 8.9 per cent. Following close behind is Sydney's northern beachside region of Pittwater, where house values are down 8.8 per cent.
Also in the mix are Sydney's inner-city and inner-west regions, which have also seen falls of near 8 per cent, and Melbourne's Darebin and Glen Eira municipalities, which have dropped about 7.5 per cent.
These recent falls come after property prices rose rapidly through the COVID-19 pandemic, as swathes of stimulus and record-low interest rates prompted a flurry of property purchases across the country's capital cities, and in regional areas.
'It's reasonable to expect that this rate of decline will probably worsen before it gets any better.'
Areas such as Pittwater have seen prices rise by as much as 50 per cent since the pandemic began.
However, since the Reserve Bank of Australia (RBA) started to raise official interest rates rapidly, property prices have slumped – and are likely to fall significantly further, according to CoreLogic's research director Tim Lawless.
"We're seeing Sydney housing values now falling at the fastest rate they have since the early 1980s, and in Melbourne, nearly as quickly as what we saw during the global financial crisis," Lawless said.
"It does look like this downturn is going to be a relatively sharp one, and maybe a short one as well, depending on what happens with interest rates. But it's reasonable to expect that this rate of decline will probably worsen before it gets any better."
The regions where price declines are the most pronounced are often those that saw the sharpest rises early in the pandemic, he says, meaning while the fall in valuations may look steep, prices are still far above where they were three years ago.
"The market does have quite a bit of room for values to fall, and the vast majority of homeowners will still be in a positive position compared to what they paid for their property," he said.
However, some economists have warned a full retracement of the strong price gains made during the pandemic could be possible in some regions.
Shane Oliver, chief economist at AMP, said the country's housing market was "losing altitude rapidly", forecasting average property prices to fall between 15 per cent and 20 per cent, as interest rates continue to rise and housing supply increases in Sydney and Melbourne.
"Assuming the cash rate tops out around 2.6 per cent early next year, as we expect, then average prices are likely to fall 15-20 per cent from top to bottom, with the low likely being reached in the second half of next year," he said.
"The fall in home prices this cycle could well see some cities – notably Sydney and Melbourne – reverse all or much of the boom in prices since their 2020 pandemic low, which will likely see a rise in negative equity for recent low-deposit buyers."
However, the economist acknowledged the plunge was still within the bounds of the typical cyclical nature of the housing market "albeit a bit more rapid".
For aspiring home buyers or sellers, Lawless advises against trying to time the market, saying people should work in the scope of their own financial circumstances. However, he acknowledged that selling conditions would likely remain difficult from here on out, with the RBA likely to keep raising rates until Christmas.
"We're not seeing any signs of panic selling, or dumping of [housing] stock on the market but, come spring, that will start to reverse, and you'll see a lot more newly listed properties coming on the market at a time when demand is being negatively impacted," he said.
"This means, for buyers, there's going to be a lot more choice, less competition, and not much urgency – they can negotiate pretty hard."
The Business Briefing newsletter delivers major stories, exclusive coverage and expert opinion. Sign up to get it every weekday morning.
Most Viewed in Money
From our partners
Source: Read Full Article