The potential for higher interest rates is one of the hottest topics in financial markets.
Ultra-cheap debt has inflated the prices of assets from houses to shares, so any sign that borrowing money might become more expensive earlier than expected is big news.
It is also worth asking: just how big an increase in interest rates are we talking about? And how much of a rate hike could high-debt households absorb before it starts to do significant damage?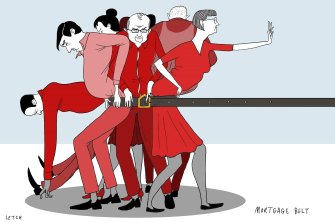 Higher official interest rates are likely to translate into variable home loan rate hikes that will force households to tighten their mortgage belts.Credit:Simon Letch
Financial markets are betting that official interest rates will rise from a record-low of 0.1 per cent today to about 1 per cent by the end of next year.
Further into the future, markets are betting the cash rate will be near 1.75 per cent by 2024, before peaking at about 2 per cent.
However, many economists dismiss these market predictions as unrealistic, and the Reserve Bank of Australia (RBA) itself has stressed it does not expect to raise interest rates anywhere near this quickly.
Still, it is worth investigating what sort of impact these levels of rate hikes might have.
Economists have crunched the numbers, and their conclusions suggest that interest rates would not need to rise by much before they start to have a significant impact on household budgets.
Commonwealth Bank, the country's biggest lender, is forecasting the RBA will start raising interest rates late next year, eventually taking the cash rate to 1.25 per cent in 2023.
Analysis from RateCity suggests that for customers taking out a new $400,000 mortgage today, such rate increases that flow through to bank variable rate home loans would add $243 to the cost of monthly repayments, or $608 a month for those borrowing $1 million.
Just how big a hit to household budgets is that?
CBA economists believe that with the cash rate at 1.25 per cent, it would take the cost of mortgage repayments to about 15 per cent of household disposable income. "This is the level we assess to be 'normal,' based on the experience of the past two decades," the bank's economists say.
CBA thinks the RBA will hold rates at 1.25 per cent until 2024, but futures markets are betting the central bank would eventually push rates towards a much higher 2 per cent by then.
If the markets are right and the cash rate hits that level, RateCity estimates someone with a $400,000 loan would face a $402 increase in their monthly repayments.
Many households have large savings balances to draw on, but separate analysis from AMP suggests that if the cash rate hits 2 per cent, it starts to seriously threaten household spending.
What does the RBA think about all this?
Governor Philip Lowe has repeatedly tried to calm speculation, stressing that he does not expect to raise interest rates until 2024, though lately he's conceded 2023 is also plausible.
Lowe last month grabbed headlines when he said that in the long term, he hoped the "neutral" cash rate was at least 2.5 per cent. But before we get too excited about that, remember that the "neutral" rate is a theoretical concept that describes a cash rate that is neither "expansionary" nor "contractionary" for the economy as a whole.
ANZ Bank economists point out that even futures markets – which are much more aggressive than Lowe in predicting rate hikes – do not expect the cash rate to hit 2.5 per cent over the next decade.
All up, it is clear that moving away from near-zero interest rates will be a difficult task because the average household is carrying so much more debt.
Yes, rates will inevitably rise, but that shouldn't be a shock. They could not indefinitely remain at the emergency levels of 0.1 per cent, which reflected a once-in-a-century pandemic.
When rates do rise, there are convincing reasons to think the increases will be fairly modest, and borrowing money will remain historically cheap.
The Morning Edition newsletter is our guide to the day's most important and interesting stories, analysis and insights. Sign up here.
Most Viewed in Money
From our partners
Source: Read Full Article