Save articles for later
Add articles to your saved list and come back to them any time.
US President Joe Biden and House Republican Speaker Kevin McCarthy on Saturday reached an agreement in principle to lift the debt ceiling that would trim some US federal spending.
While the bill is still being written, the general contours of the deal have been described by Democrat and Republican sources.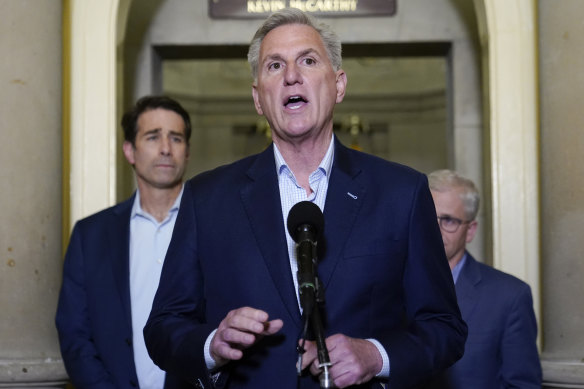 US House Speaker Kevin McCarthy has agreed in principle with President Joe Biden to resolve the country's debt crisis.Credit: AP
Here's what we know so far:
Cap on discretionary spending
The deal would suspend the $US31.4 trillion ($48 trillion) debt ceiling until January 2025, allowing the US government to pay its bills. In exchange, non-defence discretionary spending would be capped at current year levels in 2024 and increased by only 1 per cent in 2025.
The US government will spend $US936 billion on non-defence discretionary spending in 2023, the Office of Management and Budget estimates, money that goes to housing, education, road safety and other federal programs.
US President Joe Biden secured $US80 billion to help the IRS enforce the tax code for wealthy Americans in last year's Inflation Reduction Act.Credit: Bloomberg
Breather for 2024 election
The debt limit extension lasts past 2024, which would mean Congress would not need to address the deeply polarising issue again until after the November 2024 presidential election.
This would prevent another political showdown that rattles global investors and markets until either a Republican is elected president or Biden wins a second term.
Greater defence spending
The US Treasury had said it had just $US88 billion in savings to keep it from crashing into the debt ceiling.Credit: Bloomberg
The deal is expected to boost defence spending to about $US885 billion, in line with Biden's 2024 budget spending proposal.
That's an 11 per cent increase from the $US800 billion allocated in the current budget.
Moving special IRS funding
Biden and Democrats secured $US80 billion in new funding for a decade to help the IRS enforce the tax code for wealthy Americans in last year's Inflation Reduction Act, a move the administration said would yield $200 billion in additional revenue over the next 10 years.
Republicans and Democrats had battled over moving that funding, which was allocated under the act as "mandatory spending" to keep it from the political fighting of the annual budgeting process, to "discretionary spending" to be allocated by Congress.
The IRS planned to use the money to hire thousands of new agents, and the extra tax revenue they generated was expected to offset a slew of climate-friendly tax credits. Republicans have argued that auditors will eventually come after middle-class Americans, although the Treasury and Biden said they would focus on high-earning households.
COVID clawback
Biden and McCarthy are expected to agree to clawback unused COVID relief funds as part of the budget deal, including funding that had been set aside for vaccine research and disaster relief. The estimated amount of unused funds is between $US50 billion and $US70 billion.
Work requirements
Biden and McCarthy battled fiercely over imposing stricter work requirements on low-income Americans for being eligible for food and healthcare programs.
No changes were made to Medicaid in the deal, but the agreement would impose new work requirements on low-income people who receive food assistance under the program known as SNAP. They would apply to recipients up to age 54, instead of up to age 56 as had been proposed by Republicans.
SNAP, the Supplemental Nutrition Assistance Program, is a federal nutrition assistance program that reaches over 40 million people.
Energy permitting
Biden and McCarthy agreed to new rules to make it easier for energy projects – including fossil-fuel based ones – to gain permit approval. McCarthy and his Republicans had identified permitting reform as one of the pillars of any deal and the White House threw its support behind the plan earlier this month.
Biden protected the signature climate provisions of his Inflation Reduction Act, sources said.
A bill that would boost power transmission between US regions was being considered as part of talks, Reuters reported on Thursday. The measure could be paired with slight changes to the bedrock US environmental law, the National Environmental Policy Act, or NEPA, that governs environmental reviews of projects such as roads and pipelines.
Reuters
The Business Briefing newsletter delivers major stories, exclusive coverage and expert opinion. Sign up to get it every weekday morning.
Most Viewed in Business
From our partners
Source: Read Full Article